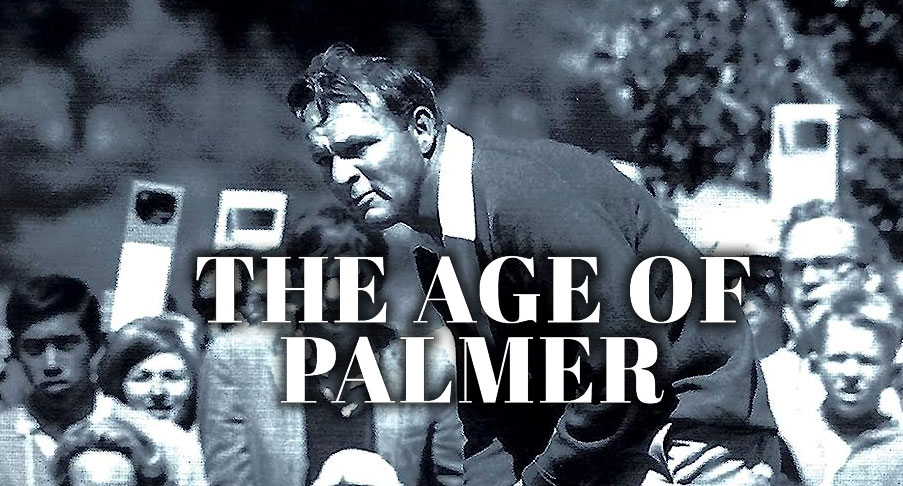 Imagine for just a moment that it is possible for you to climb into Doctor Emmett Brown's plutonium powered DeLorean DMC-12 and set the controls for "United States – 1960's", asking the first residents that you meet "are there any kings in the United States?". Some replies could be 'Budweiser is the King of Beers' or 'Insta-Burger is now called Burger King' or 'king-size cigarettes are now the most popular length of rolled tobacco'. "But what about a live person?" you may further ask. "By law there is no royalty, but Elvis Presley is 'the king of rock and roll' and 'Roger Maris is now the MLB home run king' and 'there are 20 hockey players in Southern California that call themselves the Los Angeles Kings'" are their answers.
But during the 1960's, both within the bounds of the strongest imagination and in total absolute reality, one American stands out as a true 'king' of his profession and that person is Arnold Daniel Palmer of Latrobe, PA. The boundaries of Mr. Palmer's 'kingdom' extended well past the fence around the 200 acres of the course he happened to be playing, to the lands of all free world countries in which he competed. And this 'king's subjects' were the thousands of golf fans who became known as Arnie's Army. Arnie's contemporary competitors agreed "He was the No. 1 king in the sports world," Frank Beard once said in an interview.
Author Patrick Hand captures the essence of this 'king' and the period in which he ruled, and Hand's efforts have just been published in a book titled "The Age of Palmer: Pro Golf in the 1960s, Its Greatest Era". While taking nothing away from great golfers before and after this ten year period, Hand proposes that the 1960's was pro golf's greatest decade and to prove his point the author devotes 388 pages of his work to chronicling every professional tournament — win or lose — in which Arnold Palmer participated, often with descriptive quotes from Arnie or fellow competitors. In support of Hand's belief about the greatness of the 60's, Gary Player affirmed "I'll tell you, I would much rather have played in my time than play in this time now."
My favorite 'takeaway' from this book appears in the book's preface; author Hand illustrates the relationship of Arnold Palmer to his fans during this era, citing that "Palmer smiled and made eye contact with hundreds every round, making each one a fan for life if they weren't already. In his book 'A Life Well Played', he wrote that an autograph should be 'a personal experience, a memento on which you can't put a price'. After his rounds he signed countless autographs, every one of them legible."
"The Age of Palmer: Pro Golf in the 1960s, Its Greatest Era" is published by Canoe Tree Press; Hardcover ISBN 9781959096412; 440 pages; measures 6.25" x 9.25" x 1.25" and easily fits standard bookshelves, business attache cases, and backpacks.
About the author: A prominent golf writer and historian, author Patrick Hand is known to readers of Global Golf Post for his narratives about golf history. "The Age of Palmer: Pro Golf in the 1960s, Its Greatest Era", is his first book. A member of the Golf Writers Association of America, Hand received an Honorable Mention in the 2023 GWAA's awards in the Daily Features category for his tribute to 1968 Masters champion Bob Goalby.
Hand also has ventured outside of golf. In 2002, he published an acclaimed feature on legendary Boston Celtics coach Red Auerbach in Washington City Paper, and later that year wrote a landmark exposé about Washington football owner Daniel Snyder. In addition to writing, Hand has practiced law for 40 years, mostly in Washington, D.C.
Lastly, a quote from Bob Hope states that "Arnold Palmer is the biggest crowd pleaser since the invention of the portable sanitary facility" and this book by Patrick Hand is the biggest Palmer-fan pleaser since the invention of the printed word.
"The Age of Palmer: Pro Golf in the 1960s, Its Greatest Era", is available at Amazon in hardcover, paperback, and kindle formats.