For over 100 years, The Chicago District Golf Association has played a major role in the growth of the game of golf in the Chicagoland area. The CDGA is responsible for the administration of more than 50 CDGA tournaments each summer, including the Illinois State Amateur Championship and the CDGA Amateur Championship. With more than 80,000 member golfers at 400 member clubs, the CDGA is one of the largest and oldest golf associations in the United States.
Our guest this episode of the Chicago Golf Report Podcast is the Executive Director of the Chicago District Golf Association, Robert Markionni. Robert is one of only three Executive Directors in CDGA history. To learn more about the CDGA, visit their website at CDGA.org.
Interviewer: Walter Lis. Running Time: 28:23
Click here to download an MP3 file.
WL: When and why was the CDGA initially created?
RM: The CDGA was founded in 1914 and there were two primary reasons at that point – one was caddy welfare. At that time there was the Western Golf Association, long before the Chick Evans Scholarship aspect, so one of the reasons the CDGA was formed was for the benefit of caddies and to provide a more standard way of treating caddies and caddy welfare. The second reason was for tournaments. Not only tournaments for the association but to create a schedule of CDGA tournaments of the clubs that existed at that point in time so that they wouldn't be conflicting with each other. So those were our two primary reasons – it was caddy welfare and tournaments.
WL: What's the mission of the CDGA now?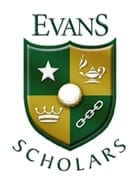 RM: Well, that's actually from the caddy aspect of the Western Golf association and they do quite well with the Evans Scholar Program. Tournaments are still one aspect of what we do and continue to conduct. In general, I would say that the scope of what we do now, kind of a mission statement, is to promote the game of golf, primarily it's amateur golf.
PGA professionals do an exceptional job when it comes to teaching, selling equipment, that kind of thing. We're in the other side of the game, when it comes to measuring and rating golf courses. When it comes to providing members with an official, CDGA handicap index. So the promotion of the game and providing services to the game is what basically our mission is and tournaments are still part of that, providing opportunities for individuals to play, all CDGA handicap levels, team events, mixed events, individual events, state championships and USGA qualifying rounds, so we're still heavily involved in tournaments but we expanded our reach out into these other areas that I've mentioned.
WL: Can you talk a little bit about what the CDGA provides to its members?
RM: The entities that join us are golf clubs, and naturally its individuals that band together to form a golf club. So we look at it that the benefits of CDGA membership do go two directions here: one is at the course level, the other is the individual level. And sometimes it's tough to differentiate the two.
For a golf course, we will measure the golf course and we provide an official course and slope rating. We also have educational seminars that we conduct. There's software, we have tournament software for the clubs to conduct and hold some conductor tournaments. We have a turf grass service, the only regional golf association in the country that does this. If the course has a problem with the turf, they can call us and our turf specialist will go out there and take a look at what the problem is, bring it back to a lab here, work with the local universities if need be, analyze what the problem is and get that information back to the golf course. From a golf course perspective, those are the type of services that we provide.
From an individual membership perspective, the number one aspect is the USGA handicap index that everyone on our members receive. There's also the tournament opportunities that they have. We have a gold level of CDGA membership which is an upgrade and people who are gold members can earn points and redeem those points for merchandise. Also we get into some non-golf areas a couple of times a year. For example: we offer tickets to a Blackhawks game, we work with the White Sox and some different things.
WL: Are there other comparable regional golf associations that sort of match up around the country with the CDGA or is this unique?
RM: There are other golf associations around the country. When you look at it, there's about five hundred golf associations in the United States. About one hundred are authorized by the USGA. Now it doesn't mean that the others are not good or not doing a mission, because the Western Golf Association is a perfect example, they are a golf association. But their mission is not to rate courses, their mission is not to conduct USGA championships. Their mission is their tour event, their mission is the junior, Western Junior and the Evans Scholar Program.
We're one of one hundred golf associations authorized by the USGA. Their authorization allows us to measure golf courses and utilize the golf rating system – we go through training to do that, and to issue our members a USGA and CDGA Handicap Index.
So there's about one hundred golf associations around the country like ours and they're different sizes. We kind of fit into the bigger size if you will with New York, with the California Golf Associations – both northern and southern, with Florida, and some are very small. There's some very small associations, maybe only have twenty-five hundred to three thousand individual members. We're about eighty to eighty-five thousand. So the size of the authorized golf association varies, but there's about one hundred entities and like us around the United States.
WL: I believe you're only the third person to hold this role in the hundred year history of the CDGA, is that correct?
RM: That's correct, yes.

CDGA Executive Directors
Carol McCue (1942-1977)
Denny Davenport (1977-1996)
Robert Markionni (1996-Present)

WL: So how did the CDGA actually come together a hundred years ago?
RM: It was spearheaded by the president of
Hinsdale Golf Club
at the time,
Francis Peabody
, who was our first president. The caddy program was important to him because at the time, there were no golf carts, just caddies.
In the tournament aspect, he's the one that said "we need to do something about this." At the national level there was the USGA, and even the Western Golf Association at that time was more on the tournament side, more on the national group. So, he's the one that spearheaded this.
It was through his efforts that twenty-five clubs were invited to attend the initial meeting. They were all Chicago area clubs. But that's how it started, it was his vision that we needed to have a local governing body and again the two primary reasons was the caddy welfare and tournaments. He's the one that organized it, he's the one that got it started and it kind of grew from there.
WL: With over a hundred years of golf, Chicago golf has such a tremendous history of the game. Is part of the role of the CDGA almost to be historians of the game or is that just sort of something that's a byproduct just because the CDGA has been around for so long?
RM: I think it's both. It is a byproduct because we've been around for quite a while, but because of the archives that we've been able to create, we have historical data that goes back to the late 1890s. We have some books that date back that far from the early 1900s – throughout the early part of the last century. So it is combination of both.
I'm not sure that a hundred years ago they were thinking of that but because of the detailed records that we've kept, because of the files on our member clubs over the course of the one hundred years, we've kind of grown into the historical aspect. Our files do contain that information when the CDGA was founded and even prior to the CDGA being founded. So I think the answer to your question is we do a little bit of both.
WL: Do you think the challenges that the first Executive Directors of the CDGA faced were similar to what you face now?
RM: I think that there are some things that are just inherent from generation to generation. It's interesting that we had a magazine that was published back in 1920s and 1930s. Going through the archives, there was an article that was written in 1932 in our magazine that talked about the challenges the game was experiencing at that point in time and it had to do with economy, the great depression, it talked about how club membership was down. It talked about how we needed more people participating in the game, how to have more family participation in the game.
When you read that article from 1932 and you move it eighty years later, it's almost the same challenges that we face now. Golf, like everything else that's a leisure activity, when the economy is good and the weather is good, there's more people playing it. When the economy is bad and there are other challenges, it goes down. So in that regard, whether it was a hundred years ago, fifty years ago, now or fifty years in the future, the individuals that are in my position or in similar positions or working in golf associations, you're going to face those challenges that are there.
The good thing is that you look back and look at golf in this country or to Chicago golf in 1895, and take the game back into its roots in Europe, this game has survived a lot. Just in this country alone it survived two World Wars, survived a great depression, coming out of a great recession.
So the game is going to continue, and still you got twenty, more than twenty-five million people that play the game. Those challenges and those kind of ups and downs will always be there.
I think the individual aspect becomes technology. There was technology in the 1960s when computers were first being born if you will, and what that brought to the game. Nowadays the technology changes happen so fast that you almost can't keep up with it.
So there are challenges that we face along those lines for example like distance measuring devices. When those first came out they were big things and when the USGA looked at them and decided you couldn't use them. Well now, they're small and you've got GPS as well.
So, this is evolving so quickly, those are unique challenges in the time we're in now. So I think, again, it's a little bit of both. There's the historical challenges that are always going to be there. But there's the modern world challenges that we face now and probably ten years from now, there are going to be new things we're not even thinking of at this point.
WL: I'd like to take a step back and talk a bit about the generations that you mentioned. We're in a unique position now with over a hundred years of the history of the game where generations of families can talk about the history of the game of golf here in Chicago. Is there an inherent strength that you think the game has just because of the history and this foundation of golf built in Chicago for so long? Or is that something that we can do a better job of bringing to the forefront, especially for our younger golfers?
RM: I think that there is an inherent strength that is there because it's embedded in our history. The number of courses that we have: both public and private that are outstanding and have a long history. And the one thing about history is that you can't buy it. So to go back and say that Chicago Golf Club was one of the five founding clubs of the USGA, that, you know, Cog Hill Dubsdread, one of the first public golf courses that was championship caliber and hosted tour events, you can't buy that. That's part of our DNA, it's part of our history, that said, you can't live in the past, you have to move forward.
So I think when you look at golf, there's no doubt there's a lot of positives to it. The positives are that there's a historical background to it. The game is based on integrity, it's based on honesty, it's based on respect. It's one of the only sports that you're taught to call penalties on yourself.
You can't really imagine a football game where a player goes to the referee after the team scores a touchdown and says, well, mister official, I know you didn't see me, but I was holding on that play so you better throw your penalty flag and assess me a ten yard penalty. That doesn't happen in other sports.
Golf teaches honesty, respect, it teaches life lessons. Golf's also one of the few sports that generations can play it. In a lot of other sports, maybe the children are participatory and the parents and the grandparents are the spectators. Well, golf's a little bit unique in that the children, the parents and the grandparents can all play together and you can do it as a family activity. Again, another strength. So golf has the components to continue on into the future.
I think the challenge that we face is that times are a little different. Time is of the essence nowadays. Five hours is a long time. There's activities, there's scheduled activities, family time. Maybe fifteen, twenty, twenty-five, thirty years ago would be different. You could go to the golf course on the weekend and then the family can join you later and maybe more of a slower pace. That's not the way it is now.
So the challenge that golf has is really kind of reinventing itself and that five hours is OK, but what about if you only have two hours to play? How about a nine-hole round? How about getting the family involved? The family golf nights, whether it's mom and dad, or the children or whatever it is.
So there's challenges there but because of the historical aspect of the game it's so strong in Chicago. But again, we can't live in the past, we have to take what is solid, what the game brings and adapt it to what's currently there in the lifestyles that we live now.
And people say, oh gosh, you know, golf can't change. Well yeah, it does change, we don't use hickory shafts anymore, we don't use, you know, gutta-percha golf balls, golf course maintenance is different. So, the game has evolved over the years and it will continue to evolve. The one thing that you'd never want to lose though is the integrity aspect that the game brings.
WL: Chicago was home to C.B. Macdonald, who designed Chicago Golf Club and helped bring the game to the United States. In addition to places like Chicago Golf Club and Cog Hill Golf & Country Club, you go can go back to the 1940s and the 1950s at Tam O'Shanter Golf Course in Niles where they hosted The All American Open and The World Championship of Golf, both major televised tournaments on TV. Any idea why Chicago became such a hotbed of golf?
RM: I think it starts with the history, like you mentioned with C.B. Macdonald, Chicago Golf, the public golf courses. Jackson Park is I believe more than a hundred years old. And at that point in time when you got into the 1920s with the great expansion of sports whether it was Babe Ruth in baseball, or Bobby Jones in golf, it became a sport that people can play. And I think that's where it really started.
There's also a seasonal aspect because we have winter here. That means there are four, five, six months, sometimes where you can't play the game. So when the weather turns good, and you get into the summer months I think people are really enthused, they want to get out, they want to take advantage of it.
I really think it's a combination of the history of the game being here, the long history of public golf, it's not just private clubs. But I also think the weather influence is there. I think that when you get the good spring, the summer and the good fall times, people want to get out and utilize that and I think that's where a lot of the enthusiasm comes from.
WL: Chicago Golf Report has been around now for five years and it seems like each year the focus and the interest of golfers throughout the winter months just continues to grow. Whether it's the Chicago Golf Shows, or if it's the fact that we're having more and more facilities and making the capability of winter golf possible, whether it's in a dome, or in a simulator, or any of those things. Do you see more interest from golfers throughout the year or is it still restricted to the outdoors situation?
RM: I think we do see more involvement with golfers because of what you mentioned, the simulators, the domes. Previously, if people didn't travel in the winter, they put their clubs away in October and November and they did not touch them again until April or May.
I think what happens now is because there are golf domes, because there are simulators, because there are ways to hit golf balls indoors in the winter here. I think we see golfers are not seasonal if you will. Those that don't travel in the winter I think they still have an opportunity to at least hit golf balls and I think that kind of fuels their desire to go out and play once the weather becomes good.
So our activities, as far as officially, are outdoor – whether it's CDGA tournaments and things like that. But as far as unofficially, the promotion of the game, part of it is letting people know that there are indoor facilities, that there are options during the winter that you can participate in golf activities in the winter even though there might be two feet of snow in the ground. So that's part of our mission, it's to go ahead and promote the game twelve months a year.
WL: One of the biggest companies at the PGA Show in February, was Topgolf. We have Topgolf here in Wood Dale, and we're going to have one in Naperville in another month or two. Is there anything that the CDGA takes from the success of Topgolf and how they're bringing new people in, the overall popularity. Do you see anything unique that they're doing? Or is it kind of roll up into the mission of what we are trying to accomplish already?
RM: I think it's beyond the CGDA. I think when you look at the growth, the game initiatives that are there and it starts at a national level with the USGA and the PGA of America, and the PGA TOUR, and
Augusta National
in growing the game at the national level.
And you look at a Topgolf that has facilities not only in Chicago but on the other parts of the country, and you see the success that they are having, of utilizing the game and kind of bringing together game and social aspect.
Now thirty years ago, or forty years ago, or fifty years ago, or generations ago, the social aspect was going to the club and playing the game there, maybe sit around and having lunch, that type of thing. Now because of social media, because of the technology, I think what Topgolf has done is taking the aspect of the game, the challenge of the game but has combined it with kind of the social atmosphere and it seems to be very successful.
I think anybody that's in the golf industry looks at that and says, hey, they got a pretty good formula there and that's something to look at into future, this combination seems to be working. That is something that anybody that's in the golf industry probably looks at and want to keep an eye on and see will it continue to grow, and if it does, how does it grow the game, and how do those people move from a Topgolf facility to the golf course. So yeah, I would say that there would be a lot of interest in looking at that and keeping an eye on how that does.
WL: So then let's finish up by talking about the future. We've talked about the changing demographics, like you said the essence of time, you could also throw in the confluence of technology. It seems like there's a lot of things in play right now. So from the CDGA's perspective, what do you see as opportunities going forward and how can you grow the game and get more people involved?
RM: I think it goes back to looking at starting with the junior golf programs. And I think it's hard to believe it's going to be twenty years since Tiger Woods came on the scene. But when Tiger Woods began his pro career, and even in his amateur career when he won three U.S. Amateurs, he kind of elevated golf to a level that a sports fan would watch it, not just a golfer but even a casual person would watch it.
I think at that point in time, the feeling was, we're going to get this huge influx of golfers and it's going to swell the ranks of golfers by ten million. Well now that we've had the ability to look back on it, and this is just my opinion on it, it definitely moved a needle as far as golf, especially spectatorship.
When Tiger was in contention at a tournament the television ratings would always be much higher. So he was able to bring golf into kind of the mainstream sport, much like Arnold Palmer did back in the 1960s, and a Jack Nicklaus. Tiger Woods did that and he brought juniors into the game but I'm not sure it's translated yet to those individuals continuing to play the game.
What we see is junior golf programs like the Illinois Junior Golf Association, which is an unbelievably strong group with twenty-five hundred youngsters playing the game. But what happens is when they get older and get into high school and then to college, it's tough for many of them to continue to play the game. Other things take over.
So you kind of have a strong junior group aspect, and then you kind of lose them for a little bit for several years. Then you want to try and get them back once they're maybe out of school and they start their careers and start their families.
So one of the challenges that the golf industry looks at is how do you keep these juniors engaged in the game throughout high school and college, even when they are not playing on a high school team, or the college team. That's the challenge that the industry faces. The technology, different things that years ago would have been taboo on a golf course, I think we have to open up a little bit and embrace those changes. Again, without losing what the basis of the game is: honesty, respect, integrity.
Time's changed, when you look at pictures from a hundred years ago, what were the golfers dressed in. Well, you know the men were dressed in ties and long-sleeved white shirts, and the women had long skirts on them and things like that. And I'm not advocating that, you know, we don't have dress codes, but I think you have to look at it and say, shorts on a golf course are fine if there's a certain belief. And it's okay to wear blue jeans to a private club now, and you don't have to put on a sport coat all the time.
I think that's just a reflection of our society. And I think golf has to reflect that part of it to understand that society has changed and that nine-hole rounds maybe are more acceptable if because you don't have time to play eighteen. There's nothing wrong with playing nine-holes, or maybe six-holes.
You know, maybe golf courses will be designed in the future that after every three holes, the loop comes back to the clubhouse to play a three-hole round, or a six-hole round, or a twelve-hole round. But nine-holes is fine.
So the challenge to golf is to keep youngsters in the game as they become adults but then also to adapt, if you will, to as certain extent of what society is, what's there to kind of make the game fit a little bit more into individual's lifestyles and without losing the historical aspect, without losing the values that the game brings.
WL: One final question, I always ask this one whenever we have an interview. What do you really love about Chicago golf? What does Chicago golf make unique about what you get to do?
RM: I think it's the enthusiasm of a golfer. Whether the person is a member of a private club, of a public course, whether they play at a nine-hole league, whether beginner, whether they play the game for sixty years, it doesn't make any difference. Just the enthusiasm and the way people embrace the game.
We are fortunate, I think that the rest of the country were not aware of what goes on but the two things that we have in Chicago that I really think are somewhat unique: one is the number of golf courses. Not only private ones that are outstanding but public ones. We've got so many public facilities here that are just outstanding. And I'm not talking about championship caliber. I'm talking about ones that people can go play, affordable, kept in good condition. We have a whole array of golf facilities on the private side and the public side, and most cities across the country do not have that.
The second thing, believe it or not, is a caddy program, because the Western Golf Association is based here. And again, it's not only private clubs, public courses here that have caddy programs. If a golfer has never had the experience of playing with a caddy, you would almost hope that every golfer has the opportunity once because it is a different way to play the game. I'm not saying that it's unique, but it's a different feel when you have a caddy and you're walking the golf course and you've got someone that's kind of your partner there for four hours and you're talking to them and they know the golf course.
So those two things that make Chicago a little bit unique and we tend to take it for granted but when you travel to different parts of the country, you see that many places, many municipalities don't have the public golf courses that we do and they don't have the caddy program. Those two things, just the enthusiasm of the golfer, like you mentioned earlier, the Chicago Golf Show, and the thousands of people that go to that. And then now the thousands of people that start hitting indoors and things like that. And then you're on golf courses during the summer. And going to events, and the charitable events. So, in one word, it's the enthusiasm of the person, the golfer in Chicago for the game.
Podcast: Play in new window | Download
Subscribe: RSS