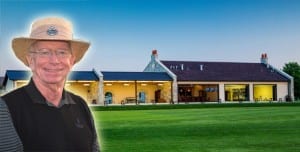 A golf coach since 1974 at Eastern Kentucky University, Dr. Jim Suttie has worked with some of the top players in the world and has earned a reputation as one of the best golf teachers in the world. Currently a PGA teaching professional at Mistwood Golf Club in Romeoville IL, Dr. Suttie has once again been honored by Golf Digest as one of their 50 Best Teachers in their November 2013 issue. Suttie was also listed as the No. 1 teacher in the state of Illinois.
"To be recognized by Golf Digest and voted by my peers in the industry as one of the 50 Best Teachers in the game and No. 1 in Illinois is very humbling and rewarding," said Dr. Suttie. He has appeared on the Golf Digest list every year since 1999, one of a select group of golf teachers who have achieved this honor.
During his career, Dr. Suttie has helped top professional golfers such as current Champions Tour players Jeff Sluman, Chip Beck, Bobby Clampett, Loren Roberts, Brad Faxon, Gary Hallberg, David Frost, Fred Funk and Peter Jacobsen. His LPGA Tour students have included Vicki Goetz-Ackerman, Carin Koch, Kerry Postillion and Nicole Jeray. Dr. Suttie has also worked with Mark Wilson, Derek Lamely, Kevin Streeleman and Aaron Baddeley from the PGA Tour.
A 1970 graduate of the Northern Illinois University before earning a doctorate in biomechanics from Middle Tennessee University, Dr. Suttie has taught in the Chicagoland area for over 25 years at courses such as Medinah Country Club, Cog Hill Golf & Country Club and now Mistwood Golf Club. He was also instrumental in the development of the Mistwood Performance Center, which is one of the top new golf teaching facilities in the country.
"I am very excited to bring my teaching experience to the new Mistwood Performance Center. To combine our award winning instructors with the state of the art teaching equipment and indoor facilities really makes this one of the top places in the country for golf instruction," said Dr. Suttie.
The Mistwood Performance Center opened in 2013 as part of a multi-million dollar renovation at Mistwood Golf Club, which also included major course renovations to the golf course. The world-class facility includes 11 climate controlled stations for year round practice, two heated teaching bays for lessons, and 32 outdoor stations.
The Mistwood Performance Center
1700 W Renwick Rd
Romeoville, IL
(815) 254-3333