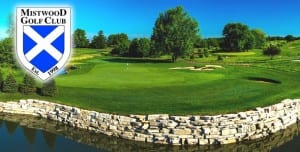 There is an old saying often heard all around the city of Chicago, throughout the southwest suburbs, and particularly in Romeoville that "amenities speak louder than words"; the new version of Mistwood Golf Club says it loudly and clearly.
Mistwood Golf Club originally opened in 1998 and offered the golfers in Romeoville and the southwest suburbs a new and exciting 18-hole challenge. 1998 was a year entrenched during a 'golf boom' and income flowed into Mistwood's coffers, but with almost the same certainty as night follows day, economic negatives followed economic positives. Weather fluctuations, ground conditions, and the opening of a major competitive facility — Bolingbrook Golf Club in 2002 — were the economic negatives facing Mistwood Golf Club.
Originally a part-owner, James McWethy, took over sole ownership of Mistwood in 2004 and made a startling economic decision to save Mistwood by investing more money (his own) rather than cutting back on expenses. McWethy's decision to become sole owner was linked to the fact that McWethy was able to convince the staff of 'old Mistwood' to stay with him and create a 'new Mistwood' with a number of striking course alterations and the addition of a dramatic Performance Center. Dan Phillips remained with McWethy as Director of Golf and stated "The planning took close to seven years and a lot of thought has gone into this project." McWethy and Phillips believe that the two architects (Raymond Heard for course alterations and Dan Wohlfeil the Performance Center building architect) have hit 'home runs'.
Out on the course itself, the most notable change is the addition of 20 stacked sod wall bunkers. While being visually intimidating, these hazards are also quite gathering of non-perfect golf shots. But escape is possible as the 'sand' at the bottom of these bunkers is a substrate called Waupaca crushed quarry rock; it is gritty, but quite dry and airy.
The 'new Mistwood' features Lannon stone bridges that cross over water hazards and Lannon stone rock walls that define the water hazard edges. Par remains at 72, but the course has been stretched to a maximum length of 7040 yards. Five sets of tees are available at distances of 7040 / 6836 / 6639 / 6249 / 5244 yards respectively. McWethy's goal is for Mistwood to be considered a regional golf destination, not just a local golf course.
Earning the exclamation of 'Wow!' is the addition of a stunning Performance Center building on the Mistwood grounds. Covering 5,000 square feet, the new Performance Center Building is framed in Kohler-like stone, reminiscent of a large Irish / Scottish cottage. Inside, the structure houses 11 heated hitting stations for all-season practice, 2 teaching bays, a putting lab, a dedicated club repair room, a full service bar and grill with 8 flat screen TV's, and The Turf Room to host private events.
The Performance Center presently serves as a temporary clubhouse as the permanent clubhouse undergoes complete renovation; additionally, the Performance Center doubles as a halfway house between front and back nines. The teaching bays feature 'Trackman', a radar based analytic software system, and, Foresight GC2, a high definition camera-based analysis system. The putting lab utilizes two industry-leading technologies: first, SAM (Science and Motion) measures six putter/ball striking movements via computer; second, Quintic via camera software analyzes ball roll off the putter face. The club repair room offers club fittings and all repairs by certified specialists with True Temper, Fujikura, and Mitsubishi shafts.
When visitors first drive into Mistwood's grounds they will now find an expansive paved parking lot that has been doubled in size to accommodate 240 cars, and will be greeted by a friendly staff personnel to assist them in locating the new Performance Center starting point.
So, if the topic is 'amenities', Mistwood's got 'em!
Mistwood Golf Club
1700 W. Renwick Road
Romeoville, IL 60446
phone 815-254-3333
website: www.mistwoodgc.com