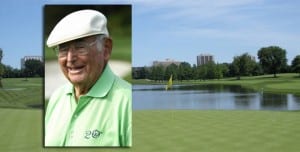 Although he was not physically present to congratulate the 2012 Masters Champion, Bubba Watson, at Augusta National Golf Club, Errie Ball, the only living competitor from Bobby Jones' first 'Masters Tournament', was undoubtedly watching this tournament on television. Yes, Errie Ball, age 101, was there seventy-eight years ago at the course in Augusta, GA, to congratulate Horton Smith on his victory in, now, golf's most prestigious event. And even while Mr. Ball's famous competitive efforts took place in the state of Georgia, and his current home is in the state of Florida, Errie's golf roots are right here in Chicago.
Errie celebrated his 101st birthday on November 14, 2011, and just two weeks earlier, on November 2, 2011, along with six other PGA Professionals, Samuel Henry "Errie" Ball, was enshrined in the PGA Golf Professional Hall of Fame at PGA Village in Port St. Lucie, FL.
Today, having already passed the century-mark, Mr. Ball still gives golf lessons at Willoughby Golf Club in Stuart, Fla., where he is PGA Professional emeritus; but for many prior decades this golf legend called our Illinois Section his PGA home. Though born in Bangor, Wales (UK), and coached in golf by his father William Henry Ball, a British club professional, Errie was enticed to come to the United States by his uncle, Frank Ball, at the time PGA professional at East Lake Country Club in Atlanta. Errie loved the southeastern United States, where he attained head PGA professional status at two prestigious country clubs, won the 1931 Southeastern PGA Championship and the 1932 Atlanta Open, and ultimately became one of 72 competitors in the inaugural Masters (Augusta National Invitational) field of 1934. In 1942, Errie was drafted by the U.S. Navy and following the war and his military service, Ball traveled to Illinois to become head professional at Oak Park Country Club, where he served for the next 24 years. In 1972, Ball became the first PGA head professional and later PGA director of golf at famed Butler National Golf Club in Oak Brook. While here in the Illinois Section, Errie won three Illinois PGA Championships, the Illinois Open, and Illinois PGA Senior Open and Match Play Championship. And though not victorious, perhaps Errie's most notable feat came in 1957 when, after a span of 23 years he made a return to Augusta, GA, for the Masters Tournament, the longest span between competitions for any Masters competitor.
In addition to his Illinois Section victories, Errie won PGA Section titles in the former Southeastern Section, and Arizona [now Southwest] Section. Ball qualified for twenty U.S. Open Championships and competed in twelve PGA Championships; in 1990 he was inducted into the Illinois Golf Hall of Fame.
About the PGA Golf Professional Hall of Fame
Originated in 1940 at the suggestion of famed sportswriter Grantland Rice, the PGA Golf Professional Hall of Fame was relocated in 2005 at the PGA Museum of Golf at PGA Village in Port St. Lucie, Fla. The Hall of Fame recognizes all PGA members who have made significant and lasting contributions to the building of The PGA of America and the game of golf. The inductees include PGA Presidents, PGA Golf Professional of the Year award winners as well as those PGA Professionals who also distinguish themselves as competitors while in service to The PGA of America.