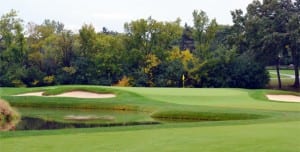 Butler National Golf Club was the vision of businessman, philanthropist and sportsman Paul Butler, who was also the founder of the village of Oak Brook. Butler inherited the J. W. Butler Paper Company from his father and helped grow the company, achieving considerable wealth along the way. He eventually used his financial strength to buy over 3,600 acres of polo fields in Oak Brook so he could partake in his love of polo.
Butler eventually converted part of the land into the Butler National Golf Club in 1974. The course was designed by renowned golf course architect George Fazio on part of what was previously York Golf Club. Construction of the course began in 1972 was completed in 1974, just in time for its first professional golf tournament.
Butler National hosted the Western Open on the PGA Tour from 1974 until 1990, when the PGA Tour adopted a policy of holding events only at clubs which allowed minorities and women to be members. This resulted in Butler National being replaced by the Cog Hill Golf & Country Club in Lemont as the Western Open host.
Considered one of the most challenging 18-hole golf courses in the Midwest, Butler National has the respect of some of the top players in on the PGA Tour, including Phil Mickelson and Luke Donald. Both players believe the Oak Brook golf course would be a tremendous choice to host a major championship such as the US Open.
After playing a practice round at Butler National in 2010, Phil Mickelson commented to the Chicago Tribune "What I loved about Butler, the subtleties: where the balls break, the risk-reward, the ability to get to certain pins, the challenge of making pars on the hard holes, the challenge of making birdies on the easy holes."
"I would love to see it," Luke Donald said about Butler National hosting a major championship. "I've played it quite a few times. It's a tough course, and they could make it extremely hard."
Despite having such powerful proponents, a vote by Butler National Golf Club members recently revealed a strong preference to keep the private club open to men only. Without female members, the club will continue be unable to host events such as the US Open, BMW Championship and Ryder Cup.
Many golf industry insiders believe Butler National is the perfect Chicago venue to host a major championship. With an easy-to-access location in the western suburbs, along with ample room in the form of polo fields land for parking and hospitality suites, the course could easily fulfill many of the obligations requested by the PGA Tour and the PGA of America.
Butler National Golf Club
2616 York Road
Oak Brook, IL 60523