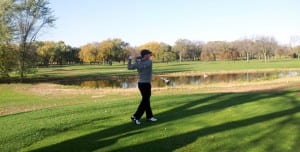 It's football time once again which can only mean one thing in Chicago; golf season is coming to an end. It's time to start taking inventory of where your golf game is at so when you head into the offseason, you can continue to improve and be ready for the start of next golf season.
It is refreshing to see the amount of participation that has grown in offseason practice as a result more available golf domes, virtual golf simulators or the nine GolfTEC Improvement Centers in the metro area. However, before you head in, and aimlessly hit golf balls at one of these winter golf improvement facilities, it is important to use this last month of good weather and playing conditions to perform a game analysis to see where the majority of your work should be done.
While personal goal setting is important, if we want to set a meaningful goal there are a few requirements that must be met. That is, the goal must be specific, measurable, and obtainable. After each of my lessons with my students, I give them a homework assignment to reinforce the learning that just took place and to provide them with some much needed feedback. I ask them to keep statistics on their games, not just to count how many greens, fairways and putts but to identify the specifics of each shot. An example of what a student could bring to me could include:
Fairways – What side the fairway was missed on, with what club.
Greens in Regulation – From what distance was the green hit or missed / Proximity to the hole from those distances.
Putts – # of 3 Putts / how putts are missed (short, high side/low side).
Chips – Proximity to hole on chip shots.
The list can get pretty extensive and detailed based on the caliber of player. The important thing however is to be able to pick out one or two weaknesses that we can focus our time on. If I see a student comes to me and averages 40 feet from the hole on approach shots of 100 yards, then we can set a specific goal to work to improve that. We can set a goal now to average 25 feet from the hole by the time the start of spring and work to obtain it. It's important to make sure the goal is obtainable though, if we set a goal to hit every shot inside of 5 feet while the PGA Tour average is around 18 feet, that is something we can most likely not obtain.
By using some analysis that you can obtain at the end of this season, this offseason you can have a specific, obtainable, and measurable goal that will help you focus and master some of your weaknesses.
Scott Hogan is from Plainfield and is a Class A golf professional and full-time instructor at GolfTEC – Halsted Row. He has competed on the Pepsi and Gateway Tours and has been playing in golf tournaments for over 20 years.