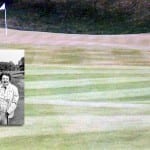 Anna May "Babe" Ahern, the longtime owner and operator of the Evergreen Golf Club, located at 91st and Western on the south side of Chicago, died on December 12 after a brief illness. Known as the first lady of golf, Babe spent the majority of her 103 years living on her family's property on the historic Chicago golf course.
In its early years, Evergreen Golf Club hosted leading amateur tournaments featuring star players such as Horton Smith, the first winner of the Masters. Golf was played on the grounds of Evergreen Golf Club a generation before the Ahern family opened the course. From 1899 to 1908, the Ellerslie Cross Country Club, a private organization, was on what became Evergreen, with most of the holes on the east side of the Baltimore and Ohio tracks. Ellerslie Cross closed with the formation of the Beverly Country Club in 1908, with most of the members joining the new club on the north side of 91st Street.
Last month Babe sold the 95-acre course to Chicago developer Sterling Bay Companies for $7.5 million. The Anna May "Babe" Ahern Foundation was expected to benefit from the sale.