Jim McWethy was a visionary businessman and kind friend to those who were privileged to meet him. He also re-wrote the rules on what was possible for a public golf facility in the Chicagoland area.

The McWethy Cup is an 18-hole shotgun golf outing and dinner in lasting memory of Jim McWethy. The event will take Tuesday, September 13, 2022 at Mistwood Golf Club in Romeoville.

Jim McWethy was the owner of Mistwood Golf Club, which was honored by Golf Magazine and Golf Digest as "Renovation of the Year" and "Best New Course." The facility features a ground-breaking 5,000-square-foot Performance Center, Scottish-style, 26,000-square-foot clubhouse and spectacular 18-hole golf course.

In this 2016 interview with Mr. McWethy, we learned about he he became involved with Mistwood Golf Club and his preference for pure Scottish courses.

Interviewer: Walter Lis. Running Time: 22:13


CGR: Why don't we begin talking a little bit about kind of your background, and how did you get involved with golf and being involved with Mistwood.

JM: Yeah, I mean it goes way back of course to learning how to play golf when I was 10, 11, 12 years old. Always loved it, played in high school, played in college. Was never great and probably not even would I be called good, but I love the game. Back in the oh my gosh, in the mid-1990s through various business connections I was invited to become one of the investors in Mistwood when it was built. In fact, it was the Barstad family, because I knew them because they were our landlord form a business that my family owned and sold in the early 1990s.

So I knew the family, and they extended an offer to me to me invest, not just in building a course in Romeoville, but in the course they had already built up in I think it was in Lake Michigan by a strange name, Mistwood. So I became a part owner and I'm already an owner in both those golf courses. The course here began to struggle shortly after it opened, and in 2003 after quite a bit of legal work, nothing bad, but it took a while for me to become the sole owner of Mistwood. It meant buying the mortgage and foreclosing, and made the lawyers rich, but made it expensive for me.

All of a sudden in 2003, I fulfilled my life's dream. I owned a golf course, and of course the question is okay, now I've fulfilled my dream now what am I going to do with it. And maybe it's a personality flaw I don't know if it's good or bad, but I always strive for perfection and there were just things that I saw about the course that I knew needed to be addressed. Ditches like drainage and bad soil in some areas. So we began to improve the course and went along and along, and I'm not sure how much detail you need but we were going to build a new clubhouse about six or seven years ago and then our architect Ray Hearn informed me after we had already got it pretty well designed and ready to build that it was too close to the number three green, and it was just going to get peppered. And he was right.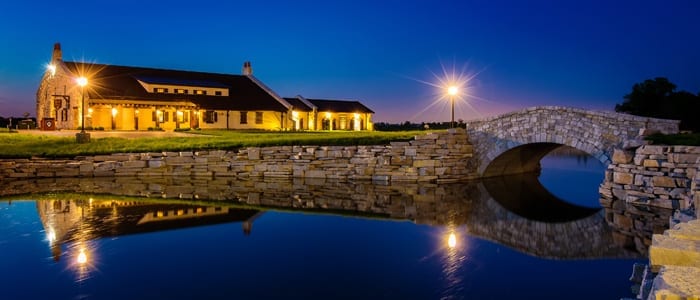 So we decided, well let's move that green, then let's redesign the hole. Then I started thinking I've always wanted to do a renovation of the course. Maybe we are going about this thing in the wrong sequence here. Build a new clubhouse and then do the renovation of the course, or why don't we just do the renovation of the golf course. So we did. We pretty much put those plans on the side and renovated the golf course. Along the way we decided we wanted a place to hit balls in the winter, and that was before I owned the McQ's Dome in Bolingbrook, and we decided we would build a just a pole building or something so they could hit balls out of like they do at Cog and a number of places.
Well that morphed into the performance center, which turned out to be a spectacular facility. So we had done the course and we had done the performance center. And then it came time to come back to the plans for the new clubhouse, which the original plan was 33,000 square feet and we decided to radically downsize that to probably 12,000 square feet. But guess, what do you think happened? It crept and then it got to 16,000, and then 20,000 and it ended up at I believe that 29,000, only 4000 less than the original plan. But the new design was far superior to the original one, so I don't have any regrets I did.
I did go to a lot of expense designing the building that never got built. But the final product, it's pretty nice, it's very nice.
CGR: Now let's take a step back here and to be honest with the course in 2003 and that you took over, Mistwood was a very well respected course. But then you decided you wanted to make it better. Was it just that feeling of like you said, your own passion to always be making things as best as they can or did you think or it was seriously affecting the sort of business model of the course, with the drainage issues and things like that.
JM: Well the renovation was one of those things. I guess it must have been my personality, because it started out as a very very mild renovation. And then we got talking with Ray Hearn, who did the original design. And yes, you're correct the original design was extremely good, extremely good. But he had a bunch of ideas and he said well there was a lot of things that he wanted to do in the first place, but my predecessors, for financial reasons more than anything else didn't want to do. And Ray had the idea of the steep side bunkers, more mounding, and a number of just refinements.
You know, the basic course did not change. I mean the routing is the same. The greens, we replaced a couple of greens because there was serious drainage issues there, but that was before the renovation. That was something that was done standalone. So Ray worked with us, and basically it was too a large extent it was refining his original design. So it wasn't like I didn't like a hole, it was more that Ray came back and said this is what I really would like to have done if I had a little bit more of a free hand at the beginning.
For the most part, we and my staff who was an integral part of it agreed that all these things made the course better and more pure Scottish. You can kind of tell my name is McWethy. There is a little bit of Scotland there. So that's the type of course that I prefer, the pure traditional and pure Scottish courses. I don't like the new tricked up courses. I like the classic courses. So, I'm not sure that answered your question, but it was more refinement of our design. I think we took an A minus designed to make an A plus design.
CGR: So then when you got back together with Ray Hearn and you decided yes were going to do this complete renovation of the course, did you have anything that you told him and said, this is the type of experience that I want for a golfer. I want them to feel of this, or was there anything you kind of shared from your goal you know of what you would like golfers to experience.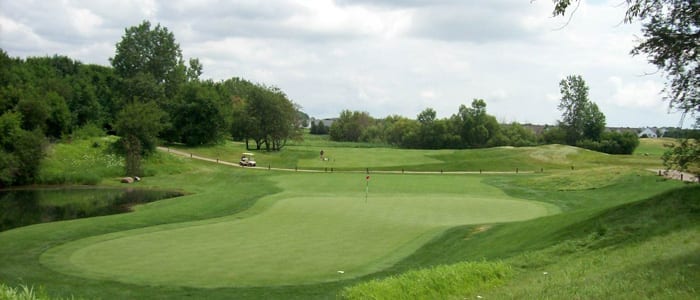 JM: Yes, I think so it was basically a very Scottish, very linksie feel even though we're not on the sea and we don't go nine holes out, nine holes back, we can't call ourselves a links course, but we can call ourselves a links style course. And that's what I really wanted it to be and it turned out to be. There's more mounding, there's a lot of tall fescue, we re-did almost all the bunkers. Not just from a design standpoint but also from a drainage standpoint and the type of sand that we use. In fact I was playing while we were deciding what kind of sand to use. I had played Conway Farms and I don't know how you can say you ever like sand, but I liked the sand there. I hit a couple of shots out of it and I just loved the way it felt, and naturally I had good results from it. So I found out what the type of sand was and brought that back to our superintendent and we talked about it and we decided to use it.
It's like Waupaca steep faced, I may have pronounced that wrong. But how do you say, it doesn't wash-out. I mean if you have it on a 45 degree incline and it rains it doesn't all wash-out it's somewhat the shape of the crystals it kind of locks itself in place and that's why it's called steep face. It's an artificial sand; it's not something they mine, it's something that's made believe it or not.
So again I'm not sure if I answered the question, but I wanted it to be Scottish links style golf course, minimal trees. The only trees we have other than the few we inherited, they are mostly quality tress. Most of them are coniferous trees, we have a number of Norway Spruce and a number of different varieties of Pine on there, but we are certainly not a woodland type golf course at all or parkland whatever term you want to use.
Click here to read part two of our interview with Jim McWethy.
Podcast: Play in new window | Download
Subscribe: RSS