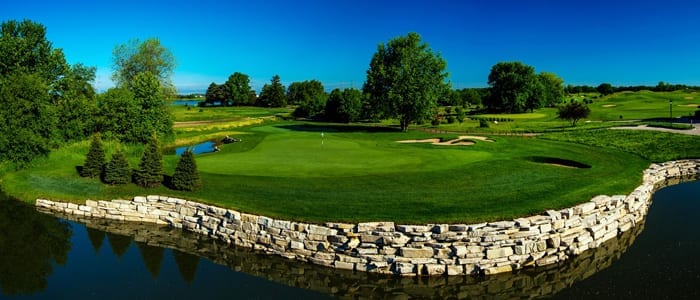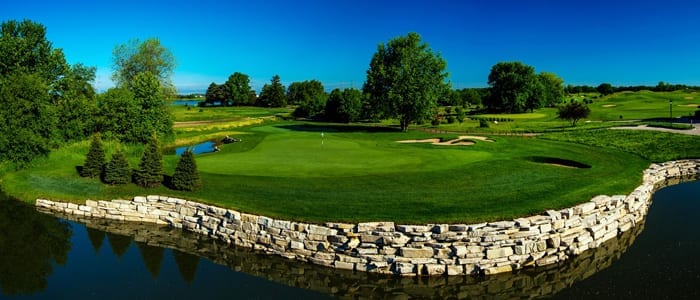 Jim McWethy was the owner of Mistwood Golf Club in Romeoville, which has been honored by Golf Magazine and Golf Digest as "Renovation of the Year" and "Best New Course."
In the second part of our 2016 podcast interview with Mr. McWethy, we learn about the surprising impact that golf courses in Australia and Scotland had on the Mistwood redesign and how growing up in the Palos area sparked his passion for golf. We also discuss how golf and golf courses in the Chicagoland area have evolved over time and why winter golf practice facilities are important to growing the game.
Interviewer: Walter Lis. Running Time: 22:13

CGR: Are there any other golf courses that you've visited that have influenced the new Mistwood?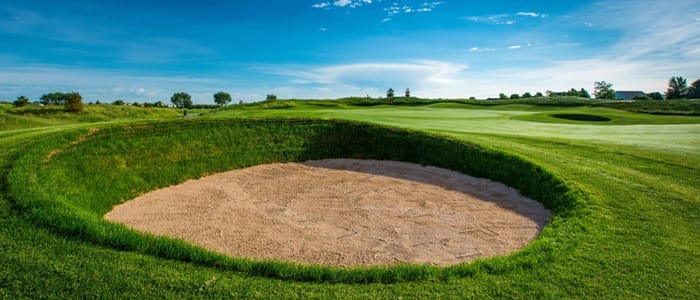 JM: I have been to Ireland and Scotland a couple or three times. Another place that I visited that not many American visit was Australia and played some of the courses in the sand belt near Melbourne, and I found some courses in Australia that I just fell in love with. The McKenzie courses and I kind of like his bunkering. A course called Kingston Heath and I think that's just outside of Melbourne if I'm not mistaken.
I fell in love with that course, so yeah there were time when I would talk to Ray Hearn (Mistwood Golf Course Architect) and say hey I've got some pictures that I took in Australia, I love this look and other course is in Ireland and Scotland. Yeah, there's some in Cruden Bay, I love Cruden Bay and a little course called Brora way up north that my first thought was, why did I come all the way to Scotland for this funny little golf course, and then I fell in love with it. It's just this funny little thing with little fences around the greens to keep the grazing animals off the greens. Crazy crazy place, but a long answer to your question, yes.
CGR: So I believe you grew up in the area in Palos Heights and you know you still live in the area, correct?
JM: Yeah I live in Downers Grove. I grew up in Palos. I don't think you're old enough to remember there was a course called Navajo Hill along the East edge of Palos. We moved there and three or four years later they subdivided it and built houses. It's the site which is now Trinity Christian College as well as a sub-division called of all things Navajo Hill, Navajo. So I grew up across the street from the 13th tee and that's pretty much where I started playing golf. I played the Silver Lakes and the Cog Hill's and Glen Eagles then in high school competition played the Flossmoor's and Ravisloe, Olympia Fields and so forth. So yeah, pretty much a local kid and didn't end up too far from where I started.
CGR: One of the biggest things that impacts Chicago golf a lot is the fact that the golf season can be shorter here, so is that one of the reasons why you took that next step with the performance center and basically created something that's year round?
JM: Yeah, that as well as the clubhouse. The thing that was kind of a surprise here was we had the performance center all designed and it was under construction, and then I learned at that time what was called the Ditka Dome on Route 53 in Bolingbrook was available. And I had actually been thinking about buying a second golf course. I was actually considering buying Bull Valley, and luckily for me I think the opportunity to buy the Ditka Dome came along and kind of took my attention away from Bull Valley to something that was more local. So we bought the Ditka Dome and completely gutted it, remodeled it, updated it, renamed it of course to McQ's (now Mistwood Golf Dome). Two reasons for that, one it sounds like McWethy and with my M-C-W sounds like a 'Q' when you pronounce it.
So that took my interest away and it made the need for the performance center a little bit less. But I have no regrets with the performance center. It's just fantastic in the summer months and in the colder months. We're planning to close it for a couple of months this winter. But we also think we'll probable reopen it maybe in March or so and there's a lot of people wanting to get ready for the golf season. So we kind of duplicate this winter thing, but I have no regrets about it, it works out fabulously and the the old Ditka Dome, now McQ's is quite a rocking little place. Has great food as well. So there's no dome you can go to that I know of and whack golf balls but also enjoy an excellent menu and excellent food.
CGR: Do you find that with McQ's audience are you able to expose more people to the game of golf and then hopefully translate them over to Mistwood in the warmer weather?
JM: Absolutely, absolutely. It's not in your face – well maybe some. Its borderline in your face in the advertising for Mistwood at McQ's and some of the targets to hit golf balls at surprisingly are the Mistwood logo. Yeah, they work really well together. They're maybe only about 12 minutes apart and a lot of our people that come to play at Mistwood learn about it through McQ's and obviously it goes the other way around. Mistwood members and our players hang out at McQ's a lot in the winter. In fact, if you're a member at Mistwood it entitles you to privileges at McQ's in the winter. We have about 100 members at Mistwood right now, they're actually growing it's actually over 100 right now.
CGR: Let's talk a little bit about that then. What do members get at Mistwood because it's obviously available open to the public, but I don't think many people realize that there's membership opportunities there.
JM: Right, I mean obviously if you play a lot of golf there's an economic reason. It becomes less expensive, but that is not the important thing. In many respects the experience at Mistwood is pretty much of that of a private club, and the people that play on a daily fee basis in affect we're letting them onto a course that is private club caliber in every respect. So we have a lot of events for members, and it's just a tremendous camaraderie. We have a wonderful bunch of members and they're good players. Our membership is attracting people in many cases that are leaving private clubs and they're coming to Mistwood.
And there's tremendous interest right now. We don't know at what point we're going to have more members than we want, because we don't want that, I cannot see us becoming a private club. Especially being a private club in this market is extremely challenging. It's not my nature. It's not what I want. I want it to be accessible to the public, but we have about 100 and it seems to be growing and picking up several members a week and they are in quite a few cases coming from private clubs. So for a member at Mistwood it's pretty much as good or better than a private club experience than a truly 100% private club.
CGR: Lets' talk a little bit then about your thoughts on growing the game of golf. You have this unique opportunity with McQ's where you can get people who maybe aren't that familiar with golf, expose them to the golf dome that you have. But you also have this fantastic performance practice facility now at Mistwood. What are your thoughts on what it takes to kind of cultivate the next generation of golfers and to get more people playing golf at a great place like Mistwood?
JM: Yeah, boy is that a huge question and I wish I knew the answer to that but it is because we're trying to grow our business in a market that's shrinking. And I look at it at two levels. I want to make Mistwood so good that it attracts members or players from other courses, but you know the number of golfers is shrinking. And we do a lot for youth with a lot of youth programs. We have a thing called CAP, Committed Athlete Program, and more and more we are concentrating on youth golf and probably one of the best programs in the area in my opinion for young players in terms of getting them college scholarships and moving in that direction.
CGR: Now do you think you've seen a change since you became part owner of Mistwood and then became full owner and took on McQ's? Have you seen a change in golfers because like you said, it's been a struggle to get new golfers? You know you've seen TopGolf nationwide and really blowing up. And you've seen other things that are golfers bringing music out onto the course. There have been these subtle changes, but do you think that's signaling a bigger change in golf?
JM: I hope so, I hope its bringing people in. I don't see TopGolf being anything other than a very very bright side of competitor if at all. Most of what we are seeing is at Mistwood is the quality of player is growing. We have some very very fine players that are coming to our course, whereas 15 years ago, while the course was a wonderful golf course it was attracting people that didn't drive very far to get there. Now, we have members that can drive an hour to get to our place, and we are seeing people that are coming into town and they're playing in a couple of private clubs and they're playing Mistwood. So it's a whole different look, even the cars in the parking lot are different. Now we see exotic cars in our parking lot that we've never saw before.
So it's changing, but I don't want it to become an elite course that is only accessible to people that have the money. I still want to see some Volkswagen's and some Datsun's beneath them in the parking lot. But there is a definite difference in the type of players over the past 15 years or so.
CGR: So let's finish up then with the final question I always like to ask, and I think you're going to be perfect for this because your history of growing up here. In addition to Mistwood, and you mentioned Conway Farms, what are some other local golf courses that you really like? And from your perspective of an owner, are there courses that you respect the way they conduct business?
JM: First of all, I think we are the best public course in the Chicago area, a little bit of bias there but a number of people have said that. I like Cantigny, I like Harborside, I like the Glen Club and of course Dubs. I've not played the new Dubs so I can't really offer an opinion. I love the old Dubsdread, but I'm not so sure that I will like the new Dubs as much as I liked the old.
On private clubs I love the Dunes Club up in New Buffalo; it's just a wonderful refreshing little course. I love Shoreacres, I love Chicago Golf Club and you can sort of tell by the names or the courses that I pick a lot of them are pretty links-type golf courses, and very traditional type golf courses. I don't love tricked up new golf courses.
Podcast: Play in new window | Download
Subscribe: RSS