In early April, when thousands of patrons personally visit The Masters tournament along with hundreds of millions more who will be watching on television, the impressions that will strike them are that of true Southern hospitality, Southern traditions, and Southern landscape beauty. Azaleas, dogwoods, tall Southern pines, and a drive or stroll along Magnolia Lane will create memorable images that last a lifetime — with or without a covert digital camera. Then there are the wonderfully manicured tees, fairways, and greens that visitors claim have every blade of grass cut to perfect heights. But there is one Northerner, a Yankee, whose inventions and innovations, in many ways, aided in the development and progress of the beautiful Southern golf course we know as Augusta National Golf Club; his name is Joseph A. Roseman, and his final roots grew deep into the Chicago area.
Joe Roseman was born in 1888 and grew up in Philadelphia, where he caddied and played golf. Becoming quite proficient as a golfer, he became at professional at age 15. Among Roseman's first professional positions were jobs in Lake Placid, NY, then a move westward brought him to Des Moines Golf & Country Club where he served as both professional and superintendent from 1907-1916. It was here at DMGCC that Roseman's ingenuity and inventiveness sparked his ideas about mowing and would earn him a reputation as the 'father of the modern mower'. Joe created a hitch for horses that allowed them to pull three gang mowers as a unit.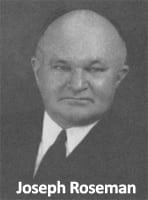 He later adapted a Model T Ford to serve as a tractor to pull these same mowers. Roseman then moved to Racine, WI, and took up golf course design, and by the end of 1917 had moved again, just 70 miles to the south, settling in Glenview, IL where he designed courses and served as the first professional and course superintendent at the Westmoreland Country Club in Wilmette.
Roseman then made yet another golf career change and started selling his latest golf innovation, the Roseman Mower, a hollow mower roller designed to preserve the turf. Joe opened the Roseman Tractor Mower Company in Evanston in 1928. Naturally, if grass grew faster and taller, then it would need to be cut more frequently and that would be good for the company business, so Joe pioneered the use of complete underground watering systems for golf courses. He sold this idea and the pipes along with his tractor mowers.
Now it is not certain if Bobby Jones and Alister MacKenzie actually used any of the Roseman materials when construction of Augusta National Golf Club began in 1932, but the Roseman equipment and philosophy did certainly exist at that time, and the Jones / MacKenzie notions were to create the best by using the best. So, this year when there is mention of the fleet of fifteen Toro Reelmaster mowers that manicure the Augusta National fairways, or the SubAir System that scientifically monitors and maintains the underground moisture and temperature of The Masters' greens, why not give some thought to the 'Yankee' inventor from whose ideas these modern technologies evolved — Joseph A. Roseman, Sr.
Joseph A. Roseman, Sr. died on February 29, 1944, at his home in Glenview, IL, but the evolutions and advancements of his mowing ideas have lived on to this day.