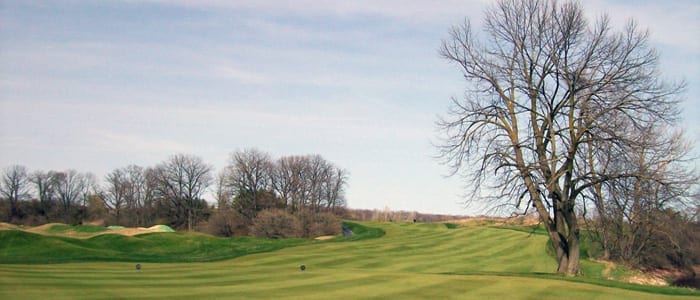 Spring has finally arrived in Chicago… I think. For golfers this means it is time to start heading out to the golf course and regain your mid-season form as quickly as possible. However, before you head out to that practice tee and start hitting large bucket after large bucket, make sure you get prepared to use this opportunity to improve your game to have the best summer of your golfing career.
So far in my career, I've been able to teach students in both a year-round and six month golfing climate and the one difference that I always hear is that the year-round climate has an advantage because golfers can practice and improve without a break. My students in the cooler climates blame the winter months as their downfall for slow improvement and forgetting key swing concepts.
While I agree that being able to play all 12 months a year can definitely be an advantage, those golfers coming off a winter layoff fail to take advantage of "forgetting" swing concepts because usually that means they forget bad ones as well. Taking advantage of this early in the season is critical to making improvements for the long term because correct swing concepts can be implemented in the "re-learning" process.
The first thing I advise all golfers who are coming off a long layoff from the winter is to take a lesson from a PGA Professional. This way they can practice some new key swing points on the range instead of reinforcing any bad habits that have been ingrained from the golf inactivity of the winter.
Most of my students will tell me that a new position or move in the golf swing feels awkward which makes the adjustment period tough while learning the new skill. Fortunately, at this point in the season, our entire swing feels pretty awkward and rough, so learning the correct technique while trying to feel comfortable again over the golf ball is a way more effective strategy for starting the golf season.
The second thing that I will implore to my students is that when they go to hit balls, take the time to work on whatever it is they are going to be trying to improve. This is not the time to be hitting multiple golf balls in succession without any thought.
It is more important at this stage in the season than any other time to hit each shot with a purpose and analyze the resulting shot. The most effective way of doing this is having a specific target to aim at. But it is not just enough to have a directional target, knowing the distance of the target and the conditions that are present also need to be accounted for.
If you are really serious about making this the year you finally reach your goal whether that is shooting under 90 consistently, breaking par for the first time, or anything in between, take advantage of this early season to not only shake off the old rust but install some new parts to your golf game.