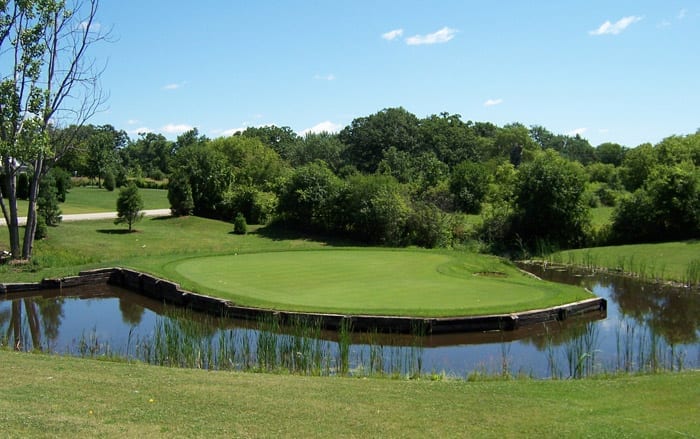 Imagine, for just a moment, seeing this fake headline: "TPC Course To Be Built in Lake County, IL"; or briefly ponder seeing this false press release: "The PGA Tour has announced plans to build a Tournament Players Course in Ingleside, IL". The truth is that one resident of Ingleside did imagine and ponder, then designed and built his very own replica of the famous island green #17 hole of TPC Sawgrass — right in his own front yard!
Long-time resident of Ingleside, IL, Mr. Don Snelten, spent nearly five years time and $50,000 to build his very own golf hole — a slightly scaled down version of Pete Dye's scenic, and many times infuriating, 17th at TPC Sawgrass. But Snelten asserts that the time, effort, and money spent to create his enjoyable, front yard conversation piece was, indeed, well worth it.
Don has stated "I really did it for my own visual enjoyment and environmental ambiance." So when he and his family look out their back windows (Actually, Don's house is architecturally reversed), in addition to viewing a beautiful golf hole, the Sneltens get to see plenty of wildlife that his creation has attracted. Don said "We see heron, deer, muskrats, bullfrogs, and turtles on a regular basis, along with other critters."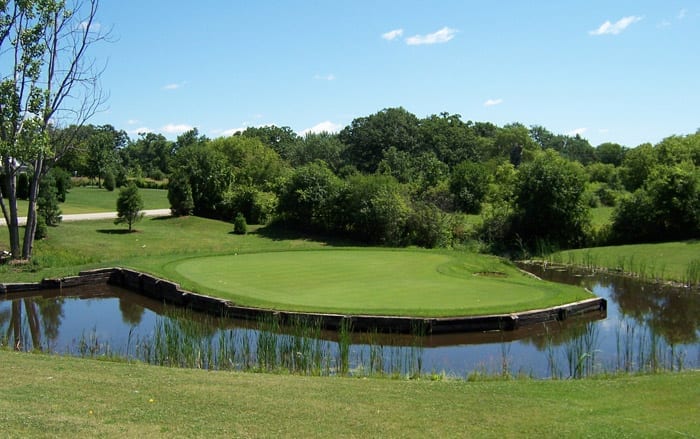 Don has always been an avid golfer. He started playing golf at age nine, and through the years grew more proficient at it, even turning pro for a while in the late 1970's.

After his stint as golf pro, and a slight career-path change, Don has ended up as president of Turf Systems, Inc., a company that installs synthetic athletic surfaces, including putting greens — a bit of irony because Don's replica hole is real grass. Don mentioned that as a young amateur golfer, then later as a pro, "I always dreamed of owning my own golf course, but as it turned out, I've had to settle for owning just 1/18th of one."

Here are some of facts and figures of Snelten's replica hole: the green at Ingleside measures 3,000 square feet; the distance from tee to center of the green is 100 yards; much like the green at Sawgrass, the Ingleside green is an island supported by railroad ties; excavation of the pond moved 4,000 cubic yards of dirt; two culverts adjoining Snelten's property funnel rainwater into the pond, creating and maintaining the 'island'.

Although Don's island hole plays a bit shorter than the real island hole (100 yards versus approximately 138-142 yards during The Players Championship), the Ingleside green's surface is only 60% of the size of Sawgrass, making it an equally challenging shot.

There is somewhat of a final chapter or epilogue to this Snelten saga; when word of the Ingleside replica green became public and finally reached the folks at TPC in Ponte Vedra, an invitation was extended to Don (who had never played the real, original island green) to visit and play TPC Sawgrass.

With a local television crew following him around, during the winter of 2008/9, Don got his chance at "#17". "When I finally got around to the seventeenth hole I felt fairly calm; the 'visual' of the real hole looked quite like my replica, which plays even a bit tighter. The wind, that day in December, was not much of a factor (less than 10 mph), and my 9-iron shot landed and stayed right near the middle of the green; having hit several thousand 'practice shots' back home over the previous three years must have helped".

Back in Ingleside, what do Snelten's neighbors and neighborhood visitors think of his green? Snelten says "they are fascinated by it" and strangers pause when driving by, then yell "Hey, that's awesome!".

If you're in the market for a home with a replica of the 17th hole at TPC Sawgrass, you're too late. This home was sold according to Zillow.