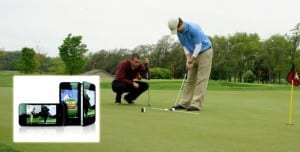 Now that many golfers have a smart phone or mobile device, golf professionals are using new ways to help their students improve by leveraging online and mobile channels. In this interview excerpt with top local PGA Professional Greg Baresel, we learn how he uses online products and services to help his golf students. From ebooks to virtual golf lessons, Greg is at the forefront of providing quality golf instruction to today's tech-savvy golfer. You can learn more about Greg, along with his ground-breaking products, ebooks and online educational tools on his website.
WL: Talk a little bit about what's happening on your website and what you're looking to accomplish or at least offer golfers online.
GB: So, I really try to help everybody. And there's definitely an option through me that somebody can get some help on whether it's through my e-books—and my e-books are pretty simple. And they're pretty affordable too because I want to help as many people as I can. My main e-book is The Player's Handbook. And what it is, it's not your typical golf instruction book. It's more a game plan for you to develop into a better player.
So you're setting goals in the e-book. Then you're putting together a plan and then how to actually see that plan through. There's different drills in there and different exercises to help you become into a better golfer. As well as a journal so you can log your performance throughout the eight week period to see how you're doing.
So it's definitely a unique e-book and definitely different than you would see anywhere else. And that's how I found for people to become better players is by actually having a good practice routine. And that's what this is all about is establishing a goal and having a good practice routine to reach that goal.
And I've got another e-book that I call The Secret of Breaking 100. It's more of a booklet. It's a short read. It's just some easy solutions to help you become a better player to break 100 and what it takes to break 100. And it doesn't take very much to shoot below 100. But there's just certain things you have to do on the golf course. And it's really just playing to your strengths and avoiding your weaknesses.
As far as my online coaching programs go what I wanted to offer was people that couldn't make it to the lessons a program where they wanted to get better. This is more for them to really have their own coaching program at their convenience. It's more, what I like to say, me coming to them. And it's as simple as sending me a couple of golf swings and we put together a little video for you that will help you improve your golf swing and also works on your scoring as well. So I definitely talk about some techniques that will help them become better players.
So there's definitely options for everybody. Whether they want to come see me or do it more remotely or even just some practice techniques through the e-books to help them become better players.
WL: So for people who would like to see you face to face what's the best way to find you?
GB: They can contact the Cantigny Golf Academy. And their number is 630-260-8199 to set up a lesson there. They can also contact me for e-mail. The easiest one is Greg@GolfWithGreg.com. Or through my Website as well which is GolfWithGreg.com for any scheduling purposes.
WL: So since you have an extended history, in fact your entire life here in the Chicago Land area, talk a little bit then about obviously in addition to Cantigny, which is definitely one of the top courses in Illinois. What are some of the places that you really like? What courses stand out to you. It could be public or private.
GB: You know, we're very fortunate to be in a heavily golf populated area here in Chicago. And there's some phenomenal golf courses in the Chicagoland area. If you want to be set on a certain location there's definitely a course near that location that can fit your needs. And I've been very fortunate to play some really good courses here. My favorite course is actually one I used to work at, which is Bull Valley Golf Club. And that probably one of the most hidden gems I would say in Chicagoland. It's one of the hardest courses in the country but it's something that provides a good scenic route, playability, but also if you want it to be difficult that can make it happen as well.
I've also been very fortunate to play Rich Harvest Farms. That's one of my favorites as well. So, you know, as far as private clubs go, I'd say those are top of my list. I mean, there's some other ones I would love to play just haven't had the chance to.
And then public golf courses, there's so many good ones around, Cantigny being one of them. To be able to play a championship golf course like Tail Number Four. You know, Pine Meadow up north. There's also Makray in Barrington. There are just so many around here that you can play in and definitely get that championship golf course feel that the pros get.
WL: So then my last question for you is knowing that we're just kind of getting to the point where hopefully the weather will stay consistently warm and there's a lot of golfers who are just starting to get into their game. What's like one suggestion you have for golfers who are starting off their season right now and they're kind of—you know I think many amatures golfers always have to fight those expectation. Because a lot of times we get better in the winter when we're not playing at least in our own heads. So, what do you suggest to them when they first start out? It could be physically or mentally. What kind of things should you be thinking about for those first few rounds of golf in the year?
GB: Yeah, no, that's a great question and I've been talking about that a lot with people lately because we're finally now starting to get out to the golf course and play. And it's understanding what's our goal? What's our objective? And what are we trying to do those first couple of rounds? I really try to stress treating your first couple rounds like it's the pre-season and not trying to go out and shoot your best score now. It's trying to get a feel for playing golf again, what your tendencies are and really keeping track of some stats. You know, how's your putting? How many greens in regulation have you hit? How many fairways?
So that way you know what you need to work on to try to get better in the long term. So treat it more like a pre-season game where you're just getting back out. If you put in some work this winter that's great. See what's actually happening on the golf course. And then have some goals on what you want to do a month from now based on your performance right now.
WL: That makes a lot of sense. I think that's very valuable too because you talk to so many people who get out there, so many amateur golfers, and it's just, I think it's almost sensory overload for a lot of players. So, I think to have a refined focus and it seems to be that's kind of a constant theme for the way you teach is that there's sort of a pragmatic approach towards setting goals, following a routine and kind of getting better like that.
GB: Right. Yeah. I really like to think more end of the year type of trying to achieve our goals. You know, if we achieve them too early we didn't set the bar high enough. So if you have a goal to shoot a certain score make it a score that's pretty tough so that way you can work all year to try to reach that in August, September. You're definitely feel much better about it. And really make that your target for every time you go to practice and go to play and what you need to do to reach that number by the end of the year.
Listen to the entire interview with Greg Baresel on the Chicago Golf Report Podcast.