Incorporated in 1861, the city (not village, not town) of Lake Forest is aptly named. Its eastern edge hugs the shores of Lake Michigan, and tens of thousands of trees grow within its seventeen square mile city limits. With this abundance of hardwoods, Lake Forest has been named a Tree City USA by the National Arbor Day Foundation in recognition of its commitment to community forest. As of 2020, Lake Forest has earned this annual recognition 41 times, tying Highland Park and Elmhurst as the number one "Tree City" in the Chicago area.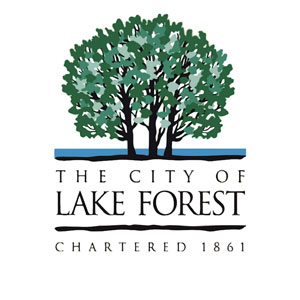 Also aptly named is the street, Deerpath Road, for the location of Lake Forest's city owned public golf course — Deerpath Golf Course. For centuries past, Deerpath Road had been a game trail for deer seeking drinking water from the Middle Fork of the Chicago River and nearby ponds.
Throughout its 160-year-old history, the leaders and elders of Lake Forest have fostered a commitment to preserve nature. Found within its boundaries, and preserved into perpetuity, are wetlands, original pre-1830 prairie lands, woodlands, and a savanna.
In present times, Lake Forest is also admired for its cultivated landscapes; the green grass of its clean city parks and the meticulously maintained private lawns of Lake Forest's mansions are things of beauty.
So, speaking about Lake Forest's lawns, Deerpath Golf Course, in partnership with the Friends of Lake Forest Parks and Recreation Foundation, the Wadsworth Golf Charities Foundation, and KemperSports, is proud to have broken ground for The Lawn, a community asset with a welcoming, family-friendly atmosphere dedicated to serving golfers from all areas, including the residents of Lake Forest. This free-to-use greenspace will cover more than 30,000 square feet, consisting of a world-class bentgrass putting and chipping experience providing practice options for both novice and avid players alike.

The Lawn, and its designer Todd Quinto, were inspired by the public-access Ladies' Putting Course in St. Andrews, Scotland and renowned putting courses such as The Punchbowl at Bandon Dunes Golf Resort, The Gauntlet at Streamsong Resort, and Thistle Due at Pinehurst Resort. The Lawn's impressive footprint will offer an 18-hole putting course and three-hole chipping course, and is surrounded by a 15 foot chipping fairway surface and synthetic practice tee stations. Players of all skill levels will enjoy the green's challenging variety of hills, dales, and swales.

"With the demand for golf continuing to grow, Lake Forest is proud to offer its residents a premier practice facility to encourage players of all skill levels to either start or continue enjoying the game," said Director of Parks, Recreation, and Forestry at The City of Lake Forest, Sally Swarthout. "Combined with the ongoing drainage and facility upgrades, Deerpath Golf Course is proud to be enhancing the first-class golf experience residents have enjoyed for more than 90 years."

Deerpath Golf Course will be one of the only municipally owned facilities to feature such a world-class amenity, making the course a destination for golfers across the Chicagoland area and beyond. Slated to open in the spring of 2022, The Lawn is designed to cater to all ages and abilities, offering a fun environment for families to gather as well as adult social groups and youth community programs. While the main goal of this space is to bring the community together, The Lawn will also be available to rent for private events.

"The Lawn will be a wonderful addition to Deerpath. Our hope for The Lawn is that it can inspire the local community to either refine their existing skills, or better yet, give them the courage to pick up a club for the first time," said KemperSports CEO Steve Skinner. "Spaces like The Lawn quickly become a gathering place for people of all skill levels and ages to engage with the game of golf. We could not be more proud to bring this asset to the City of Lake Forest, and we are thrilled to see the positive impact it will have."

Initiatives like The Lawn are part of a larger effort by The City of Lake Forest, the Friends of Lake Forest Parks and Recreation Foundation, Deerpath Golf Course and local management company KemperSports to help grow and diversify the sport by encouraging people from all backgrounds, ages, and skill levels to engage with the game of golf in their own unique way. The Lawn will complement the existing Deerpath facilities that the city has invested in over recent years, including the updated clubhouse and the course itself.