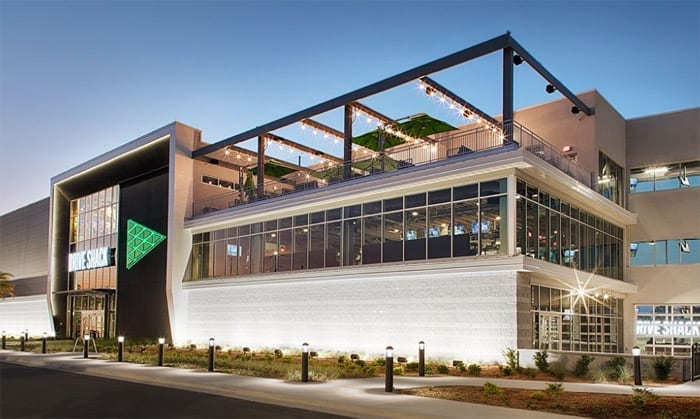 Golf entertainment business Drive Shack announced in 2020 that their planned location along the Chicago River in Bucktown would not be moving forward. Similar to Topgolf, Drive Shack is a golf-focused entertainment venue with an augmented reality driving range, event space, chef-inspired food, craft cocktails and more.

The Chicago Plan Commission endorsed the proposed Drive Shack Chicago location at 2501 North Damen, on the site of the old Vienna Beef factory in Bucktown at the Damen, Elston and Fullerton avenues intersection that borders the Chicago River. Drive Shack planed to build a three-story building with heated bays, 337 parking spaces and a riverwalk that would extend from Fullerton to Damen.

In November 2022, Drive Shack opened Puttery Chicago, a modern spin on putting, re-defining the game within an immersive experience and innovative technology as guests move from one course to the next. Puttery Chicago is located at 932 West Randolph Street in the heart of the Fulton Market District and Randolph Restaurant Row.

Drive Shack's first venue opened in Orlando in 2018. The Orlando facility features 90 full service all-weather hitting bays across three levels, a grill & bar restaurant, rooftop terrace lounge and 300+ TVs. Drive Shack Orlando also offers flexible meeting spaces for events and a Drive Shack Academy for golf instruction.

In addition to their Orlando location, Drive Shack operates facilities in Raleigh, North Carolina and Richmond, Virginia with a West Palm Beach, Florida location set to open in October. Another seven Drive Shack facilities, including Bucktown, are currently in development.

Drive Shack recently announced that Houston will be the site of their fifth Puttery location. Puttery is a competitive and entertainment golf experience that features a two-story, 23,000-square-foot venue offering four nine-hole putting courses, multiple bars and rotating DJs.

Topgolf opened their first Chicagoland location in 2007 in Wood Dale. Eight years later, they opened a three-level, 65,000-square-foot flagship location in west suburban Naperville. A third location is currently under construction in Schamburg.

The Bucktown Drive Shack was to include a three-story 71,000-square-foot building, which would be comparable in size to Topgolf Naperville. The Topgolf Schaumburg facility is located along Interstate 90 at Meacham Road and offers 102 climate-controlled hitting bays, a full-service restaurant and three bars, as well 250 high-definition flat-screen TVs and a 5,000-square-foot outdoor patio.

Both Topgolf venues currently employ more than 800 associates. Topgolf Schaumburg is expected to create an additional 500 full-and part-time jobs.


Golf pricing at Drive Shack Orlando ranges from $10 per hour/per person in the morning to $50 per hour/per bay in the evening. Bays are assigned upon first come, first serve basis.

Drive Shack's ranges are equipped with TrackMan™ Range Doppler radar-based technology, which provides precision ball tracking in real time. Access to the range, golf clubs, unlimited balls, all games and virtual courses are included in the hourly price.

Drive Shack welcomes players of all skill levels and there is no membership required to partake in Drive Shack's proprietary interactive golf games. Avid golfers will enjoy playing virtual courses from around the world such as St. Andrews Links Old Course and PGA National. Drive Shack also offers Pro Practice technology, which reports on golfers' swings measuring ball distance, spin and speed.