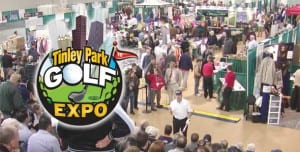 The south suburbs of Chicago finally get their own winter golf show in 2012 with the 1st Annual Tinley Park Golf Expo, which will take place February 17-19 at the Tinley Park Convention Center. The event is open to the public and will run from Friday until Sunday, featuring golf instruction and activities, information on golf courses and destinations, golf equipment and apparel.
The Tinley Park Golf Expo will also be awarding "Free golf for life" to one lucky Expo attendee. The event will also offer Chicago golfers the chance to enter skills challenges for prizes. The Tinley Park Convention Center is conveniently located just north of I-80 on Harlem Avenue.
"The south suburbs have long been in need of a full service golf show to provide information as well as entertainment. And this will simply be a family friendly, interactive, fun show. There has not been a similar show in our area for many years and that was the basis for beginning this endeavor. The sense of community we feel in Tinley Park also influenced our choice of venues. The convention center is part of our neighborhood, and it is welcoming for consumers and vendors." Greg Buban, Partner, Tinley Park Golf Expo, LLC.
The Tinley Park Golf Expo
February 17-19, 2012
Friday: Noon – 7 PM – Admission: $ 5.00
Saturday: 9 AM – 6 PM – Admission: $10.00
Sunday: 9 AM – 4 PM – Admission: $10.00
Tinley Park Convention Center
18451 Convention Center Drive
Tinley Park, IL 60477
Title: 1st Annual Tinley Park Golf Expo
Location: Tinley Park
Link out: Click here
Description:
Start Date: 2012-02-17
End Date: 2012-02-19