I recently played golf with a friend who adheres to the 60-second rule. Before each swing, she takes 60 seconds to calm her mind, focus and mentally rehearse the shot.
The results were fantastic, as she was able to eliminate many of the mental miscuses that would often occur when her thinking was scattered. Who knew staying in the moment could be so beneficial on the golf course?
Focus training is nothing new for professional athletes, especially golfers. In fact, a couple years ago I wrote about the Muse headband. At the time, it was part of a new group of devices that merged relaxation with wearable technology to help track and improve mindfulness.
Fast forward a couple years and we now have the next stage in this movement – sunglasses for mindfulness training. I recently tested the Smith Lowdown Focus, it's the first "brain-sensing" eyewear that evolved from The Muse headband.
The Smith Lowdown Focus glasses are a helpful tool to improve concentration by training you to block out distractions and focus on a task. Similar to the Muse headband, the brain-sensing technology is now integrated into the nosepiece and arms so the sunglasses can monitor what's going in your mind.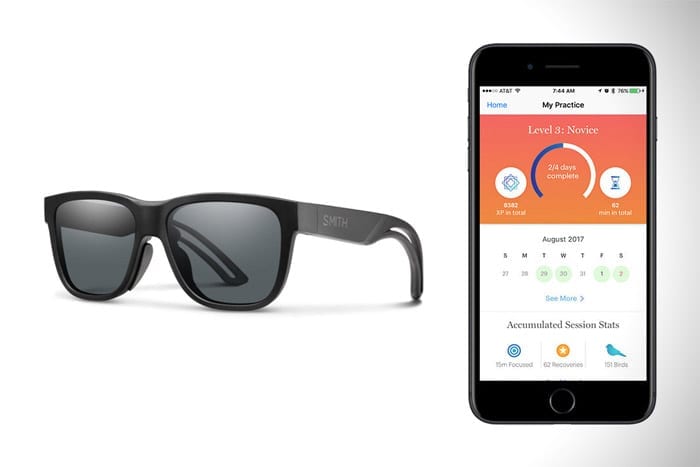 The glasses are paired with the Smith Focus app which crunches the data, interpreting it as a score. Choose session length and a soundscape (ambient, beach, city, desert or forest) and your goal is to simply quiet your mind. You'll receive auditory feedback to reward you and encourage you along the way.
The goal is to train yourself to recognize the feeling of focus. The more you can improve your focus, the better your ability to tap into that mindset when under pressure on the golf course.
The concept is actually quite simple. Teach your mind how to slow down and be present and you'll be able to better control your emotions during a round.
The Smith Lowdown Focus sunglasses are comfortable to wear and can be used indoors or out. The glasses pair with the Smith Focus app quickly and the app itself comes with step-by-step training to help you get the most out of the product and your practice.
The great Bobby Jones is famous for saying "Competitive golf is played mainly on a five-and-a-half-inch course… the space between your ears." There may not be a better way to train your brain for golf than the Smith Lowdown Focus.
[schema type="review" url="https://www.smithoptics.com/us/lowdownfocus" name="The Smith Lowdown Focus" description="The Smith Lowdown Focus glasses are a helpful tool to improve concentration by training you to block out distractions and focus on a task." rev_name="Smith Lowdown Focus" rev_body="There may not be a better way to train your brain for golf than the Smith Lowdown Focus." author="Walter Lis" pubdate="2018-07-29″ user_review="5″ min_review="1″ ]