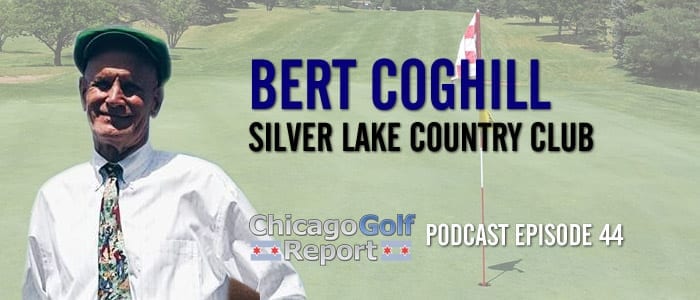 Our guest this episode is the Director of Golf Operations at Silver Lake Country Club in Orland Park, Bert Coghill. Silver Lake is a 45-hole daily fee facility the Coghill family have owned and operated since the early 1930s.
Bert Coghill is the grandson of one of Coghill brothers who were electricians (International Brotherhood of Electrical Workers – Local 134) and became Chicago electrical contractors with the Coliseum Electrical Company on South Halsted Street. The brothers would fall in love with game of golf and eventually build Cog Hill Golf and Country Club in Lemont, which opened on July 4, 1927.
In the early 1930s, the Coghill brothers purchased Euclid Hills Country Club (now the North Course) and Silver Lake Country Club (South Course), and merged them into a 36-hole facility called Silver Lake Country Club. A highly acclaimed nine-hole course (Rolling Hills) was added in 1963.
In this interview with Bert, we learn:
How a single golf outing motivated the Coghill brothers to build their first golf course
Why the name Cog Hill was chosen for the golf course
Why Cog Hill was able to survive the great depression
The reason why Cog Hill was sold to Joe Jemsek
How Silver Lake was built by combining two different golf courses and creating one new one
How golf course maintenance is impacted by our unique Chicagoland weather
The biggest challenge golf courses face today

Interviewer: Walter Lis. Running Time: 25:40
Click here to download an MP3 file.

The following transcript has been edited for length and clarity.

CHICAGO GOLF REPORT: How did the Coghill family initially get into the golf business?

BERT COGHILL: Our family originally lived on a farm in Monticello, Indiana. There were three brothers, my grandfather Bert, Jack and Marty, who decided to go to Chicago and find some work.

They hiked along the railroad tracks which parallel route 41 toward downtown Chicago. While they're walking along the railroad tracks, there was a lineman hanging up lines by the railroad tracks who asked "Where you guys going?" They respond "we're heading towards Chicago and we're looking for some work." "Well, you know what, I could probably use you guys" said the lineman, who ultimately hired the three brothers and they became linemen.

Eventually they made their way up to Chicago and they started an electric company which was called Coliseum Electrical Company. They were making a killing. They were doing great because everybody at the time wanted electricity in their homes and buildings.

So sometime in the early 1920s a man named Jock McIntosh, who owns Oak Hills, which is a golf course near us in Palos Heights, invites my grandfather and his two brothers to come out and play golf. My grandfather responds, "Golf, what's that?" "Come on out. We'll have a good time. You'll be in an outing and you'll have a load of fun" said McIntosh.

The brothers did have a lot of fun. Their response was "this is awesome, and we want to do this. We want to build a golf course, Jock, will you help us do this?" McIntosh agreed to help the brothers design a golf course.

The Coghills found some farmland out in Lemont and they built two courses. Jock laid out the routing and my grandfather, Bert became the Superintendent in charge of the grounds. Jack was in charge of the clubhouse and Marty wasn't quite sure that this was the right thing for him, so he kind of stuck with the electric company for a while, and after a few years he saw it was actually a viable business, so he decided to join and manage the concession stands.

After the courses were built, the brothers couldn't agree on a name. They considered many different ideas before deciding, "why don't we just hyphenate our name because it sounds like a golfing term anyway. We'll call it Cog Hill."

Cog Hill was able to survive the depression pretty favorably because Archer Avenue ended right at the front doorstep of the course. People would jump on a trolley from downtown Chicago which end right in front of the course. They would then grab a kid off the street and say, "C'mon kid, let's go. We're going to play golf and you can be my caddie."

My dad used to say you could play for two golfers for 25 cents, so it's like 12 and a half cents a round. After their round, they would jump right back on a trolley and go home. That's a good day's entertainment for about 20 cents, with the caddie fee.

Around 1953, Cog Hill added a third course, which is now the number two course. Frank Jemsek credited my grandfather for designing that course. He did the basic design before he passed away.

The caddy master, Joe Jemsek, hung around with my dad a lot. They grew up together in Lemont. Joe was first a caddie and then he became the caddy master, and then he became the pro.

Joe often pestered Marty that we wanted to buy the golf course for himself from Marty. Finally, one day Marty acquiesced and agreed to a price. About a week later Joe came back with the money to buy Cog Hill.

With Cog Hill sold, my grandfather started looking for another golf course and he found a course in Orland Park called Silver Lake that was under receivership. He bought the facility from the bank and operated it for about a year and a half.

Around that time, there was another private course next door called Euclid Hills, which was a Masonic order course. They were going to put houses around the fairways, just like you see in all the private clubs, particularly in Florida and the southwest. But eventually my grandfather also bought Euclid Hills.

Now he had two courses built side-by-side. They operated out of two clubhouses for a while before my dad decided to change the routing of a few holes so they could make a clubhouse in the current location, allowing us to operate all 36 holes from one location.

Then in 1963 we had some extra property in the northwest corner and we created a short nine-hole course, which is called Rolling Hills. It's won numerous awards in Illinois for the Executive Course of The Year.

The course features seven par threes and two par fours, up and down hills, very scenic and large undulating greens. The tees and greens all been redone in the middle 60s to early 80s. The greens have all been enlarged except for about three of them. Almost all the trees that you see on the golf course have been planted by us.

CHICAGO GOLF REPORT How many people when they come to Silver Lake and hear your name realize that Cog Hill came from your family?

BERT COGHILL: Quite a few. I tell people we were involved Cog Hill and it was sold in 1951 but we own Silver Lake. I'm really good friends with Frank Jemsek and we always share ideas and stuff like that. We are friendly competitors.

CHICAGO GOLF REPORT How work is involved to keep the quality of the courses at a high level and to meet the expectations that golfers have today?

BERT COGHILL: That's a good question, because golfers, they look at TV and they look at the Masters and the look at the TPC courses and they see that the greens are double cut and the fairways are double cut, as well as the approach areas. That's what people perceive what a good golf course should be.

A lot of maintenance must go in, because whether you have good weather or bad weather you still have to take care and the grass is still going to grow no matter what. You might have four or five days that it might rain all the time and you don't have any golfers, but you still have the ground crews still out there.

They are cutting, and they have to take care of the traps. They have to cut the greens. They have to cut the tees, fix wet spots, push up sand in the sand traps. There's all kinds of stuff to do, even if there might be nobody there.

If you have a hot humid summer, where the temperature doesn't get below 75 at night, you have the potential for all kinds of diseases, particularly at night. With the high humidity, the plant doesn't get any rest, they get weak and diseases happen, so then you have to spray. A lot of the times, if you don't catch it at the right time you're screwed.

And there is always a lot of work around the clubhouse too. You are always vacuuming; cleaning and we have parties all the time. We have a lot of outings here. We usually have one course available for golfers on a daily fee basis so they can come out and play. Occasionally we have double shotguns, but not that often.

Our superintendent has been here 25 years and he does awesome work. The course is in great shape, the greens are awesome, and we get a lot of compliments on our greens.

CHICAGO GOLF REPORT What was the reason for the addition of Rolling Hills? Is it used to stimulate more golfers, to allow more people to play?

BERT COGHILL: It's a great course for juniors to play. We have a junior league that plays every Friday during the summer. We have almost over 300 kids in the program and they start teeing off at 5 o'clock in the morning and go until about 1:30 – 2 o'clock in the afternoon.

During the summer, we put 8-inch cups on the greens, so we have two pins, you have a regular pin which is the regulation and we have an 8 inch cup.

We make the juniors play in the 8-inch cup. Juniors are often the least interested in putting. They want to hit the ball, they want to take full swing. So it's a good place to learn.

It's also a good course for ladies. We have quite a few ladies and seniors leagues on Rolling Hills. It's a great option for to play golf if you may not have time for 18 holes. It only takes about two hours or an hour and 45 minutes to play the nine holes. We also offer nine-hole rates on our big courses.

When we first opened Rolling Hills, the course was very busy. We had people drive an hour down here, and at that time we didn't take reservations, so people would wait.

Rolling Hills was one of the first nine-hole courses in the area, so it was quite unique. Now there's a lot of nine-hole courses around here, so it's not quite as busy as it used to be. But it's still a good breeding ground for new players.

CHICAGO GOLF REPORT How have you managed to keep these high standards for so long?

BERT COGHILL: Well we're here all the time. That's pretty much it.

It's not like we're absentee owners or anything like that. We are here almost all the time because it's a busy place.

We had a good 10 months of golf last year. We keep an eye on what's going on and making sure that the meal goes out nice and hot and has good presentation. We've got great kitchen staff. My niece Amy, who is my partner, is in charge of the banquet operations, so she's here all the time too.

CHICAGO GOLF REPORT What would you like to see for the next 10 years for Silver Lake and for getting more golfers and playing more golf?

BERT COGHILL: There are a couple of things going on. A lot of golfers are 50 years or older, which we consider seniors. They are pretty much traditionalists.

The National Golf Foundation about 10 years ago said your golfing population is increasing to becoming seniors at a rate of 1% per year. If you think about that for 20 years, that's a fairly large percentage.

The challenge is to get the millennials out playing golf. Do the millennials have the time to play 18 holes? Maybe not, so that's why we offer rates that allow you to play nine holes on our big course. I would rather see four golfers here than no golfers.

We put in a driving range about five years ago. We've got a lot young kids playing here. We do some special events including night golf on Rolling Hills. People love it, businesses will bring their people with them and make a fun night for them.
We also have movie nights every year where we actually have an outdoor movie and we set up the carts. We have popcorn, we have ice cream, we set up a grill. We also do putting contests.
The challenge is to figure out how do we get millennial involved in golf, because millennials are looking for experience. It doesn't have to be 18 holes. It could be nine holes. It could be 12 holes or 6 holes, and then sit around and have a few drinks. We've been working on trying to make events that are an experience as opposed to just a pure golf experience.
[schema type="organization" orgtype="LocalBusiness" url="https://www.silverlakecc.com" name="Silver Lake Country Club" description="Silver Lake Country Club is a 45-hole golf facility located in Orland Park, IL." street="14700 S 82nd Avenue" city="Orland Park" state="IL" postalcode="60462″ country="US" phone="(708) 349-6940″ ]
Podcast: Play in new window | Download
Subscribe: RSS