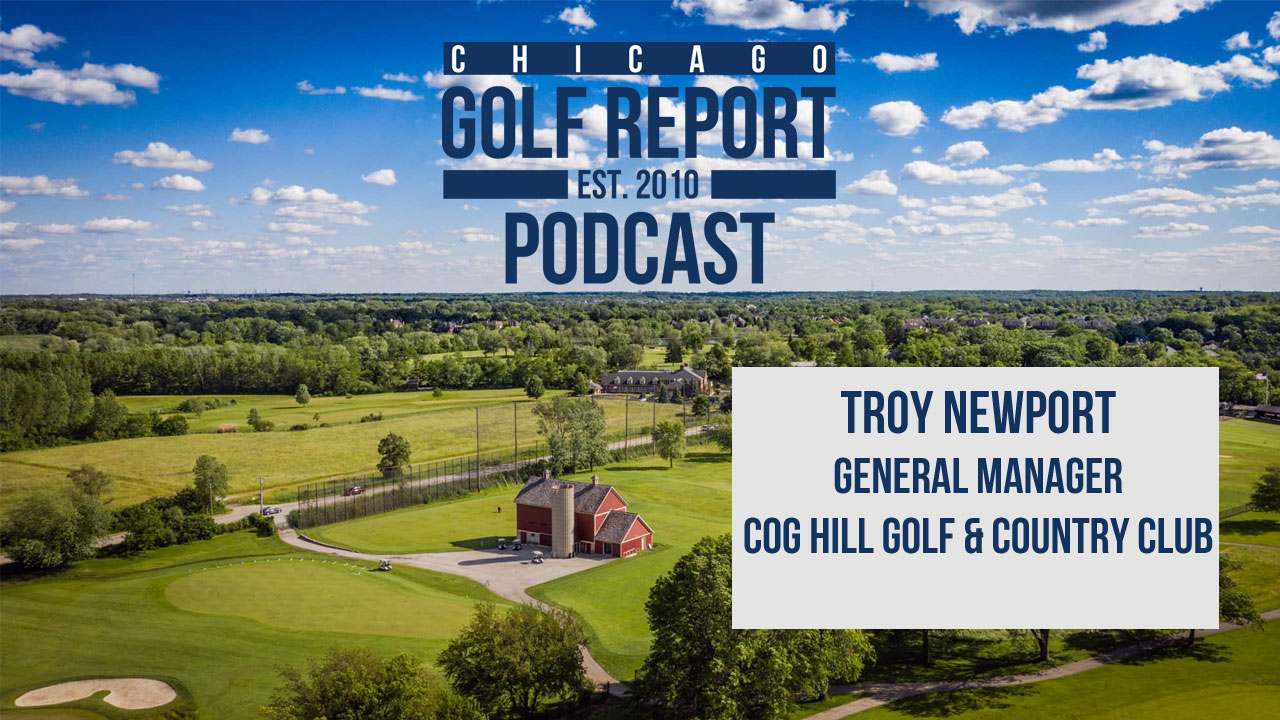 Our guest this episode is Troy Newport, who is the General Manager at Cog Hill Golf & Country Club in Palos Park. Troy leads the entire operations team at this historic Chicagoland 72-hole public golf facility that was the long-time host of the Western Open and BMW Championship. Located 28 miles southwest of Chicago, Cog Hill has been one of the most well know premium daily fee facilities in the country since opening in 1927.
Podcast: Play in new window | Download
Subscribe: RSS
The following transcript has been edited for length and clarity.
Cog Hill is such an iconic facility. You have so many things that you can offer. What are you excited about in the near future?
We have gotten some major traction with the addition of the Top Tracer technology to our driving range. The range was a busy place to begin with.
We are really well located to some golf courses that don't have a range. So we have guys come and hit balls before they play those golf courses.
Obviously, we've got the grinders, the guys come out and practice and then the people who are warming up before they play here. But when we added the Top Tracer it brought in all generations. Folks who want the technology, who want to be able to keep their practice statistics and see the flight of the ball, play virtual golf, play the games.
We're looking to, hopefully in the future, expand that to even more bays here, which would be a big deal for us. And the other thing is we're going to add lights to the driving range for the first time ever. So you'll be able to hit at night and have a cocktail, which you've never been able to do.
It's a whole area where you can go and hang out in addition to playing golf. And that's the entertainment factor that we're looking to provide that'll probably be a little more prevalent in the evenings.
We'll do food and beverage down there. The bar was the first element. Cause of course it's golf, the bar has to be first. But we'll have food down there eventually as well.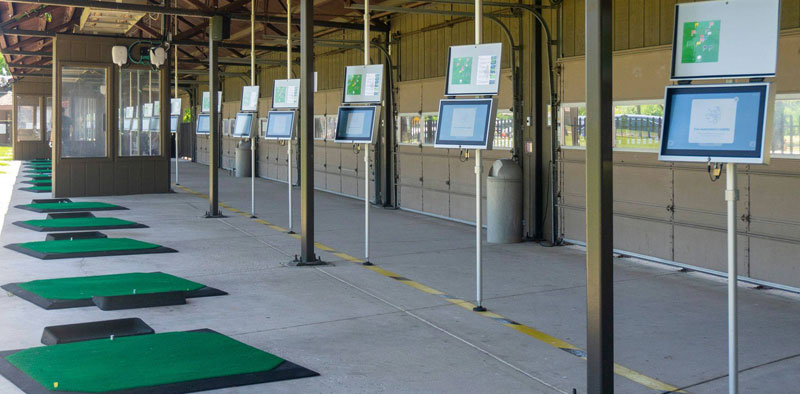 It'll be more of a nighttime entertainment spot. With some abilities to have, nighttime events leagues, and we've even had people asking for golf outings at the Top Tracer location.
It'll be a nice expansion for us that has, not a lot to do with the four golf courses, but something that's exciting for us.
Cog Hill is a facility known all around the country and around the world. You offer so many different things like a top-level teaching facility with the Top Tracer range. You also have the farm to table element, the banquet facilities, you have outings. How do you decide what you're going to focus on next?
The Jemsek family has been here since 1951 and has owned the facilities since then. And now the third generation is involved, but it always goes back to what is important to them. And I think what's important to them primarily is providing daily fee golf to their clientele.
That's quality golf, priced affordably and reasonably. But also they are really in touch with growing the game. And that's what we call a learning center for the whole driving range operation down there has really come around because that is a way for us to introduce the game in a different way to some groups of people that we'd like to do that with.
I would say it starts off with making the facility better for our golfers and then making it more enticing for folks who may be interested in the game or who may just be getting started by providing instruction, providing a great place to hit golf balls, a friendly place to come and play golf.
Where do events and outings fit into that? Is that a focus or are you still more daily fee?
It is a focus. We have a unique position where we can do those multi-course shotgun events. We have some that use all four courses for events. We feel like we're priced fairly aggressively in that.
We have a 12,000 square foot pavilion where we have the after dinner or after round meals. And last year, obviously that all changed due to COVID.
We certainly intend to get back into that business full-scale, but we learned some different ways to do things with the outings with food on the course and with some ways where we didn't do the afternoon after golf sit-down. But it's a unique place in that we can just handle some events that other facilities cannot handle.
Obviously last year was a great golf in terms of golf participation, and it was such a perfect sport for people to get outside. And I think that's really kindled the excitement, but the other side of the coin is that there are a number of different facilities, especially on the south side, that might not be around in another couple of years that have been looking to sell. Does that bring more opportunity for you?
Yeah, it does. And it even bleeds over into the wedding business too, which is another part of the business aspect for us.
We do quite a few weddings throughout the course of the year, and we're pretty well suited facility-wide to deal with that. There were some adjoining, very nearby facilities that are talking about selling to developers and getting out of golf altogether.
It's a golf rabid community here. Not being a native Chicago person. I always tell people, when I was growing up in Indiana, I heard these Chicago golfers were crazy, but I'm learning it firsthand right now. They are in a good way, crazy. They'll play when the weather is marginal and they love the game and there's a lot of golfers in our area.
And if there's fewer facilities, that's going to provide an opportunity for us to get more of those types of events and more golfers in general. But I think that ultimately like I said, when people get here and they start to have an event here we have a history of being able to hold onto those events for a long time.
It works out really well for them. And it's hard to have the kind of footprint we have at any other place.
One of the events that's coming up is not a golf outing, but it's a big event is the long drive event. What's your approach with that event?
The history of it is a little strange in that we were originally going to hold the world long drive championship and then when COVID hit basically stopped all those events and they decided the shelve the World Long Drive Championship. So that entity does not exist at this moment. And nobody has purchased it from them.
But there's another group called the Xtreme Long Drive and amateur long drive and they wanted to come to the Chicago market. So we're going to have an event for a smaller local event for them in May, the weekend of 15th and 16th.
Then there is an annual event for both the amateurs and the professionals that we're going to host here in September. So we built a large grid. Thinking we were going to get the world long drive championship. It's over 500 yards long, 150 yards wide it's already finished.
We'll be able to do this new event this year. See how it goes. Provide some food and drinks for the people who are down there and who want to be spectators, whatever.
I don't think their plans are to sell tickets, but we're really just providing the space for them and partnering with them on that. But we think it might have some legs for the future, for sure. And people love to watch the events and here with the amateur side, you can actually participate in the events, which is cool.
Joe Jemsek Sr. was well-known for was his long drive at the World's Fair, so that connection makes perfect sense.
Yeah, it's on my it's on our beer cans right here that we did a beer called Cog Hill Long Drive Ale in partnership with Pollyanna here in Lemont. And they put him on there.
And so we were very excited about the world long drive championship. That was the one that you see on ESPN, televised, nationally, and all that.
Unfortunately it was a victim of pandemic and all the stuff that hit at that time. And NBC has just decided to shelve it. So we'll see what happens with this new event.
You also upgraded your presence online in terms of social media and the quality of beautiful photos and videos. Is that been one of the things that you've brought to the table that you've put a focus on or has it happened organically?
Yeah, thanks for noticing, by the way, we've received a lot of good comments on that. Our thought was that we need to do a better job of getting out where people are really going to see things, which is in today's day and age on social media.
At the end of the first, my first season here we did we hired Krystal Paramo and she has been a step up in the right direction for us to put our branding out there to put great content out there. She's also a photographer. So she's been able to add a lot of things.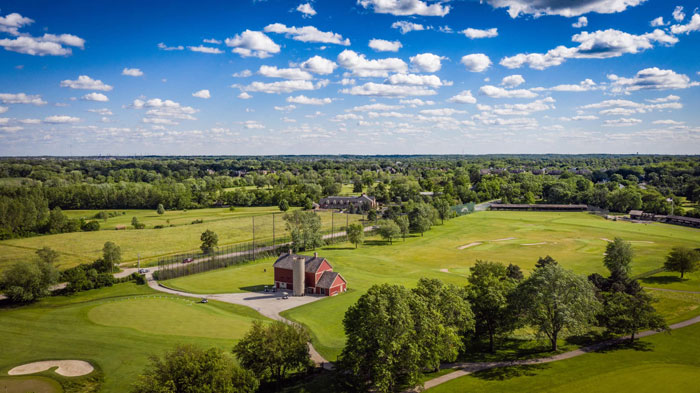 That was it was our plan. You never know how things are going to go when you go full bore into hiring someone, but she's been great. And it really has made a difference in how Cog Hill and the other facilities look in the social media world. And we're going to continue to do that.
I felt like that was a really important component of keeping your brand going, especially the awareness, when COVID hit because we were in that period where we didn't know, we couldn't play for a while, then the course has opened up.
And then I remember some of the video that happened. It was like a breath of fresh air because you could be on the course, you saw how beautiful everything was and it was welcoming. I thought it was such a great component to have at that stage.
People had available time, they wanted to get outside and they wanted to be able to stay at a distance from people. And then we had great weather on top of that, which was just unbelievable.
It's one of those deals where I don't know if we'll see again in its entirety in the golf business, but it also allowed us to think forward and some making some capital expenses to continue to move the business forward.
In terms of your role, what do you oversee in terms of the facility and your people?
I explain it to people that I'm more of a resource manager. I'm like, what do you need? What do you need to get your job done? There's a lot of really long-time staff members here who are loved way more than I am or ever will be because the customers see them.
They're our frontline staff and managers, and some of the folks in the food and beverage. On the golf end our superintendent has been here quite a while.
They do their job really well, so I just need to make sure that they have the resources to do their job. And then also consult with the owners to talk about what the future looks like and what things need to get changed.
Basically, my role is to be connected with the ownership in that way. And so far I've been really happy with that. It's a great group of people that I know why they've been here a long time, the staff members, because they are great at what they do.
One of the things that Cog Hill is known for, despite having such a wide footprint is the quality of the courses and the course maintenance. When you came to Cog Hill was there already this infrastructure that was in place to keep the standards that high? Or is there anything that you look for to maintain a course and keep it at this level?
I leave that to the experts and the experts in that case as our director of agronomy, his name is Chris Flick. Chris and I had previously worked at the golf course where the Memorial is held in Ohio, a Jack Nicklaus golf course there. So he was familiar with good quality and it's a big piece of property.
His job includes other things – the sides of the golf course has plantings and landscaping. And we've got other property that the company owns.
So, it's a big job. But I do think that was already in place when I came in here luckily, so there were a lot of things that didn't have to really spend too much time on it.
It's just those little detailed things that we can continue to make the golf course operations better. I'll give you an example. We're going to add GPS to the golf carts on Course One and Three this year, and they've never had that. Now you play One and Three, you're going to have a GPS unit on a golf cart, a way to get your yardages and see the layout.
For the longtime golfers may not be that big a deal. But for the newer players, it'll help show them around.
Obviously the golf course has happened to be in good condition. I've been floored by the conditions of the tees, fairways and the greens since I've been here.
The fairways on Course One and Course Three, the oldest of the two courses last year were just wonderful. But that is a big part of what Cog Hill is known for sure.
It's always that consistency, which I think it's another calling card with the facility. I used to work in Green Bay, Wisconsin, which talk about snow cover and cold. We covered all of our greens up there at that golf course, all winter.
They don't do that so much in the Chicago market, but there are a lot of things you have to do to prevent snow mold and to deal with agronomic issues that might come up over the winter that you have to get to.
The aerification which the golfers hate, but you have to do it on older greens, like on One and Three in order to keep them healthy. Turf is a living breathing thing, and sometimes it does great and sometimes it.
Since you've been at the facility for a while now, can you compare what you knew about Cog Hill going into taking the opportunity and now two, three years later? What were your expectations were versus what the reality was?
Growing up in Indiana, I thought there was one course here. I thought that was basically basically Dubsdread, which was the only course. I thought it was a one course facility.
Literally that's all I knew at that point. But then when the job became open and do a little research, obviously found out that, there's other golf courses, ones have been here for quite a while.
I had very limited knowledge about the facility, although I did know the name and I definitely knew Joe Jemsek from being in the golf business earlier on, because that was the name was always talked about when you're talking about upscale daily fee courses.
It's always interesting to drive in for the first time, which I will always remember doing and thinking, it's a big sprawling piece of property. There's two courses on each side of the road. And then the first day you see the parking lot on a Saturday is what really gets your attention.
No matter if you come in from the South of the North, you drive into the facility and you're met with that energy and excitement, which is very unique because most facilities you'll come in and you may not even see the golf course.
But Cog Hill is different. You come in, you see the golfers, you see all the cars, you see the people.
Before you even set foot outside of your car, you have this energy built up. It's definitely a hub of activity.
Can you give me two or three items that you'd love to see Cog Hill accomplish within the next three to five years?
I think we just want to modernize. To give you a better example, last year we started to dine on the patio. We learned something that we're going to continue to expand on that space and use that space.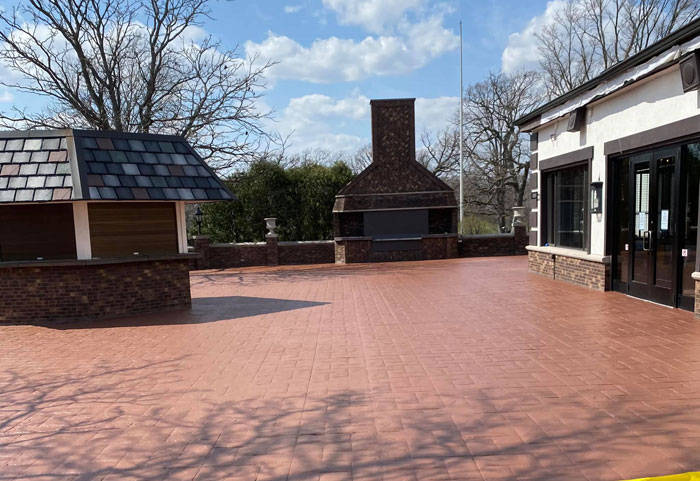 There's a great patio near the 18th green on Course One, attached to the clubhouse. So we're going to expand on that.
Trying to get a food and entertainment type venue going down at the driving range is also a big deal for us. Then also to make sure that we positioned the four golf courses where they need to be in the market.
My thing is just always try to use technology to modernize, but also to modernize our equipment or our facilities as much as we're capable of doing so that we stay relevant.
Cog Hill has always been relevant, I certainly don't want it to stop being that on my watch. So that's an important part for me.