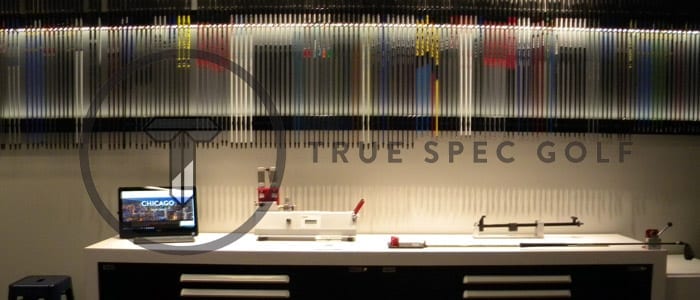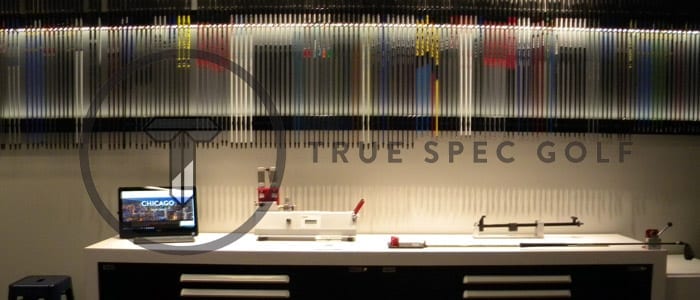 Many, many years ago I heard an old golf instructor say that 'the wrong (ill-fit) club will allow a person to make mistakes faster than with any other invention in the history of mankind — with the possible exception of the handgun or tequila'. Fast forward to the present day, side arms and liquor are still around, but joining us now is the science of high-tech clubfitting.
True Spec Golf, a worldwide company specializing in the science of clubfitting has recently opened up a clubfitting studio in Highland Park. True Spec Golf shares its studio space with Movement3 Golf, a biomechanical golf instruction company, owned by Rick Silva who was recently named among the best golf instructors in Illinois (#13) by Golf Digest.
Silva's hitting bay at M3G features the only 8-camera motion-capture system of its kind in Illinois, while his computer's FlightScope sensors and software measure and calculate all the essential modern statistics and factors of the golf swing such as swing speed, ball speed, launch angle, spin rate, carry distance, angle of decent, roll, smash factor, etc., etc. Silva is also a partner of True Spec Golf Highland Park, so regarding this shared studio, Silva said "it is a perfect bridge between high-end clubfitting and biomechanical instruction." Beginning with correct clubfitting, and then developing consistency within the limitations of their swings, clients gain added distance as a by-product, which is usually a golfer's first wish when finding a golf genie.
While it is most likely that Movement3 / True Spec's next client will be a 'young professional' male, age 35-55, with a handicap around 10 to 12, the demographic spectrum of Movement3 / True Spec customers encompasses male and female, high school-aged to seniors, and skill levels ranging from scratch golfers (including PGA Tour players) to 30+ handicappers. Silva stated that the common denominator among his clients is that they are all "impassioned golfers" looking for improvement in their golf game.
The Movement3 / True Spec facility is located at 1200 Old Skokie Valley Road on the second floor above a new car dealership. A client's first glimpse of the Movement3 / True Spec upper floor studio is that of the east wall of their greeting and lounge "Hang Area" where nearly 200 different golf shafts are impressively hung on a wall rack.
Just below the bottom of the row of shafts is a cabinet with dozens of additional shafts, plus driver heads, hybrid heads, and iron heads from all of the major club manufacturers including Titleist, Callaway, Cleveland, Cobra, Srixon, TaylorMade, Ping, PXG, and more. Thus, there are more than 30,000 clubhead / shaft combinations with which clients can be fitted. And, not to be overlooked are the drawers stocked with dozens of different grips.
My clubfitting appointment at True Spec Golf was with Michael Glauberman, certified club fitter at TSG Highland Park. Glauberman has been with True Spec for 5 1/2 months, and while still at the young age of 27 has already amassed a wealth of knowledge for this new position. Michael graduated from Ohio State University's golf management program, and then worked at Kemper Lakes Golf Club for the past 4 1/2 years as assistant golf professional and Mizuno clubfitting representative.
Clients have the choice of a fitting session for one club (e.g. driver, hybrid, iron, wedge, or putter) or an entire set. My single-club session involved the driver. Using the laser frequency analyzer, a swing weight scale, and a ruler Michael began by measuring the characteristics of my three current, oftentimes misbehaving, drivers.
These numbers are recorded, saved, and ultimately shared with the client. Next, it's over to the hitting bay, and with just a few swings of the pupil-owned (p.o.) club all of the ball flight statistics are measured and shared with the client.
Glauberman sets out to educate the client as much as possible as to his clubfitting philosophy; he looks for 'trouble areas' in the client's ball flight results. Not surprisingly, along with most other amateur golfers who miss the club face's sweet spot about 80% of the time, Michael shared with me that his objective is not necessarily geared to add yardage to my best drives, but rather, to fit me with a driver which will improve my BAD swings. This 'bottom-up' theory makes perfect sense, as the majority of my drives are hit off-center.
Rick and Michael shared one other surprising clubfitting 'tidbit' with me: they stated that their research shows that clubhead is just as important as the shaft. The design, static weight, loft, and material composition of the head will have more effect on the ball flight characteristics than does the shaft.
Shaft improvements — hickory to steel to graphite to bi-matrix to rayon or composites — are 'old history'. Just look at the number of new driver heads introduced in the past 5 or 6 years. Even within a specific manufacturer's line of drivers, some models have very telltale differences in ball flight characteristics.
In my specific fitting, True Spec's 'prescription' for a change in drivers was a driver head from a different manufacturer with two degrees lower loft, along with a shaft cycling at 11 CPM stiffer which is 7 grams lighter as well. My spin rate was lowered by 2000 rpms, my dispersion was narrowed by 9 yards, the angle of decent was drastically reduced, resulting in as much as 12 yards more rollout…longer, straighter, and more consistency!
After receiving True Spec's recommended club configuration, a client has the option to purchase the assembled club directly from True Spec or have it made by another party. True Spec's club assembly facility is located in Scottsdale, AZ, and True Spec guarantees that the club specifications fitted for you will be the same specifications built into the club shipped to you from Scottsdale. Additional information about True Spec, their fees, and the answers to many FAQs can be found on their website at www.TrueSpecGolf.com or by calling 1-844-729-8809. The website for Movement3Golf is www.movement3golf.com; phone: 480-212-6548.
In what is certainly more than a small amount of irony, the Movement3 / True Spec fitting studio is located on the second floor above the Tesla car showroom in Highland Park, but these guys are definitely the 'Cadillac' of Chicago area clubfitting and game improvement instruction..