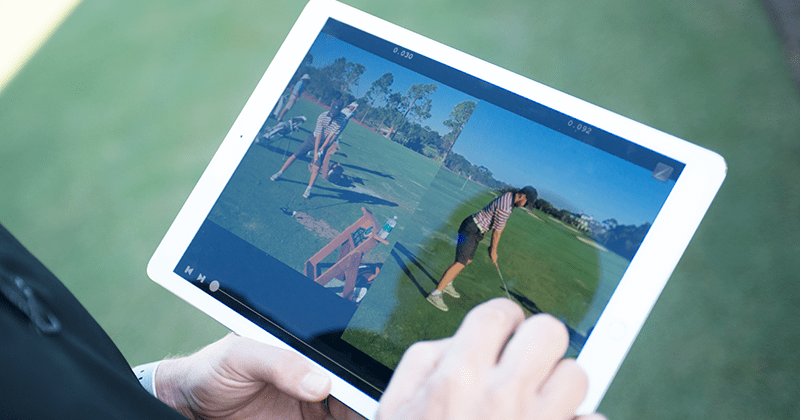 The start of the golf season should be a triumphant time for Windy City locals celebrating the end of the cold weather months and the promise of green fairways. Optimism is obviously tempered this year with the recent events and the Stay-at-Home order to help control the spread of the Coronavirus.
As long as golf courses and practice facilities are off limits, most Chicago golfers will continue to feel disconnected from their favorite pastime. However, there could be another option to get your golf fix and improve your game at the same time.
A number of top instructors in the Chicagoland area currently offer virtual golf lessons. With much of the country forced to work from home, interacting virtually has become a necessity and could be a much bigger component of our lives moving forward.
Taking swings in your yard while working with an instructor virtually could actually provide some significant benefits, especially when courses are unavailable. "Most people struggle with incorrect concepts in their golf swings, so working remotely we can still provide the same exact concepts and information and because it takes less time, it comes at less of the cost" said Joliet-based PGA Professional Scott Hogan. "It can be a great way to grasp the concepts you specifically need in your swing and make sure you're wrapping your head around them correctly."
Virtual golf lessons can be offered using a variety of platforms and methodologies. PGA Professional Mike Mandakas is the Director of Willowbrook-based Elevation Golf Academy, where he offers live FaceTime instruction as well as online swing analysis. One the technologies that Mandakas uses is the V1 Sports golf swing analysis app, which recently saw users surpass over four million online lessons since the launch of the platform.
With an app like V1 Sports, golfers upload video of their swing into an online portal and receive custom analysis from their golf professional. The process is surprisingly simple and easy to use.
Virtual feedback has been commonplace for many top touring pros in need of assistance when their golf coach can't be there in person. "Being that I am in the Chicagoland area and most touring pros live in warmer climates, especially during the winter months, I have always used my online V1 Branded Golf Academy to stay in touch with them" said local PGA Tour instructor Jake Thurm, who has worked multiple PGA Tour winners.
"I am unable, do to my young family, to make it to ALL of their events on tour. This provides me with an ideal scenario to keep them on "the plan" without being there in person. This sort of technology wasn't truly available back when I used to play tournament golf."
The benefits of virtual instruction could be even greater for amateur golfers. "There is NO QUESTION this sort of technology can benefit the mid to high handicapper, perhaps even more than the tour player" said Thurm.
"Most people don't have the understanding of HOW to practice let alone WHAT to practice. The main thing is it's all about ball flight. If you don't improve the flight you don't improve the golfer. Send these videos to my V1 Sports Branded Academy and include YOUR tendencies in ball flight so that they may better help you. Taking your online lessons in this manner helps the coach know what to look for so that you may maximize your time at home and away from them."
Golf season be on hold for now, but that doesn't mean your game can't improve during the downtime. Check our list of local golf professionals currently offering virtual lessons and see how they can help prepare your swing for sunny days ahead.
Chicagoland Golf Instructors Offering Virtual Lessons
[drts-directory-view directory="instructors"]