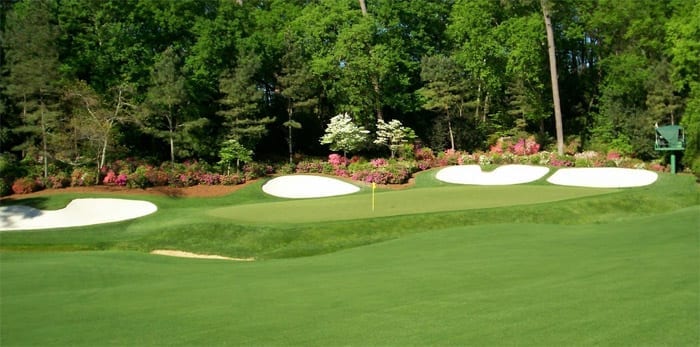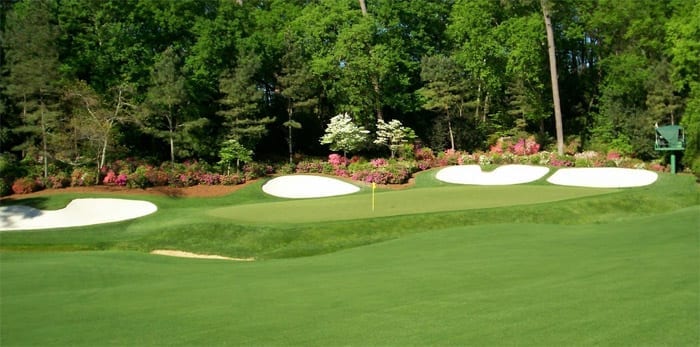 For the vast majority of golf fans who are interested in following the Masters tournament each year, their only contact or association with Augusta National Golf Club is gained solely by watching the event on television. Further curiosity about ANGC may even warrant an internet search.
But then there are a select few who obtain tickets, are admitted to the grounds, and view the annual tradition in person. These patrons gain a perspective about the inner workings of the Masters that is an entire step above the perspective of those viewers who merely watch the airwaves telecast.
However, there comes a way to bridge the information gap between 'couch viewership' and 'in person attendance' — a new book by author Mark Cannizzaro entitled "Seven Days in Augusta", and its subtitle "Behind the Scenes at the Masters" is what the book is all about.
Mark Cannizzaro is a columnist for the New York Post where he has worked since 1994. His golf assignments have led to his covering more than 100 major golf tournaments, including 25 Masters Tournaments, and every Ryder Cup since 1997. In addition to his own experience covering multiple Masters, Cannizzaro uncovered ANGC's veiled tidbits and episodes by interviewing David Westin and Scott Michaux of the Augusta Chronicle; Westin (41 years) and Michaux (18 years) total a combined 59 years of spearheading the production of Augusta Chronicle's annual 80-page Masters Special Section.
The liner notes for the book relate that Cannizzaro will take the reader "on a guided tour that comes to life in the week leading up to the exclusive competition, from the Par-3 Contest to Amen Corner to Butler Cabin…to green jacket rituals, tales from The Crow's Nest atop the clubhouse, the extreme lengths some fans have gone to acquire tickets, and what goes on outside the gates during the week. He (Cannizzaro) also recounts, in vivid detail, some of the most memorable and dramatic moments from golf's favorite event, from Phil Mickelson's triumphant win in 2004 after 13 years on the PGA Tour to Tiger Woods' incredible comeback in 2019."
Cannizzaro's book totals 256 pages and is divided into seven sections, named for each day of the week, and is also divided into 25 chapters that make short and easy reads. Prefacing the 25 interesting chapters is the foreward by Phil Mickelson.
Chapter One recounts the first impressions that Augusta National Golf Club and Magnolia Lane have made upon noted participants of The Masters tournament. Paul Azinger, Phil Mickelson, Jim Furyk, Keegan Bradley, Ernie Els, Webb Simpson, and Jimmy Walker offered their first impressions, as did Zach Johnson, Brandt Snedeker, Davis Love III, Rickie Fowler, and Cameron Tringale.
Readers will most likely find the chapter detailing the menus from past champions' dinners to be quite intriguing. Other chapters recall on-course and off-course battles containing both successes and disappointments — Greg Norman versus Nick Faldo, Hootie Johnson versus Martha Burk, and Rory McIlroy versus the pressure of the Grand Slam. Exaltation and pain are experiences of Tony Finau making a hole-in-one during the Par-3 contest of his first Masters appearance.
"Seven Days in Augusta" with its release date to the public of March 10, 2020 is current, fresh, and up-to-date. Chapter 24, the longest chapter in the book, is a thorough rundown of Tiger Woods' comeback victory in the 2019 Masters. A photo of Jennifer Kupcho accepting the trophy after winning the inaugural 2019 Augusta National Women's Amateur tournament is part of a color photo gallery.
As a salute and shoutout to a local company, Triumph Books is located on North Franklin Street in Chicago.
"Seven Days In Augusta: Behind The Scenes At The Masters" by Mark Cannizzaro ($26.95, Triumph Books, Hardcover, 256 pages, 5.3 x 0.6 x 7.4 inches, ISBN:978-162937-749-0) is available at amazon.com, Books-A-Million.com, Barnes&Noble.com, and wherever fine books are sold.