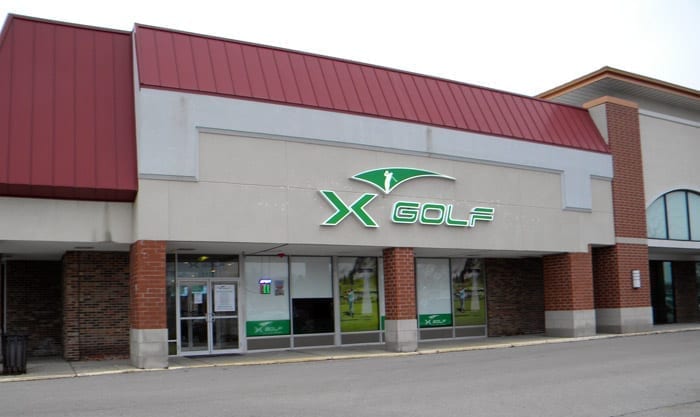 Inside the walls of their 8,500 square foot facility at 1177 South Milwaukee Avenue, X-Golf Libertyville patrons find technology, hospitality and entertainment, making this "the" off-season gathering place for golf enthusiasts in Lake County.
There are seven simulator bays at X-Golf Libertyville, two of which focus upon instruction, and a row of five used mainly for simulation. In addition to the simulator bays, X-Golf Libertyville features a full service bar, a food court, pool table, free wi-fi, and plenty of elbow-room.
X-Golf is an international corporation (South Korea) with USA headquarters in Los Angeles. While most of their 3,000 simulator units have been sold overseas, the company now has nine franchise locations in the United States; there are X-G's in IL, MI, MN, CO, WI, and IN.
X-Golf's R&D department has spent over 15 years engineering a sophisticated combination of laser, light, impact and camera sensory technologies to collect raw data at and around the golf ball impact zone. Combined with incredible computing power and custom-built 3D graphics software, X-Golf maybe the 'newest kid on the block' but at the same time is the 'smartest kid in the class'. X-Golf's sixteen global patents enable their simulators to re-create ball flight to within 98% accuracy for every type of shot including chipping and putting.
The X-Golf system is based on 'image sensor technology' and directly measures the 3D trajectory and 3D rotation from the special markings on the X-Golf golf ball. Note: players do not use their own brand of golf ball, instead, all players use the X-Golf balls, which are provided.
X-Golf measurements begin even prior to the initiation of the swing as tee height (or no teeing) is calculated, then followed by and incorporated with, the golfer's swing characteristics of launch angle, side spin, back spin, ball direction, ball speed, and club on ball impact point (i.e. fat or topped).
Advances in computing power and the company philosophy of listening to the needs / wants / desires / feedback of their customers has led X-Golf to design a simulator bay that is the easiest and quickest to play. To begin play, using the keyboard at the upright CPU, players will first select the course, tees, and format (stroke or match play) they desire; 'gimmie putt diameter' can be adjusted if conceded putts will be allowed.
Stepping over to the hitting area, X-Golf's simulated play moves along quickly. Using the floor control buttons, all players select their personal tee height and the system remembers each; for every driving hole (usually 14 out of 18) the ball is automatically teed to the player's personal height; for non-driving par-3 holes (usually 4 of 18) the ball is automatically teed to a lesser height.
No bending over to tee up a ball — it is all done for you, 18 times! On-screen, the system automatically aims you to a professional's target line (you could select 'amateur' when you start at the CPU keyboard), but target line aiming for your next shot is easily adjusted left / right using the floor control buttons.
The huge (readily visible) on-screen target line is instantaneously moved to where you want to aim by tapping the 'L' or 'R' green arrows with your foot or club — slow screen refreshing is a thing of the past. Aim and hit toward the target line; the flight path of your shot is recreated on-screen, the X-Golf golf ball hits the screen, drops straight down to the slanted floor and is funneled underground to be readied to be hit again — retrieving your ball is done automatically.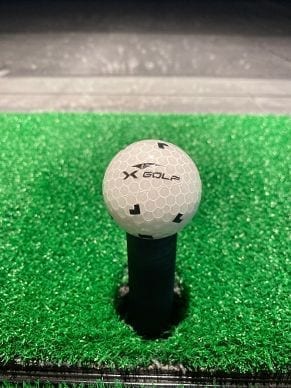 As a departure from other simulator systems, and as a means to speed play, all shots on the X-Golf simulators are hit from the same astroturf area. If one of your shots ends up in simulated 3D rough, or simulated 3D sand, the X-Golf program informs the player how much distance will be lost on the next swing due to the current lie of the ball. As examples, the ball will travel only 90% of normal distance out of primary rough, and only 50% of normal distance from greenside bunkers — adjust your swing speed or club selection accordingly.

Feedback and input from golfers, engineers, and computer programmers have moved X-Golf's feel for the short game closer to reality. Once on or near the green, X-Golf provides the player with information regarding distance from the hole and elevation change; additionally grid lines, arrows, and even a separate color-coded map of the green are shown. Putts of all lengths are attempted from the same location near the astroturf teeing area, but roll across additional sensors. Simulated putting distance feel at X-Golf is much closer to reality putting distance feel due to the sensor info obtained from the rotation of the special markings on the X-Golf ball.

New players coming to X-Golf will find that the learning curve for both the operation of the floor controls and the understanding of the idiosyncrasies of swinging and strategy for this simulation are quickly absorbed. In just a few minutes it is possible to move from 'novice' to 'experienced' to possibly 'expert'. An 18-hole round can be completed in one hour or less.

X-Golf Libertyville has a choice of 45 worldwide courses from the USA, Australia, France, Japan, and Korea to play on any of its seven simulators.

Furthermore, apart from simulation, X-Golf Libertyville is a location for tutoring to improve your golf game. James FioRito is the facility's co-manager and director of instruction. James is a graduate of Fenwick High School, where he played on the school's golf team, and a graduate of the Ferris State University Professional Golf Management Program. He joined the Illinois Section PGA in 1997 and having had previous PGA posts at Indian Lakes Golf Club, Eaglewood Resort, Kemper Lakes, Dick's Sporting Goods, and Golf Galaxy, brings nearly 25 years of PGA experience to X-Golf Libertyville.

The photo gallery containing actual images from X-Golf Libertyville plus corporate public relations images is shown at the bottom of this article.

X-Golf Libertyville's address is 1177 S. Milwaukee Ave, Libertyville, 60048 (in the Greentree Shopping Plaza); phone 224-504-2940; website www.xgolflibertyville.com.