In the early 1900s, south suburban Homewood was quite a golf mecca with the establishment of popular courses such as Homewood (now Flossmoor) Country Club in 1899, followed by Ravisloe Country Club (1901), Idlewild Country Club (1908) and Calumet Country Club, which started in Chicago in 1901 and later moved to Homewood in 1917.
The last club established during this period, and the only one no longer in existence, was Dixmoor Golf Club. Incorporated on October 22, 1921, its directors included Charles "Chick" Evans – a renowned amateur golfer of the time who became one of the most prominent figures in the history of Chicago golf. By November of 1921, the club completed the purchase of 123 acres south of 175th Street and west of the Dixie Highway for its course grounds.
Unlike other Homewood golf clubs, Dixmoor was to be semi-private. The corporation owned and operated the club and offered stock at $100 per share. Stockholders owning five or more shares were considered full members and were entitled to all the privileges of the club. The general public was welcome to play golf for a daily fee of $1, $2 on Saturdays and $2.50 on Sundays and holidays.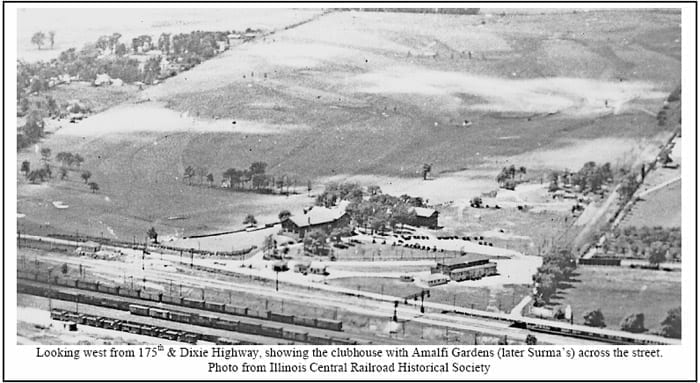 Total yardage of the course was 6,266 and consisted of four par 5 holes, ten par 4 holes and four par 3's. Each hole had a name in addition to its number. Hole names included Ravisloe, Calumet, Homewood, Cap Anson and Chick Evans along with Letsgo, White Mule, Beaucoup, Pocahontas and Punch Bowl.
A spacious two-story frame clubhouse was finished by the start of the club's second season. The clubhouse dining room was open to the public in season and it, along with the club grounds, received good patronage and fine reviews from the golfing community.
In 1920, there were only 15 public golf courses in the Chicagoland area. All were owned by local municipalities except for Harlem Golf Club in Forest Park, which was Chicago's first daily-fee golf course. From 1921 until 1926, 16 additional daily-fee courses were opened, including Dixmoor.
Big Oaks (Chicago)
Budlong Woods (Chicago)
Evergreen Golf Club (Chicago)
Golfmoor (Chicago)
Greenview (Chicago)
Mid City (Chicago at Western and Addison)
Cedar Lake (Indiana)
Chain O'Lakes (Antioch)
Fairlawn (La Grange)
Galewood (Oak Park)
Hickory Hills Country Club
Hillside
Dixmoor (Homewood)
Oak Hills Country Club (Orland Park)
Oak Shores Beach (Waukegan)
Villa Olivia (Elgin)
To promote membership, the Dixmoor Golf Club hired veteran sportsman and baseball Hall of Famer Adrian C. "Cap" Anson as general manager. Prominent club members included Charles Comiskey, owner of the Chicago White Sox, and William Veeck Sr., president of the Chicago Cubs. Anson's tenure with the club was short due to his sudden death on April 14, 1922.
By August 1924 there was dissension among many Dixmoor Golf Club members who were unhappy with the management and fiscal condition of the club. An independent audit had revealed financial management improprieties by the club's board of directors.
A lawsuit was ultimately filed related to these improprieties and the original board of directors subsequently returned $100,000 in stock to the club for resale and were ordered to pay additional damages. Chick Evans was the only original director exonerated by the court and was cleared of any complicity in the land and stock transactions.
Dixmoor Golf Club continued to function under a reconstituted board of directors and was open for the 1925 and 1926 golf seasons. Legal expenses associated with the lawsuit coupled with bad publicity and a subsequent decrease in stock value made it increasingly difficult for the club to continue to operate profitably. Reluctantly, the board of directors made a decision to close the club at the end of the 1926 season.
The Dixmoor Golf Club grounds were sold in April 1927 and were quickly subdivided for residential construction. The clubhouse was demolished and the first homes were built on the site beginning in September 1927.