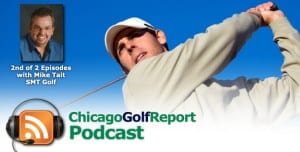 Long-time PGA Professional and golf club business expert Mike Tait has made it his mission to turn the charity golf outing business upside down by providing some of the most innovative, entertaining and profitable games and services to help golf outings, golf event managers, golf courses, sponsors and golfers themselves. Whether it's hitting golf balls with a hammer, playing blackjack on the tee or firing his trademark Golf Cannon, Mike Tait has helped golf events raise over $1 million for charities since 2009.
This is the second of two interviews with Mike Tait, who is a 31-year PGA Professional and the owner of SMT Golf Outing Services which is based in Oswego. In addition to being a golf professional, Mike is a golf club manufacturing expert and his company SMT Golf has produced a number of top clubs for multiple Re/MAX World Long Drive Champions. You can learn more about SMT Golf Outing Services at www.smtgolfoutings.com.
Interviewer: Walter Lis. Running Time: 22:55
Click here to download an MP3 file.
Podcast: Play in new window | Download
Subscribe: RSS