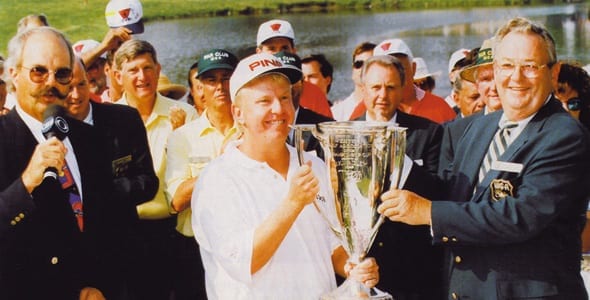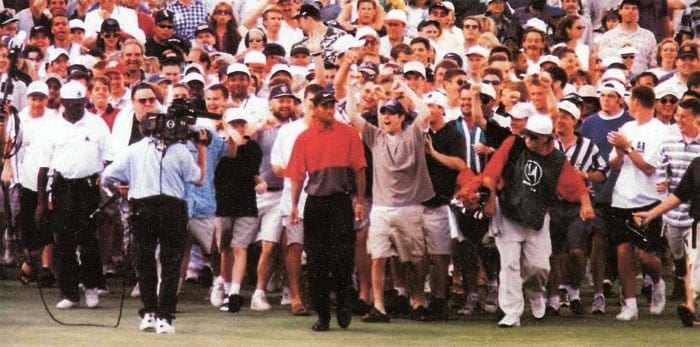 For over 100 years, the Western Open was considered Chicago's professional golf tournament. First played in 1899 at The Glen View Club, the Western Open in 2006 was the 3rd oldest active PGA Tour tournament, after the British Open (began 1860) and U.S. Open (began 1895). Beginning in 2007, the Western Open was renamed the BMW Championship, part of the FedEx Cup playoff series.
The Western Open was run by the Western Golf Association, which is one of the United States' oldest golf organizations, with its headquarters located in Golf, Illinois. Throughout its run, the Western Open featured title sponsors Beatrice, Centel, Sprint, Motorola, Advil, Golf Digest and Cialis.
Up until 1961, the Western Open was played on a variety of midwestern golf courses, as well as other select locations such as Phoenix, Salt Lake City, San Francisco and Los Angeles. The Tournament was even held in 1923 at the Colonial Country Club in Memphis, Tennessee.
Starting in 1962, the Western Open entered its run as Chicago's professional golf tournament. From 1962 until 1974, the Western Open golf tournament was hosted at some of Chicago's top golf courses, including Medinah Country Club, Beverly Country Club, Olympia Fields Country Club and the old Tam O'Shanter Country Club in Niles.
In 1974 the Western Open began a run of 19 straight events at the Butler National Golf Club in Oak Brook. During this time, Butler National earned its reputation as one of the most challenging golf courses in the country, requiring elite length off the tee and premium golf club distance control.
In 1990, when the PGA Tour adopted a policy of holding events only at clubs which allowed minorities and women to be members, the tournament was moved to Cog Hill Golf & Country Club in Lemont. The Dubsdread Course at Cog Hill played host to the Western Open from 1991 to 2006.
In 2007, the Western Open was renamed – and changed in terms of invitational criteria – by the BMW Championship, part of the FedEx Cup Playoff Series. The Western Golf Association continued to have input in the running of the tournament.
The 2011 BMW Championship was the final event played at Cog Hill and was won by 2013 U.S. Open champion Justin Rose. The tournament has been played at multiple golf courses in the Midwest over the past few years.
Western Open Champions
| Year | Champion | Venue | Location |
| --- | --- | --- | --- |
| 2006 | Trevor Immelman | Cog Hill Golf & Country Club | Lemont, IL |
| 2005 | Jim Furyk | Cog Hill Golf & Country Club | Lemont, IL |
| 2004 | Stephen Ames | Cog Hill Golf & Country Club | Lemont, IL |
| 2003 | Tiger Woods | Cog Hill Golf & Country Club | Lemont, IL |
| 2002 | Jerry Kelly | Cog Hill Golf & Country Club | Lemont, IL |
| 2001 | Scott Hoch | Cog Hill Golf & Country Club | Lemont, IL |
| 2000 | Robert Allenby | Cog Hill Golf & Country Club | Lemont, IL |
| 1999 | Tiger Woods | Cog Hill Golf & Country Club | Lemont, IL |
| 1998 | Joe Durant | Cog Hill Golf & Country Club | Lemont, IL |
| 1997 | Tiger Woods | Cog Hill Golf & Country Club | Lemont, IL |
| 1996 | Steve Stricker | Cog Hill Golf & Country Club | Lemont, IL |
| 1995 | Billy Mayfair | Cog Hill Golf & Country Club | Lemont, IL |
| 1994 | Nick Price | Cog Hill Golf & Country Club | Lemont, IL |
| 1993 | Nick Price | Cog Hill Golf & Country Club | Lemont, IL |
| 1992 | Ben Crenshaw | Cog Hill Golf & Country Club | Lemont, IL |
| 1991 | Russ Cochran | Cog Hill Golf & Country Club | Lemont, IL |
| 1990 | Wayne Levi | Butler National Golf Club | Oak Brook, IL |
| 1989 | Mark McCumber | Butler National Golf Club | Oak Brook, IL |
| 1988 | Jim Benepe | Butler National Golf Club | Oak Brook, IL |
| 1987 | D.A. Weibring | Butler National Golf Club | Oak Brook, IL |
| 1986 | Tom Kite | Butler National Golf Club | Oak Brook, IL |
| 1985 | Scott Verplank | Butler National Golf Club | Oak Brook, IL |
| 1984 | Tom Watson | Butler National Golf Club | Oak Brook, IL |
| 1983 | Mark McCumber | Butler National Golf Club | Oak Brook, IL |
| 1982 | Tom Weiskopf | Butler National Golf Club | Oak Brook, IL |
| 1981 | Ed Fiori | Butler National Golf Club | Oak Brook, IL |
| 1980 | Scott Simpson | Butler National Golf Club | Oak Brook, IL |
| 1979 | Larry Nelson | Butler National Golf Club | Oak Brook, IL |
| 1978 | Andy Bean | Butler National Golf Club | Oak Brook, IL |
| 1977 | Tom Watson | Butler National Golf Club | Oak Brook, IL |
| 1976 | Al Geiberger | Butler National Golf Club | Oak Brook, IL |
| 1975 | Hale Irwin | Butler National Golf Club | Oak Brook, IL |
| 1974 | Tom Watson | Butler National Golf Club | Oak Brook, IL |
| 1973 | Billy Casper | Midlothian Country Club | Midlothian, Illinois |
| 1972 | Jim Jamieson | Sunset Ridge Country Club | Northfield, Illinois |
| 1971 | Bruce Crampton | Olympia Fields Country Club | Olympia Fields, Illinois |
| 1970 | Hugh Royer, Jr. | Beverly Country Club | Chicago, Illinois |
| 1969 | Billy Casper | Midlothian Country Club | Midlothian, Illinois |
| 1968 | Jack Nicklaus | Olympia Fields Country Club | Olympia Fields, Illinois |
| 1967 | Jack Nicklaus | Beverly Country Club | Chicago, Illinois |
| 1966 | Billy Casper | Medinah Country Club | Medinah, Illinois |
| 1965 | Billy Casper | Tam O'Shanter Country Club | Niles, Illinois |
| 1964 | Chi Chi Rodriguez | Tam O'Shanter Country Club | Niles, Illinois |
| 1963 | Arnold Palmer | Beverly Country Club | Chicago, Illinois |
| 1962 | Jacky Cupit | Medinah Country Club | Medinah, Illinois |
| 1961 | Arnold Palmer | Blythefield Country Club | Belmont, Michigan |
| 1960 | Stan Leonard | Western Golf & Country Club | Redford, Michigan |
| 1959 | Mike Souchak | Pittsburgh Field Club | Pittsburgh, Pennsylvania |
| 1958 | Doug Sanders | Red Run Golf Club | Royal Oak, Michigan |
| 1957 | Doug Ford | Plum Hollow Country Club | Southfield, Michigan |
| 1956 | Mike Fetchick | Presidio Golf Club | San Francisco, California |
| 1955 | Cary Middlecoff | Portland Golf Club | Portland, Oregon |
| 1954 | Lloyd Mangrum | Kenwood Country Club | Cincinnati, Ohio |
| 1953 | E.J. "Dutch" Harrison | Bellerive Country Club | Saint Louis, Missouri |
| 1952 | Lloyd Mangrum | Westwood Country Club | Saint Louis, Missouri |
| 1951 | Marty Furgol | Davenport Country Club | Pleasant Valley, Iowa |
| 1950 | Sam Snead | Brentwood Country Club | Los Angeles, California |
| 1949 | Sam Snead | Keller Golf Course | Saint Paul, Minnesota |
| 1948 | Ben Hogan | Brookfield Country Club | Clarence, New York |
| 1947 | Johnny Palmer | Salt Lake City Country Club | Salt Lake City, Utah |
| 1946 | Ben Hogan | Sunset Country Club | Saint Louis, Missouri |
| 1945 | Cancelled due to World War II |   |   |
| 1944 | Cancelled due to World War II |   |   |
| 1943 | Cancelled due to World War II |   |   |
| 1942 | Herman Barron | Phoenix Golf Club | Phoenix, Arizona |
| 1941 | Ed Oliver | Phoenix Golf Club | Phoenix, Arizona |
| 1940 | Jimmy Demaret | River Oaks Country Club | Houston, Texas |
| 1939 | Byron Nelson | Medinah Country Club | Medinah, Illinois |
| 1938 | Ralph Guldahl | Westwood Country Club | Saint Louis, Missouri |
| 1937 | Ralph Guldahl | Canterbury Golf Club | Beachwood, Ohio |
| 1936 | Ralph Guldahl | Davenport Country Club | Pleasant Valley, Iowa |
| 1935 | Johnny Revolta | South Bend Country Club | South Bend, Indiana |
| 1934 | Harry Cooper | Country Club of Peoria | Peoria Heights, Illinois |
| 1933 | Macdonald Smith | Olympia Fields Country Club | Olympia Fields, Illinois |
| 1932 | Walter Hagen | Canterbury Golf Club | Beachwood, Ohio |
| 1931 | Ed Dudley | Miami Valley Golf Club | Dayton, Ohio |
| 1930 | Gene Sarazen | Indianwood Golf & Country Club | Lake Orion, Michigan |
| 1929 | Tommy Armour | Ozaukee Country Club | Mequon, Wisconsin |
| 1928 | Abe Espinosa | North Shore Country Club | Glenview, Illinois |
| 1927 | Walter Hagen | Olympia Fields Country Club | Olympia Fields, Illinois |
| 1926 | Walter Hagen | Highland Golf & Country Club | Indianapolis, Indiana |
| 1925 | Macdonald Smith | Youngstown Country Club | Youngstown, Ohio |
| 1924 | Bill Mehlhorn | Calumet Country Club | Homewood, Illinois |
| 1923 | Jock Hutchison | Colonial Country Club | Cordova, Tennessee |
| 1922 | Mike Brady | Oakland Hills Country Club | Bloomfield Hills, MI |
| 1921 | Walter Hagen | Oakwood Club | Cleveland Heights, Ohio |
| 1920 | Jock Hutchison | Olympia Fields Country Club | Olympia Fields, Illinois |
| 1919 | Jim Barnes | Mayfield Country Club | Lyndhurst, Ohio |
| 1918 | Cancelled due to World War I |   |   |
| 1917 | Jim Barnes | Westmoreland Country Club | Wilmette, Illinois |
| 1916 | Walter Hagen | Blue Mound Golf & Country Club | Milwaukee, Wisconsin |
| 1915 | Tom McNamara | Glen Oak Golf Club | Glen Ellyn, Illinois |
| 1914 | Jim Barnes | Interlachen Country Club | Minneapolis, Minnesota |
| 1913 | John McDermott | Memphis Country Club | Memphis, Tennessee |
| 1912 | Macdonald Smith | Idlewild Country Club | Flossmoor, Illinois |
| 1911 | Robert Simpson | Kent Country Club | Grand Rapids, Michigan |
| 1910 | Chick Evans (Am) | Beverly Country Club | Chicago, Illinois |
| 1909 | Willie Anderson | Skokie Country Club | Glencoe, Illinois |
| 1908 | Willie Anderson | Normandie Golf Club | Saint Louis, Missouri |
| 1907 | Robert Simpson | Hinsdale Golf Club | Clarendon Hills, Illinois |
| 1906 | Alex Smith | Homewood Country Club | Flossmoor, Illinois |
| 1905 | Arthur Smith | Cincinnati Golf Club | Cincinnati, Ohio |
| 1904 | Willie Anderson | Kent Country Club | Grand Rapids, Michigan |
| 1903 | Alex Smith | Milwaukee Country Club | River Hills, Wisconsin |
| 1902 | Willie Anderson | Euclid Club | Cleveland Heights, Ohio |
| 1901 | Laurie Auchterlonie | Midlothian Country Club | Midlothian, Illinois |
| 1900 | No tournament |   |   |
| 1899 | Willie Smith | Glen View Club | Golf, Illinois |
|   |   |   |   |