With the opening of a second location in the Chicagoland area, TopGolf has developed a large following of diehard and casual golfers who enjoy the unique combination of golf with great food and a fun environment year-round. Eight years after the launch of their first location in Wood Dale, TopGolf is opening a second Chicago-area facility in west suburban Naperville.
Chicago Golf Report recently discussed the future of the company with Brett Hintz, who is TopGolf Director of Operations. In this interview, Brett reveals the details around the new TopGolf Naperville facility along with other interesting details such as how TopGolf was invented, what's the most popular time of year in Chicago for TopGolf and what the future looks like for the company in the Chicago area and globally.
Check out our exclusive TopGolf Naperville Photo Gallery.

Interviewer: Walter Lis. Running Time: 21:17
Click here to download an MP3 file.
CGR: If you could give us just a brief overview, a fifty thousand foot overview of what TopGolf is for anybody who doesn't know at this point.
BH: We like to think of ourselves as a very unique entertainment center, basically one of a kind. We offer competitive golf games for all ages – I've seen two and three year olds do it all the way up to well into their eighties.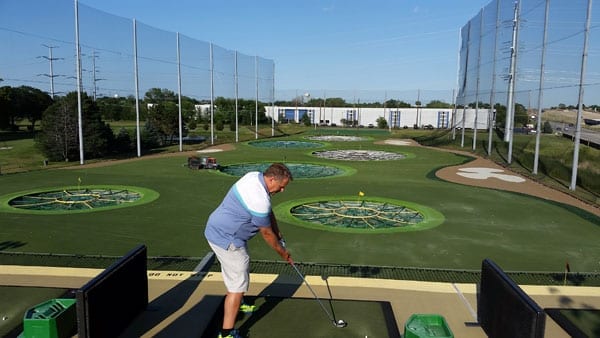 The balls have microchips inside of them that allow us to track each shot's accuracy and distance while awarding points for hitting targets in an outfield. There are eleven targets that look like huge dart boards on the ground. And you hit it it's going to be score points.
Every facility is a very upscale laid back experience, however. Very climate controlled hitting base which we're very excited about, here in Chicago. We have lots of heaters.
CGR: So what would you describe as being the target audience for TopGolf?
BH: I would say our overall guest profile is about seventy five percent male, twenty five percent female. I will say we see a lot of golfers. We do see a lot of families. We see dad bring in mom and the family so he can get a little more golf time, and still enjoy family time.
CGR: So what is the typical experience with golf for the people who play TopGolf? Is it more of a like a hard core audience that play TopGolf or do you get kind of all age and experience ranges.
BH: We get a range of all ages and experience. Everybody's just having fun. You won't feel that pressure of the first tee box.
We definitely don't see that at TopGolf but we definitely see families of all ages. I've seen people that have never golfed at all before come out. They hit the ball, they get a few points after they score to a target and the next thing they know, they're hooked.
CGR: So can you talk a little bit about the history of the game. Where did it come from? Who came up with the idea and how long has TopGolf been around?
BH: TopGolf was founded in the UK. Two brothers were basically practicing their swings at a driving range and began kind of brainstorming ways they could liven up their experience. You know, really get true feedback and how far they hit the ball and try to work on their skill at the same time. And they experimented with the microchip, one of them happened to be a little techie and the next thing you know, they created a concept that we now call TopGolf.
CGR: So when exactly did top golf reach the Chicago area?
BH: The TopGolf Wood Dale location just off Thorndale has actually been here for just about eight years. So we've been in the Chicago market about eight years and in the US for a little over ten now.
CGR: TopGolf was probably the most popular company at the PGA show in Florida. How has that affected TopGolf here in Chicago?



BH: You know it hasn't always been busy. In the beginning it was a little challenging when we first opened as we kind of made our brand and made people aware that there was more than just a driving range and balls. But for the last five years or so things have continued to increase every year and I think the impact of our brand as it grows can be seen everywhere.
We definitely have a lot of excitement about the new facility we're opening in Naperville. It's not going to be the same generation type model as the one we have in Wood Dale.
The current facility in Wood Dale is about 44,000 square feet and the new one's going to be just about 55,000 square feet. The technology itself is going to be a little bit more interactive and where we really upgraded our game at the new facility in Naperville that allows you to have the golf balls right in the bay. You just swing your club in front of a seeing eye and it shoots it down on the mat for you.
It's been fun to really engage and be involved with the golf community and work with a lot of different organizations like the Illinois Junior Golf Association. We host third term a lot of fund raisers at a lot of different facilities and really everything we do is all about golf and fun.
CGR: So let's just talk a little bit more about that in terms of the opportunities. You offer memberships as well as a wide range of teaching facilities and golf professionals. Talk a little bit about those services.
BH: We do call it a membership to get in. That's really just a onetime situation where we get all your information and you get the card so you can come and play TopGolf and then actively enjoy the game. We do have more premium memberships as well, that allow you wait list privileges and access to events once a month. We also do group type events and sometimes they're off site at comedy clubs, sometimes they're golf outings and sometimes they're barbecues here at the site.
They're a lot of fun. And what that's done is really create a community and following of folks that really enjoy seeing each other whether they're golfing or not.
We also have a lot of fun things going on in our teaching site. We have the TopGolf Academy every year which is focused on ages 6 to 12 years old. It is a day camp where parents can drop the kids off and we'll teach some golf basics there at the site. We keep it a lot of fun and they go out and actually play a course on the last day, play nine holes and really use those skills and apply those skills.
For the golfer that's looking for a lesson to improve their game, we have a lot of options. We have everything from a twenty minute type lesson all the way up to lesson packages and then group lessons for that matter as well.
I would say on the technology side of things what we're seeing is a lot of growth in utilization of technologies. We use a company that allows you to download an app that allows you to see highlights of your lesson. You can watch it and really makes you focus on the things that they ask you to work on.
Overall though, I mean, the coolest thing about what we do on the lesson side of things is that it's fun. It's very social. It's not a dry environment at all and overall it seems like we're getting a lot results so it's very effective.
CGR: Talk a little bit about some of the special events that you have like your 'Suits and Boots' and your leagues, the two-person league, the four-person league.
BH: We're very proud of the leagues. It has now become a very part of what we do in all of our sites. We have fun leagues as well as some tournaments four times a year on Saturday mornings.
The leagues are very interactive. People really get to know each other. Becomes that kind of Cheers bar mentality where when you walk in you see a bunch of people that you know are the same people every single week and you get to know them and then really feel that that's your spot, that's your place to go.
We're real proud of it because Wood Dale was the first site that did them and has done them very successfully over the years. I've seen as many a people as 150 people sign on for a league on a week night.
The 'Suits and Boots' and some of those other fun events we do are typically aligned with a local charity and we like to do some things that are a little off kilter and a little fun. The 'Suits and Boots' does happen in the springtime every year before that it warms up in Chicago. It's a little warmer in the rest of the country but out here in Chicago people literally show up in their swimsuit and snow boots and hit golf balls and have a lot of fun.


But we also do other things throughout the year and sometimes they're local based events where we'll have team night a night or we always do a Halloween party, we always do a New Year's party. Those kind of things are very unique things for not only a family go do, but any die hard golfers that might get out there if they want to actually do some golfing, you can do it all the year round with us.

CGR: Yes, speaking of that you know what the… you mentioned the heaters and you mentioned the fact that TopGolf is open year round. What percentage of the audience do you think you retain from the summer to the winter? Is there a more popular time of year?

BH: We definitely see people stay later during the summer. If it's below zero, some of the days we've had over the last year and a half to two years here in Chicago we don't see a whole lot of traffic. We expect that and we understand it. In fact we've even given out, free golf when it's below zero.

We got a strong events following as well and about thirty percent of overall business in events so some of that will be based business and different events going on at the site. Again we definitely see an uptake during the summer where we're very popular as I mentioned earlier with that younger crowd as well as the families. We definitely see an uptake of families during the summer when they're out of school.

You see mom bring in two, three kids and then have lunch and hit two golf balls. Sometimes mom plays, sometimes mom just reads a book while the kids are playing, those kinds of things and it's a lot of fun to watch them. I've seen college kids that are back for the summer. We employ a lot of them. I've employed between 200 and 450 associates. So we're definitely able to give back to the community and the surrounding communities by employing a lot of those folks.

CGR: One of the main statements that was made at the PGA show in February was the idea that TopGolf has become one of the leading ways to expand the game of golf. Like you mentioned you could… don't really have to have a background in golf to love and play TopGolf. Can you talk a little bit about what TopGolf is looking to accomplish in the next few years? You're adding a lot more TopGolf, including Naperville. What's the sense that you get from the organization as far as what the growth's going to be and what's your goal? What do you want to achieve in the next say five years?

BH: I would say we want to continue to a grassroots expansion planned. We're evaluating cities constantly throughout the United States, potential locations. You may have heard, we announced TopGolf Las Vegas a few months back, partnering with MGM. It's going to be great to be behind them.

We've got Kansas City, Overland Park, Oklahoma City opening, Denver is opening as well this year. Salt Lake, Midtown Atlanta. So there's a lot going on in addition to Naperville.

You know we really want to continue to just provide an opportunity for people who want to experience golf and to really create those fun memorable experience while exposing them to golf for the first time.

We've seen a lot of people that have never been exposed to golf before come try us out and after a few times being at our site, they do make it out to the golf course and feel comfortable enough and confident enough in their hitting ability to try the course. So it's been fun to see them come back into the site and tell us about their experience on the green grass course.

CGR: Let's talk a little about TopGolf Naperville. Talk a little bit about what you're expecting with this new facility in Naperville.

BH: We're very excited about it. Naperville's a fantastic community. It really supports our core value that we're looking forward to a community that we want to be involved with and support as well as those families, organizations and companies.

We're going to provide a brand new type of entertainment complex and even a little bit better and bigger than the Wood Dale site. For people to come out and experience that social interaction, be close to golf for the first time and really play it like a real live video game where you can hang out with the family.

CGR: Okay then, final question. Chicago has one of the deepest most rich histories of golf anywhere in the country. The first 18-hole golf course in the United States was built here. How do you think that TopGolf will be remembered five, ten years from now in terms of its place in golf in Chicago. Do you see it as being sort of a feeder ground for new players? Do you think it's going to be its own entity? How do you see it evolving over the next five, ten years?

BH: That's a great question. We definitely are very entrepreneurial so we're going to continue to make sure we're providing what we can to not only the golf community but to the folks that come to us just for the entertainment value and really make sure that we stay close, we listen to what our guests want, listen to what our associates need from a resource standpoint and make sure that we continue to support the communities.

Matt Vinge is one of our lead instructors and Matt's been very successful and had several young ladies place in the top five in state. For the last three years he's manage to make I think quite an impact there.

As I mentioned earlier, we're involved with the Illinois Junior Golf Association, the Executive Women's Golf Association and quite a few others. I think we're doing what we can to not only work with the different golf organizations but also make sure that we're involved with as many communities and golf outings for charity.

I definitely think you'll see more sites in Chicago because the success of the Wood Dale site and success of the Naperville site.




TopGolf Naperville
3211 Odyssey Ct
Naperville, IL 60563
TopGolf Chicago
699 W. Thorndale Ave.
Wood Dale, IL 60191
Podcast: Play in new window | Download
Subscribe: RSS