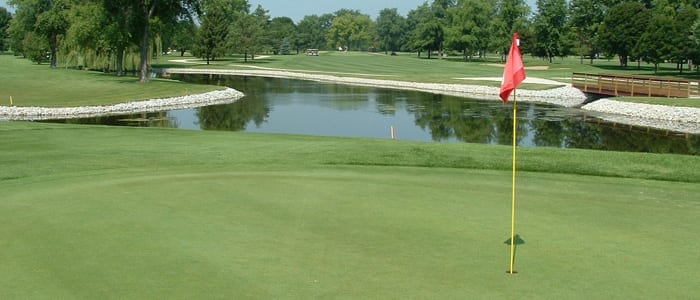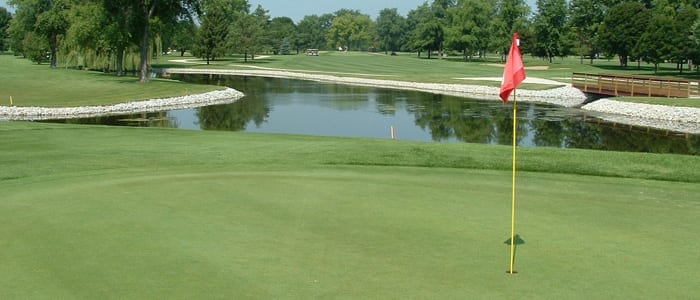 The phrase 'Go grab some pines' is bad news for baseball players, as it means that the team manager is pulling a player out of the game, telling him / her to go to the dugout and sit on the bench. But for golfers desiring to get in the game of golf in the Huntley, IL area, that same phrase with two added words is good news as 'Go grab some Pine's tee times' sets up enjoyable rounds of golf on an affordable and challenging municipally owned course — Pinecrest Golf Club.

The period of years from 1961-1980 heralded another 'expansion era' of golf course openings in the Chicago area. Public golfers here, were now being offered a new level of golf facilities — something rising above the 'pitch-and-putt' length of old municipal courses but not quite to the heights of the inaccessible private clubs. Now, open-to-the-public, 'championship courses' were being built, usually 'out where the suburbs meet rural territory'. The birth of Pinecrest Golf Club fits directly into this time and space. For more than four decades, Pinecrest has remained a popular golf destination for the local community, including robust golf leagues and permanent or walk-on tee time programming.

The Huntley Park District, owners of Pinecrest Golf Club since 2003, contracted with KemperSports on September 28, 2016 to begin managing Pinecrest Golf Club on October 1. The partnership between KemperSports and Huntley Park District will allow for both organizations to align goals for Pinecrest Golf Club to ensure a bright future for this community asset.

"Building on a great foundation, we feel KemperSports is the best partner to take Pinecrest to the next level in operations and customer service excellence," said Thom Palmer, Executive Director, Huntley Park District. "Their experience in managing some of the top daily fee properties in the area will be a tremendous asset to residents of Huntley and surrounding communities."

Brad Hisel, Pinecrest's general manager, began playing there in 1985 at age 6 and has logged more that 200 rounds at Pinecrest. Quite the historian, Hisel provided this timeline about his home course: Pinecrest Golf & Country Club in Huntley opened in 1972, built on property that was formerly farmland (corn). Pinecrest's original architect was Ted Lockie, a golf professional and course designer from the Quad cities region of Iowa. Now, 45 years after opening, and with renovations by Ken Killian & Dick Nugent, and more recently by Bob Lohmann, Lockie's parkland-style layout has a mature look.

While pine trees are the course's namesake, cedars, willows, maples, river birch, and lindens are also found in abundance on Pinecrest's eighteen holes that play to a balanced par of 36-36=72. There are two par 3's and two par 5's on each nine. The course features four sets of tees with the following statistics: Black (6666 yards; 72.3 / 128); Blue (6044 yards; 69.5 / 122); White (5528 yards; m 67.4 / 117; w 72.5 / 125); Red (4659 yards; m 63.2 / 90; w 68.0 / 116). Additionally, each hole has a 'family' teeing ground with total distance for the short routing at 1818 yards.

Five bodies of water, call them 'ponds', come into play on eight holes. The first narrow 'pond', perhaps looking more like a creek, crosses the entire fairway of hole #1 and meanders over to front the green on the short par-3 eighth hole. Later, on the back-nine, an oddly shaped pond with a number of extended fingers will pose a problem for golfers when they play Pinecrest's holes #11, #12, and #15.

General manager Hisel believes that Pinecrest has two signature holes, # 8 and #11. Both holes are par-3's and both feature ponds as water hazards. Most golfers will enjoy the beauty and ease of hole number eight, a very short par-3, measuring only 116 yards from the back tees. An open shot to a large, inviting green produces many pars and birdies here. A flower bed to the left of the tee and the narrow creek-pond in front of the green add eye-appeal to this shorty.

Another par-3, three holes later, is not as friendly. Longer, and with a larger body of water, hole #11, measures 203 yards from the back tees and is rated as handicap 8. Trouble on #11 is as follows: trees to the left and rights sides, a bridge, and the fingers of the oddly shaped pond create a horseshoe water hazard in front and to both sides of the green. The daily tally of scores made on the 11th will render more bogeys and more double-bogeys than pars; then there are some 'others' made here each day as well.

The topography of Pinecrest is flat and gently rolling; elevation changes would be called 'very mild'. With short distances between green and next tee, this course is walkable; riding carts are available. Pinecrest's outdoor golf amenities include a large practice putting green and an on-site driving range (hybrids and irons only are suggested for big hitters).

In 2008 the new clubhouse and banquet facility was opened. This large, modern building houses the pro shop, clubhouse, lockers, bar and grill, and banquet and meeting rooms. The spirit and enthusiasm of the bartenders, cashiers, starters, and beverage cart girls make Pinecrest's staff one of the friendliest and helpful in the entire Chicago area.

With irrigated fairways and healthy, vibrant rough, the course plays longer than its given yardage; Pinecrest's regular players attest to this. In fact, Pinecrest's scorecard presents suggested guidelines for selecting tee areas — not by player handicap, but by driver distance. Not stated on the scorecard itself, but stated here in this review, is that 'course management' is a key factor for good scoring on Pinecrest's back nine. Be mindful of the backside's tricky pond fingers and the close proximity of OB near the fifteenth green.

Now after eleven months of new management, the transition to overseeing by KemperSports has progressed smoothly. "Pinecrest Golf Club has maintained a strong reputation locally for their commitment to excellence and continues to draw golfers from the entire Metropolitan Chicagoland Area," said KemperSports CEO Steve Skinner. "We look forward to working further with the Huntley Park District to ensure a bright future for Pinecrest."

Grab some Pinecrest tee times at www.pinecresthuntley.com.
Pinecrest Golf Club
11220 West Algonquin Road
Huntley, IL 60142
(847) 669-3111