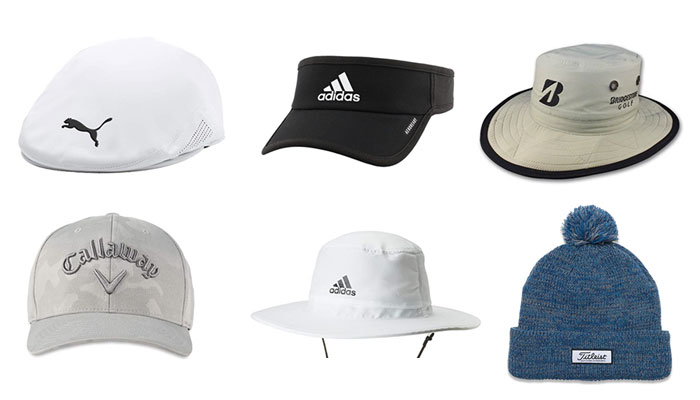 Hats are a must for those who play golf, providing defense from sun, wind, rain and cold weather. In addition to providing protection from the elements, golf hats for men are a great way to showcase your fashion style and expression. It helps to know what's available when it comes to choosing the hat that is right for you.
Golf Hats for Men
Aussie hat
Baseball hat
Beanie
Boonie
Bucket hat
Driver hat (Flat Cap)
Stetson hat
Visor
Benefits of Golf Hats
Two primary benefits of wearing head wear on the golf course are for protection against the elements and to help reduce glare from your vision. Many professional golfers have chosen to wear a wide brimmed hat to help prevent skin cancer.
There is no requirement by the PGA Tour that players must wear hats. However, most Tour players have hat contracts to help capitalize on lucrative sponsorship real estate that head wear can provide.
Many players on the PGA Tour, including Jack Nicklaus, Tom Watson and Johnny Miller did not sport head wear during the 1960s and 1970s. That began to change in the 1980s as traditional baseball hats became more popular.
Rory McIlroy has famously played in the Ryder Cup and the Olympics without a hat. "My head is so small that I have to get Nike to make me custom hats," said McIlroy. "So whenever I'm in a team event and the hats aren't custom, they're all too big."
These days, seeing a Tour player without a hat is a rare occurrence. Tour players who usually don't wear hats include Robert Rock and Ollie Schniederjans.
Types of Golf Hats
Aussie hat
Looking for a wide brimmed hat to keep sun off, check out the look of Aussie hats. Features a large 360-degree brim providing superior sun protection.  Moisture-wicking, antimicrobial sweatband to help reduce odor and keeps you dry. UPF 40+ rating for protection from harmful UV rays. Drawcord with closure offers a snug fit.
---
Baseball hat
The Traditional baseball hat featuring a front brim is also the most popular design for a golf hat. Since the 1990s, most Tour professionals have chosen to wear this type of hat, which has become prime real estate for sponsorships.
---
Beanie
The popular winter head covering, beanies are woven hats that provide protection from cold winds and lower temperatures. Beanies provide excellent thermal insulation for those frigid days and can be paired with a pom pom design, making this the cap of choice for winter golf.
---
Boonie
A boonie hat is a wide-brimmed floppy hat that provides protection from the hot sun, pounding rain and whistling wind. This hat can help provide comfort in bright sunshine or moist, wet environments. In addition to their functionality, boonie hats come in many different styles, colors and patterns.
---
Bucket hat
Bucket hats are a great option to help keep the sun off your face, neck and ears on the golf course. The brim is also small enough to stay out of your peripheral vision during the golf swing. The floppy, circular brim of the bucket hat can help keep you cooler, drier, and better protected from the sun. Safari hats are a variation of the bucket hat that typically come with a drawstring.
---
Driver hat (Flat Cap)
The driver hat was originally made famous by Ben Hogan and provides a dapper, distinguished look that is making a comeback on golf courses around the world courtesy of Bryson DeChambeau. Also known as a flat cap, scally cap, paddy cap or a bunnet, the driver hat is a rounded cap with a small stiff brim in front that came from the British Isles. 
---
Stetson hat
Stetson, or western-style hats offer an original cowboy hat design with a tall rounded crown and wide flat brim. Made popular on the golf course by Sam Snead and later Greg Norman, these hats are typically made of straw or light fabric to help provide sun protection.
---
Visor
A crownless hat that consists of a visor or brim with a strap encircling the head is a golf visor. Providing unlimited air movement since the top of the head is not covered, the visor also helps to protect the face, eyes, nose, and cheeks from the sun. Prominent golfers who have worn visors include Fred Couples, Phil Mickelson and Brandt Snedeker.