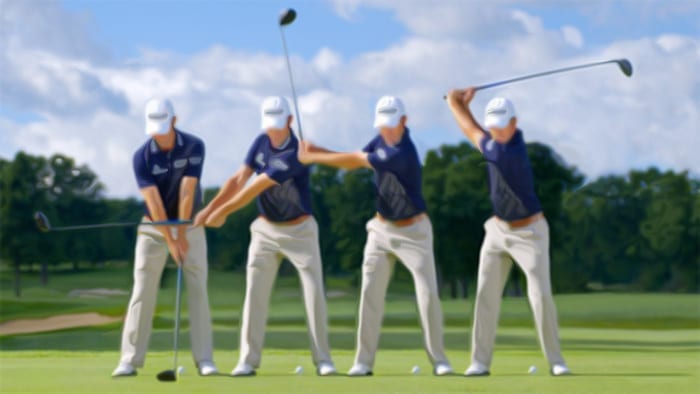 This is a guest post by Chris Kendall and Derek Domaleski, Co-Founders, Dynamic Golf Institute
We have been teaching golf and golf fitness for many years. In that time, we've encountered many golfers who hold inaccurate beliefs about golf specific fitness training. Some golfers we've met didn't even believe a fitness regimen could improve their game – nothing is more satisfying than turning them into believers. Don't let these common myths get in the way of a better golf game:
You can buy a better golf game. Only hard work will improve your game. The average golf handicap hasn't moved in two decades. During that time golf equipment has greatly evolved, but only top-tier players are reaping the large benefits advertised. It's time to start investing in the most valuable piece of equipment in your arsenal, your body.
Golfers are not athletes. We aren't? The golf swing requires flexibility, stability, strength and exquisite hand-eye coordination. The full swing is an unnatural movement done at a very high rate of speed. Even practicing chip shots and putting can put tremendous stress on your back. At Dynamic Golf Institute we are seeing an incredible correlation between our students' golf fitness handicap and their playing ability.
Golf fitness is just for pros. If anything, amateur golfers benefit more from golf specific fitness training. Almost without exception, amateurs' biomechanical swing flaws are due to poor stability and limited flexibility. Oftentimes, golf instructors must teach in a way that compensates for physical limitations. Eliminate these limitations and you will be better able to execute your instructor's advice, prevent common injuries and increase performance on the course.
I can touch my toes, so I don't need to improve my flexibility. If you can touch your toes you're way ahead of most people, but don't stop there. Flexibility is the most over-looked part of golf today and the bedrock of both your fitness training and golf game. Many of us spend the majority of the day in a seated position that leads to muscle tightness in the hamstrings, hip flexors and ankles. By enhancing joint flexibility, you can lengthen your golf swing and increase your club head speed.
Cardiovascular exercise is not important for golf. Do you "run out of gas" at the end of your round? A regular cardio workout will help you to play the 18th hole as strong as your first. There are countless methods of cardiovascular training. However, the best choices for golfers are circuit training, hiking and alternating between walking and jogging.
The same golf fitness routine works for everyone. Every golfer is unique and their golf fitness program should be too. A solid program design must begin with a physical assessment to assess your current fitness level. The assessment will focus on balance, mobility, stability and flexibility. At Dynamic Golf Institute, we'll identify your physical limitations, explain how those limitations are directly affecting your golf swing and create a training program that will allow your body to work more efficiently.
Let's get started on realizing your golf potential! Contact us today at (773) 316-6693 or info@dynamicgolfinstitute.com. You can also learn more by visiting our website at www.dynamicgolfinstitute.com.