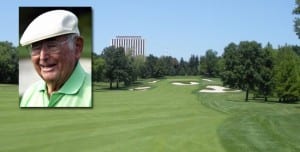 For the first time in PGA of America history, it is believed that there are four PGA members who are age 100 and over. The PGA of America recently recognized and honored its four oldest members — the eldest of which, Mr. Samuel Henry "Errie" Ball, has a Chicago connection. Records in the PGA Membership department indicate that Errie Ball, a member of the PGA Golf Professional Hall of Fame who lives in the South Florida Section, is the oldest living PGA member. Errie will turn 103 on November 14.
Today, having already passed the century-mark, Mr. Ball still gives golf lessons at Willoughby Golf Club in Stuart, FL, where he is PGA Professional emeritus; but for many prior decades this golf legend called our Illinois Section his PGA home. Though born in Bangor, Wales (UK), and coached in golf by his father William Henry Ball, a British club professional, Errie was enticed to come to the United States by his uncle, Frank Ball, at the time PGA professional at East Lake Country Club in Atlanta. Errie loved the southeastern United States, where he attained head PGA professional status at two prestigious country clubs, won the 1931 Southeastern PGA Championship and the 1932 Atlanta Open, and ultimately became one of 72 competitors in the inaugural Masters (Augusta National Invitational) field of 1934; he is the last surviving member of the inaugural Masters tournament. In 1942, Errie was drafted by the U.S. Navy and following the war and his military service, Ball traveled to Illinois to become head professional at Oak Park Country Club, where he served for the next 24 years. In 1972, Ball became the first PGA head professional and later PGA director of golf at famed Butler National Golf Club in Oak Brook. While here in the Illinois Section, Errie won three Illinois PGA Championships, the Illinois Open, and Illinois PGA Senior Open and Match Play Championship. And though not victorious, perhaps Errie's most notable feat came in 1957 when, after a span of 23 years he made a return to Augusta, GA, for the Masters Tournament, the longest span between competitions for any Masters competitor. .
In addition to his Illinois Section victories, Errie won PGA Section titles in the former Southeastern Section, and Arizona [now Southwest] Section. Ball qualified for twenty U.S. Open Championships and competed in twelve PGA Championships; in 1990 he was inducted into the Illinois Golf Hall of Fame.
Mr. Ball is joined in the exclusive club of PGA centenarians by: Gus Andreone of the North Florida Section, who turned 102 on Sept. 30. Gus was elected to PGA membership in 1939, has been a PGA member for 74 years. William A. Ferriel of the South Florida Section, age 101, was elected to PGA membership in 1952, and has been a PGA member for 61 years. Edward J. Rack of the Tri-State Section, who turned 100 on June 12, was elected to PGA membership in 1959; Mr. Rack has been a PGA member for 54 years.
Happy Birthday, Errie!