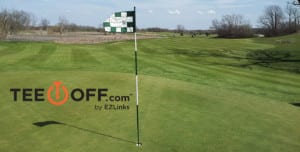 Gary Cohen, the CEO of Chicago-based golf company EZLinks talked with ChicagoGolfReport.com about the goals for the pioneer in online reservations and tee time services as well as their challenges working with both golfers and golf courses. In this excerpt, Cohen compares the challenges and opportunities that his company faces to what the airline or restaurant industry are dealing with. He also addresses the mobile future of the golfer and how they will interact with golf courses.
EZLinks Golf recently rebranded its tee-time booking hub, EZLinks.com, as TeeOff.com and opened it up beyond just courses that use its booking technology. The new website will offer a more user-friendly interface and include courses regardless of whether they use EZLinks' tee-time management software, which allows courses to reach customers more efficiently.
ChicagoGolfReport.com: From a consumer's perspective, from the golfer's perspective, what is EZLinks trying to accomplish for them?
GC: From the consumer's perspective, or from the golfer's perspective? Well, what I want to continue to do is make sure that we are having the best courses in the area, and we're across the, mostly across the United States and Mexico and Canada. But I want to make sure we have the best courses, which doesn't always mean the most expensive courses. They might just be great courses that are really well priced, and I want to make sure that we can provide access to those courses in a very simple way, so that they can get to their, get onto the course as quickly as possible and at a great price.
ChicagoGolfReport.com: So then I'll ask the same question from the golf course owner's or manager's perspective. What can EZLinks do for them, or what's your clear goal for what you can provide to those people?
GC: What we do with the courses, we help the courses run their business more effectively, whether it's providing them the tee sheet, which enables them to make sure that they have the right people who are playing at the right time at the right price, or providing them with marketing capabilities. What I'm trying to do is allow the courses to run more efficiently, and at the end of the day, I'm trying to help the courses make more money.
ChicagoGolfReport.com: Okay, so then I think that leads to our next question. Then, from your perspective, kind of at the helm of EZLinks, what's the challenge right now that you face for the organization?
GC: The biggest challenge is probably along the lines of we have, as I've been getting up to speed with the company, there's just a lot of opportunities here to grow. There's a lot of different ways that we could grow, and the biggest challenge I have is figuring out which is the, what is the right way to be able to push the direction of the company? And it's, I'm in a very fortunate position that I have to choose between a number of good alternatives, but at some point you do have to prioritize because you can't do everything.
ChicagoGolfReport.com: So then, with all these opportunities, like you said that you have many different paths that you could go down, taking some ideas from your past and the companies that you've started and been involved with, what excites you about the future then for EZLinks?
GC: Well, I think that we're going to continue to see the growth of online booking. You know, online booking, can think of it like the airline industry, or the restaurant industry, Open Table, for instance. I think that as people start to realize that it's an effective way to book your tee times. It's a simple way. You also get a lot of information very quickly. I see that we'll see a lot more growth in the online space as we move forward, and that's a big opportunity for EZLinks.
ChicagoGolfReport.com: What has the expansion and proliferation of mobile access, people using Smart Phones, what has that done to your business? Has it affected it greatly, or are you kind of seeing the same levels?
GC: No, I think it goes right along with your last question, and it dovetails beautifully, because what we're seeing is that with people having more mobile devices, whether it's a cell phone or a tablet, we're seeing a lot more people being interested and using those devices to book online, and that's part of the reason that we're seeing about a 25% year over year growth in online booking.
Listen to the entire interview with Gary Cohen on the Chicago Golf Report Podcast.