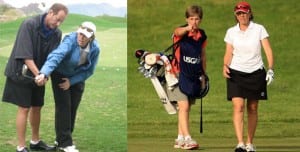 There are more than 2,000 female golf teaching professionals in the United States, and their popularity is growing among men and women golfers. Female golf teachers often bring a level of communication and teaching expertise that players of both sexes appreciate.
Capitalizing on this surge in popularity, a recent Golf Digest article listed the top 50 women teachers in the United States based on a poll of female golf instructors around the country. Despite having over 1.2 million golfers in the Chicago designated market area, only one local female Chicago golf instructor ranked among the top 50. Jamie Fischer, who teaches at Conway Farms Golf Club in Lake Forest ranked 38th and was Chicago's lone representative in the Golf Digest survey.
Jamie was an accomplished golfer long before she turned her focus on teaching golf. She was a two-time Ohio junior champion and qualified for the US Women's Open at age 18. Jamie learned the game and how to be a pro from her mother, Andy, who was an LPGA Tour Professional. After graduating from The University of Texas, where she was an Academic All-American, Jamie played professionally around the world on the LPGA Tour, Futures Tour, Asian Tour, Australian Tour and European Tour.
After turning her attention to teaching full time, Jamie became a Master Instructor at the Jim McLean Golf School and also taught at the Todd Sones Impact Golf School from 2002-2007. Now at Conway Farms, Jamie works with players of all skills and abilities.
Although the golf season in Chicago can be somewhat condensed, Fischer sees many positives about teaching golf in the Chicagoland area. "Although there's a short window, Chicago golfers really love the game and enjoy learning how to play the game" said Fischer. "Chicago's also a great sports town and the people in this part of the country are truly passionate about golf."
"When working with students in Chicago, I tend break my instruction down into two categories. In the winter, I refer to golf instruction as 'do it right' time, meaning they'll be focused on proper technique and mechanics. We use the winter to really focus on improving with less emphasis on scoring."
"I refer to my lessons during the golf season as 'get it done' time. Here we emphasize getting the ball in the hole and scoring. We're less focused on technique and more focused on improvements we can make that affect our results on the golf course."
Working at Conway Farms, Jamie is in a prime position to experience the 2013 BMW Championship. The Western Golf Association announced earlier this year that the event will visit the Lake Forest course for the first time next year.
"I can't say enough good things about the great members and staff at Conway Farms" said Fischer. "Everyone loves to be there, which makes it a terrific place to work. Our golf course should be a wonderful host for the BMW Championship.
In addition to her home course, Fischer also believes the breadth and depth of great golf courses in the Chicagoland area is unmatched. "There are so many great golf courses in Chicago and the suburbs. Places like Chicago Golf Club in Wheaton, Shoreacres in Lake Bluff and Lake Shore Country Club in Glencoe are great, historic places to play. Skokie Country Club is another fun place to play, as is Thunderhawk Golf Club in Beach Park."