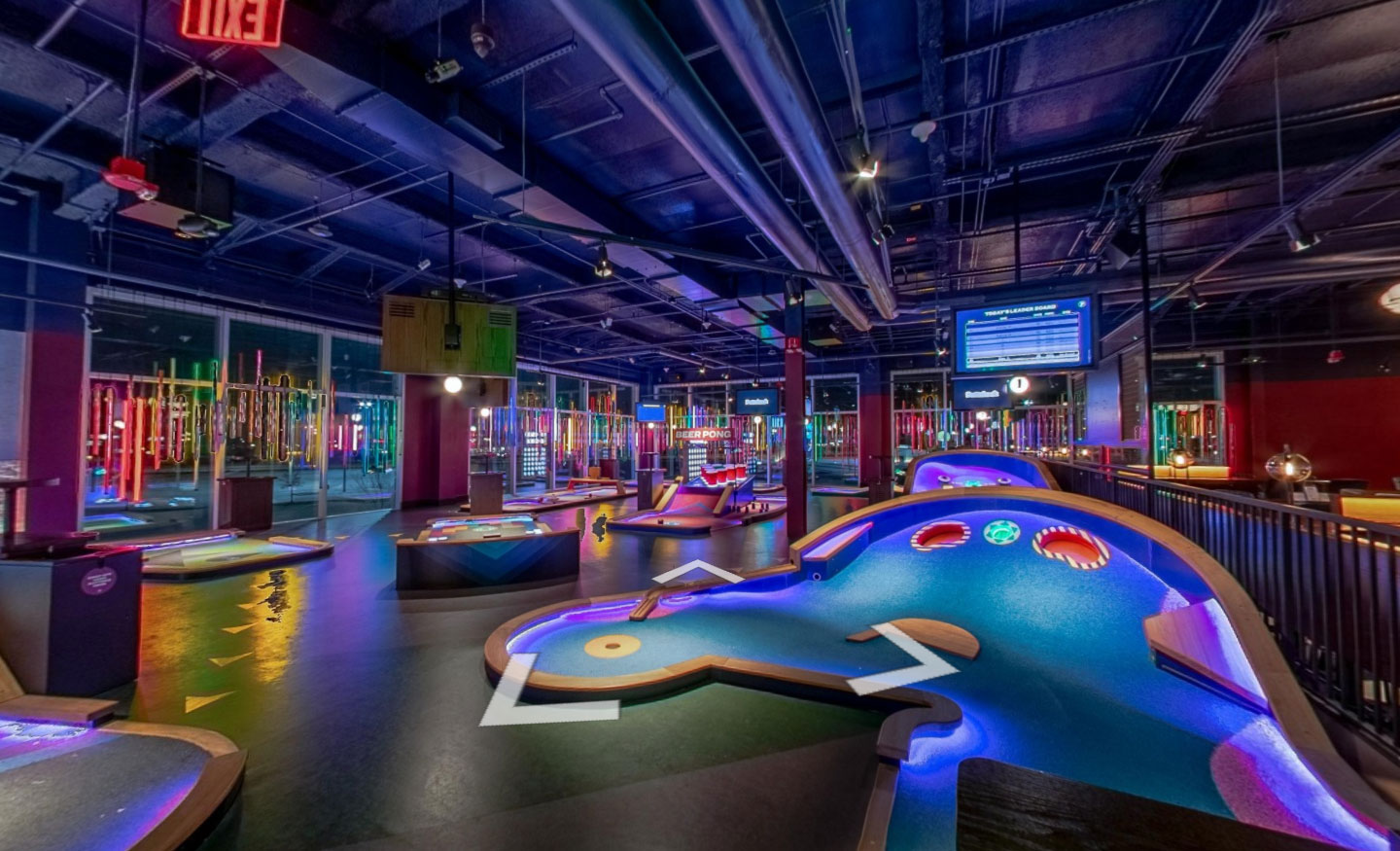 Puttshack, the premier global mini golf experience enhanced by advanced technology, has unveiled plans for its continued growth in the Chicago region by securing a new site at Westfield Old Orchard in Skokie. The second Puttshack location in the vicinity of the company's Chicago headquarters is projected to open in late 2024.
The upcoming Puttshack venue in Skokie will occupy over 30,000 square feet across two floors and will feature four technologically advanced nine-hole mini golf courses which leverage Puttshack's proprietary Trackaball technology for competitive scoring. The venue will also feature dual full-service bars and a private event area capable of accommodating roughly 120 guests for exclusive gatherings and business events.
"We are extremely excited about the continued growth and expansion of Puttshack and our unique mini-golf model," said Dave Diamond, Puttshack's President. "As a long-time Evanston resident, Old Orchard has been a frequent destination for my family, and we believe that the Skokie hub will become a prime spot for local residents and tourists to enjoy family outings, date nights, and fun evenings with friends and colleagues."
Puttshack's innovative concept is at the forefront of the fast-growing market for competitive socialization. The brand's revolutionary Trackaball technology, integrated throughout the gameplay, provides a unique, high-octane experience that are unique to most current market offerings.
The comprehensive Puttshack experience, characterized by carefully curated décor, interactive courses filled with unique challenges, automated scoring, bonus point opportunities, and more, makes each location a memorable destination. Popular game elements include life-sized beer pong, air hockey, roulette, connect four, and a true/false hole.
Westfield Old Orchard's development strategy, which started in late 2022, includes the addition of Puttshack as its entertainment anchor in the previous Lord & Taylor space, alongside new high-end home décor and leading fashion brands. With Puttshack, the shopping center extends its existing portfolio of over 150 retailers, featuring renowned brands like Louis Vuitton, Bloomies, and Bar Siena.
"Puttshack's addition to Old Orchard strengthens our position as the go-to shopping, dining, and entertainment hub for Chicago and the nearby regions," stated Serge Khalimsky, Senior General Manager of Westfield Old Orchard. "Their inclusion was an obvious choice in our ongoing endeavor to enhance our offerings, and we are thrilled to add this exhilarating experience to our diverse collection of top-tier fashion labels and dining options."
The forthcoming Skokie venue will be Puttshack's second in Illinois, complementing its existing Puttshack Oakbrook Center. Since its inaugural opening in 2018, Puttshack now boasts nine U.S. locations (Atlanta, Boston, Chicago, Denver, Houston, Miami, Pittsburgh, Scottsdale, and St. Louis) and four in the U.K. The company also announced plans for 13 additional venues, including Minneapolis, set to open throughout 2023 and beyond.