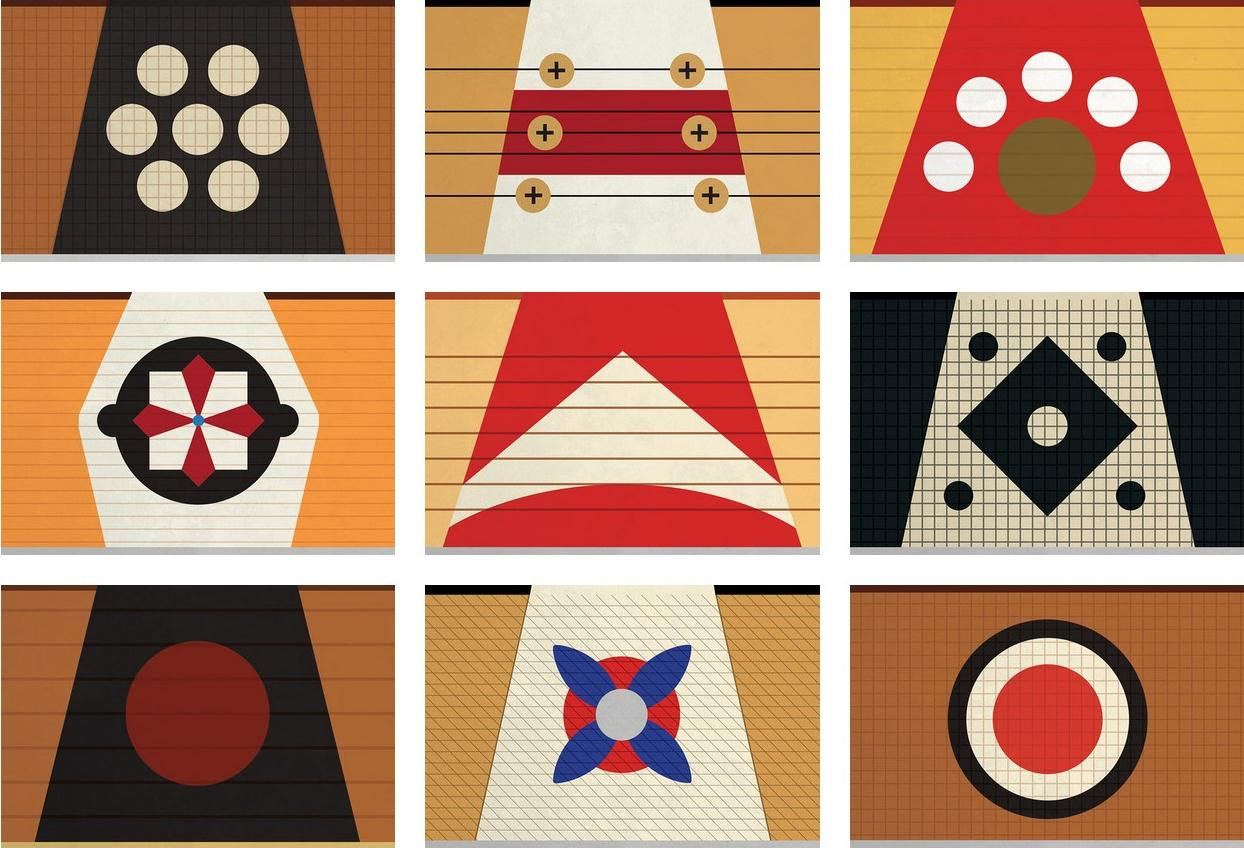 The majority of articles posted on Chicago Golf Report are written about topics such as tournament news, golf course reviews, instruction tips and new product analysis. It is now time for something completely different…an article for lovers of art, geometry, and golf.
Opening on July 22 and running through September 10, there is an exhibition of the work of artist Trace Chiodo at the Blue Moon Gallery in Grayslake, IL. Chiodo's exhibition is titled "The Striking Faces of Golf" featuring digital illustrations of the striking surfaces of vintage wooden golf clubs referred to as "fancy faced drivers".
Many years ago persimmon wood became the ideal choice material for the heads of wooden golf clubs. The reasons for persimmon being the choicest raw material for golf woods is because it is hard, dense, tough, and heavy.
At first, the center sweet spots of the wood club faces were merely painted or stained for visual acuity. But to protect the wood against repeated impacts with the ball, wooden woods were equipped with face inserts made from many different materials, but more often the inserts were made of cycolac, an ABS resin. As a marketing ploy, wooden club manufacturers added eye-catching designs to their inserts, and "fancy faces" were born.
Drawing from his experiences in the world of golf, Trace Chiodo explores line, shape, and color to characterize the individual beauty of these clubs. His illustrations are distilled down to a minimalist form creating a geometric visual language that evokes memories of playing golf with traditional wooden clubs. Chiodo states that wooden clubs with plain or fancy faces were played for a number of decades by thousands of amateur golfers, the greatest of champions, and some of his closest friends.
Over a period of two years, Chiodo has created 108 different and unique images of frontal impact zones of wooden drivers, hence the exhibit's name of "The Striking Faces of Golf". Each of his images measures 8" x 12" and is a digital illustration using pigment ink on watercolor paper. The choice of colors from this vast selection can complement and enhance the décor of any room — home or office.
Trace Chiodo is an artist working out of his studio portion of the "16th Street Studios", housed in a 150 year old factory in Racine, WI. As a first exhibition of his "striking faces" collection, Trace is pleased to have his work on long term display at Blackwolf Run in Kohler, WI where there are 9 of his images on display at that Sheboygan area clubhouse.
The Blue Moon Gallery in Grayslake, IL is his second public showing and has 10 images displayed. Viewers interested in these works can purchase them 'right off the wall' at either location, or, can order any of the 108 selections, framed or unframed, by contacting the artist through his website.
In addition to being an artist, Chiodo has a lifelong involvement in the game of golf. Trace states "My passion for golf started with a driver given to me by my brother when I was just 2 years old. Since then, I have been immersed in nearly all aspects of the game…doing everything from picking up range balls and caddying to winning junior tournaments and becoming assistant superintendent at a championship level course."
The Blue Moon Gallery is located at 18620 Belvidere Road (Route 120), Grayslake, IL 60030, and is open weekends from 1-4pm. At Blue Moon Gallery there is no admission fee and free parking is available in front of the gallery and in the lot next to the gallery.
(All images shown here are copyrighted and permission for use has been granted by the artist.)