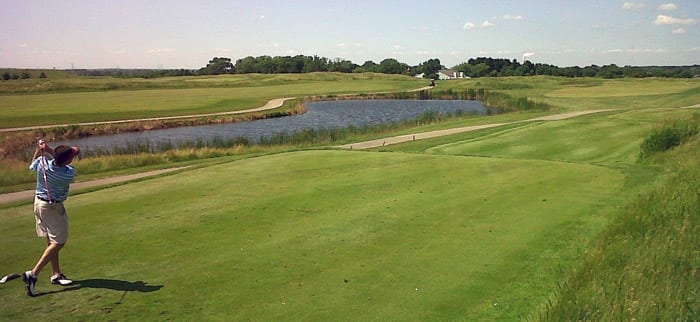 Shepherd's Crook Golf Course in Zion provides a familiar, yet strangely unique experience for Chicago golf fans. This 18-hole facility features rolling hills, rolling greens and lots of native grasses to force accuracy off the tee. Play it too safe, however, and your chances of hitting these often hidden greens is minimal.
With many of the holes bordering a nearby farm and tree-lined sanctuary, Shepherd's Crook offers views more reminiscent of the North Woods of Wisconsin than traditional Chicago golf courses. Despite the hazards and undulating greens, Shepherd's Crook is usually fair to well struck golf shots. However, there are certain greens that are not at all receptive to hot approach shots, so long, straight drives are imperative. If you're hitting hybrids into these greens, you could be in for a challenging day.
Shepherd's Crook is a mostly links-style course, but there is a section that weaves through a beautifully wooded area. The par four 427-yard 5th hole begins in a wide open section of the course, but finishes with a green surrounded by trees. It features a challenging approach to a large, undulating putting surface that offers numerous potential pin placements that could dramatically affect your strategy.
Shepherd's Crook Golf Course is typically well-maintained and provides a great test for a low-handicapper, but is also playable for less experienced players. The course does not offer a driving range, so it might not be a bad idea to warm up before you get there.
Shepherd's Crook was opened in 1999 and is owned by the Zion Park District. The course was designed by Keith Foster and has received recognition from Golf for Women magazine and a 4 ½ star rating from Golf Digest magazines' Best Places to Play.
Shepherd's Crook Golf Course
351 Greenbay Road
Zion, IL
Phone: (847)872-2080