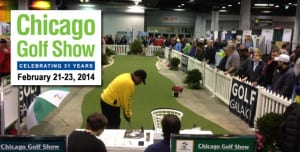 The nation's oldest consumer golf show, The Chicago Golf Show returns to the Donald E. Stephens Convention Center in Rosemont February 21-23. The presenting sponsor for 2014 is The Encompass Championship, which will offer show attendees half-price general admission tickets to the tournament, which takes place June 16-22 at North Shore Country Club in Glenview. Chicago Golf Show attendees can pick up the promo code at the Encompass Championship exhibit booth and purchase tickets online at Encompass Championship website. The tournament will also be recruiting volunteers for 2014 Encompass Championship at The Chicago Golf Show.
"The Encompass Championship is excited to be the Presenting Sponsor of the 2014 Chicago Golf Show," said Encompass Championship tournament director Mike Galeski. "The Show is a great opportunity for the tournament to connect with core golfers who love the game and who follow the Champions Tour players who will be competing in our tournament. We're also pleased to provide show attendees with a special half-price ticket offer so they can come out and enjoy some of the legends of the game, including our defending champion Craig Stadler, Fred Couples, Kenny Perry and many others."
Over 19,000 are expected to attend the 2014 Chicago Golf Show, making it one of the largest golf shows in the country. All attendees will receive a free round of golf to any of the dozen local Chicago area golf courses managed by GolfVisions. Local GolfVisions courses include Foxford Hills, Settlers Hill, Bonnie Brook, Nettle Creek, Bittersweet, Chapel Hill and Tanna Farms.
With more than 400 booths on the show floor, the Chicago Golf Show offers attendees a lot do see and do. Hit the latest golf clubs at indoor driving range, get fitted for a new set of golf clubs or attend game-improvement seminars.
In addition to the free round of golf, attendees at the 2014 Chicago Golf Show will see great deals on golf clubs, balls, shoes, apparel and much more. They can take one-on-one lessons with Illinois PGA golf professionals on the full swing, short game, and putting. In addition, game improvement seminars will be conducted at the Daily Herald Golf Academy Stage, where top instructors share their experience and insights.
Six-time PGA TOUR champion Jeff Sluman, All-Pro kicker Robbie Gould and Northwestern basketball coach Chris Collins will make their first appearances ever at this year's Chicago Golf Show. Also making his debut at the Chicago Golf Show will be NBC and Golf Channel broadcaster Mark Rolfing, who will host the players on the Daily Herald Main Stage. Longtime Chicago Bear long snapper Patrick Mannelly also will join Gould and Rolfing on the Stage.
The Illinois Junior Golf Association, which offers junior and youth golf events throughout Illinois, is also a top supporter of the Chicago Golf Show. The IJGA will be on hand to provide information on its competitive tournament programs and once again will conduct its popular scavenger hunt for young golfers.
The show will run from noon until 7PM on Friday, February 21, from 9:30 until 6PM on Saturday, February 22 and from 9:30 until 4PM on Sunday, February 23. The cost of admission is $5 on Friday and $10 on Saturday and Sunday for Adults, $4 for children ages 12-15 and free for children under 12. Parking is available convention center garage for $13.
2014 Chicago Golf Show
February 21-23, 2014
Donald E. Stephens Convention Center
9291 Bryn Mawr Ave
Rosemont, IL 60018
Event Hours & Cost of Admission
Friday, Feb. 21 – Noon-7PM – $5
Saturday, Feb. 22 – 9:30AM-6PM – $10
Sunday, Feb. 23 – 9:30AM-4PM – $10
Under Age 12 – Free
Ages 12-15 – $4
For additional information, visit the Chicago Golf Show website.