Golf season in Chicago can't be far away as The Chicago Golf Show returns this weekend, February 26-28 to the Donald E. Stephens Convention Center in Rosemont. The 2016 Chicago Golf Show will feature more than 185 exhibitors and is expected to attract between 15,000 and 20,000 Chicago golfers who will find huge savings on golf equipment, golf balls, golf shoes, and golf apparel.
Well-known trick shot artist Peter Longo will perform each day – Friday, Saturday and Sunday at the Show. Longo is a former PGA Tour Player and has been a world class trick shot artist since 1980. He currently appears Sunday evenings on WGN-TV's "Instant Replay" with golf tips and trick shots.
Three members of the 1985 Chicago Bears Super Bowl championship team will be on hand to celebrate the 30th anniversary of their championship. Tight end Emery Moorehead (Friday), cornerback Mike Richardson (Saturday) and linebacker Jim Morrissey (Sunday) will receive golf lessons on stage from Illinois PGA professionals Kevin Weeks, Brad Syslo and Kurt Kollmeyer.
New for 2016 is a PGA Village that will include six hole miniature golf holes for younger golfers, two golf simulators and free putting and hitting lessons from PGA Professionals. In addition, every paid attendee of the Chicago Golf Show will have the opportunity to obtain a complimentary round of golf courtesy of GolfVisions. The voucher is good for any of these participating GolfVisions courses.
Creekside Golf Course in Valparaiso, IN
Deer Valley Golf Course in Big Rock, IL
Greenshire Golf Course in Beack Park, IL
Heatherridge Golf Course in Gurnee, IL
Chapel Hill Golf Course in Johnsburg, IL
Forest Park Golf Course in Valparaiso, IN
Longwood Golf Course in Crete, IL
Oak Grove Golf Course in Harvard, IL
Village Green Golf Course in Mundelein, IL
Nettle Creek Country Club in Morris, IL
Settler's Hill Golf Course in Batavia, IL
Tanna Farms Golf Club in Geneva, IL
Bittersweet Golf Club in Gurnee, IL
Bonnie Brook Golf Course in Waukegan, IL
Foxford Hills Golf Club in Cary, IL
Whittaker Woods Golf Club in New Buffalo, MI
The modern era of the Chicago Golf Show started on February 18, 1984 at the former Hamilton Hotel Itasca. However, long-time Chicago golf fans may remember an earlier version of The Chicago Golf Show, which ran from 1962 until 1971. The Chicago Golf Shows from this era took place at the Chicago Hilton Hotel Exposition Hall, McCormick Place and Arlington Park before finishing at the newly rebuilt McCormick Place in 1971. Click here for the complete history of The Chicago Golf Show.
The 2016 Chicago Golf Show will feature an expansive indoor driving range where golfers can swing the latest clubs from the industry's most popular brands. Golf club manufacturers specializing in both adult and junior clubs will be on hand to explain the features and benefits of their latest products.
Dozens of Illinois PGA professionals will be on hand to offer attendees free lessons on the full swing, short game and putting. Top golf instructors will conduct exclusive golf improvement seminars on the Daily Herald Golf Academy Stage to help attendees get ready for the coming season. The Illinois Junior Golf Association also will conduct its popular scavenger hunt for young golfers.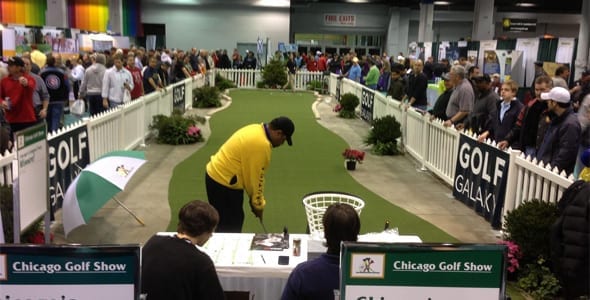 Don't miss the exciting Long Putt Challenge, consistently one of the most fun elements of the show. For a $3 entry fee, each contestant will get three shots at an 85-foot putt. Make the putt or stop the ball within a two-foot radius of the hole and you'll receive a free round at a GolfVisions course of your choice.
Be sure to take advantage of the Show Specials that include exclusive deals on golf rounds, equipment, apparel and more. Some of the specials include a $75 GolfTEC Swing Evaluation ($125 value), 50% off a golf performance and fitness evaluation by FitGolf Performance Center and Pro V1 golf balls at just $8 a dozen from Pre-Driven Golf Company.
"The Chicago Golf Show is excited that GolfVisions once again has decided to offer a free round of golf to each and every attendee at the 2016 Chicago Golf Show," said Chicago Golf Show operator Tom Corcoran. "Free golf has been our most successful promotion ever, and GolfVisons has been a tremendous partner from the very beginning. It's obvious that Chicago golfers love free golf!"
"GolfVisions is thrilled to offer attendees of the 2016 Chicago Golf Show a free round of golf at one of our 16 Chicago area courses," said GolfVisions president Tim Miles, Sr. "This promotion enables us to offer golfers a good deal, and it helps us introduce our courses to Golf Show attendees. We have courses all over the Chicago area."
Tickets may be purchased at the door or in advance online at the Chicago Golf Show website. Use promo code "GolfReport" to save $2 off of either a Saturday or Sunday ticket.
2016 Chicago Golf Show
February 26-27
Donald E. Stephens Convention Center
5555 N River Road
Rosemont, IL 60018
Hours and Admission Fees
Friday, February 26 Noon-7PM $5
Saturday, February 27 9:30AM-6PM $10
Sunday, February 28 9:30AM-4PM $10
Under age 12 Free
Ages 12-15 $4