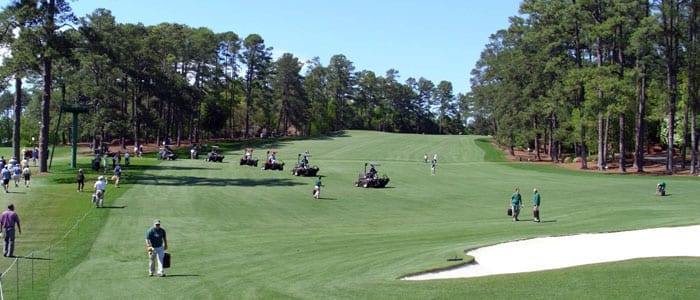 For most of my early years in golf I was an overly critical player nitpicking at each detail as if I played Augusta National Golf Club on a daily basis, then I decided to study Turf Maintenance at Southern Illinois University in Carbondale and gained an entirely different appreciation for each golf course I step foot on.  That is what I hope to pass along to all of you.
For right now though I want us all to enjoy one of the greatest events we as golf fans get to see each year which is The Masters.  Leaving all political bias aside, this week and Augusta National Golf Club represent so much of what is good about golf, this is one of the few times each year that golf is a lead story on the sports page and in my opinion these are the key reasons.
The golf course:
This golf course is what nearly every Golf Course Superintendent (greens keeper) in the world is measured against; in fact we call it The Masters effect.  This is simply when everyone wants their home course to look like Augusta National and we should all want that and I assure you that your Superintendent would love to provide it as well. 
The thing about watching The Masters is that we are able to see what is attainable with all the proper resources and the results are visually stunning from the contours of the greens, the perfectly manicured playing surfaces, to the surrounds including all the flowers.  Augusta National may be responsible for more of the population knowing what an Azalea is than every botany book and professor combined.  To steal an oft used reference (especially here in Chicago) Augusta National is the Michael Jordan of golf courses.
Reverence for the game of golf:
There is no other place as widely known as Augusta National that has more pride and respect for the game of golf outside St. Andrews, Scotland.  If you don't believe me just ask Gary McCord who was famously banned from the announcers chair for saying the greens were so fast they were "bikini waxed" instead of being mowed. 
As you watch this week, pay attention to the respect the golfers carry, they way they act and speak in regards to the golf course.  They fix each and every ball mark, they acknowledge the gallery, the gallery is respectful to the golfers and each other.  While we are on the subject, the gallery isn't even called the gallery, they are "patrons".  This is holy ground for golfers and if at no other time all year, they treat it accordingly.
So this week soak it all in, watch the tournament with your friends and family on Sunday and just enjoy it.  Then next week when you head back out to the course, take that respect that the players in The Masters showed Augusta and show it to your home course… I frequently say that if you treat the course well it will treat you well.  Most of all though, just enjoy the week, enjoy the tournament, enjoy seeing a spectacular canvas in high definition because I can assure you, it just doesn't get much better than this.