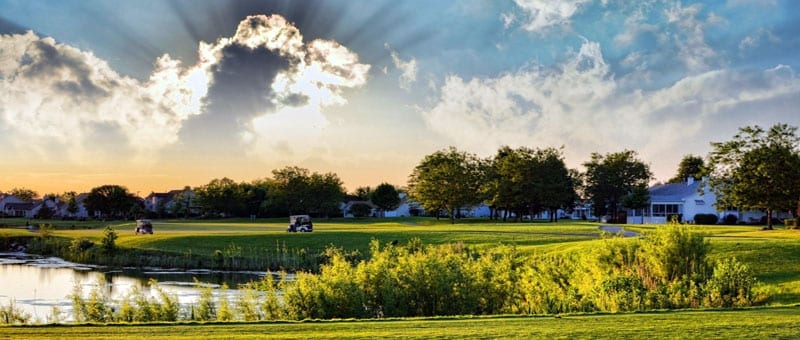 The Links at Carillon in Plainfield is for sale. The golf course, which is cash flow positive, along with a thriving snow plowing business were recently listed by Evanston-based Links Capital Advisors, which has helped sell a number of local golf facilities including Klein Creek Golf Club, White Deer Run Golf Club, Calumet Country Club, Glen Flora Country Club and Kemper Lakes Golf Club.
Opened in 1990, The Links at Carillon features 27 holes of championship golf. The Red and White nines form the primary 18-hole layout, playing to a par 72. The Blue Course at the The Links at Carillon is 3,153 yards long from the back tees and plays to a par 35.
In addition to having 27 great holes of golf, the facility offers a driving range, chipping and putting greens, as well as the Links Learning Center which offers a variety of instructional programs. Five sets of tee boxes offer plenty of options for golfers of all capabilities to enjoy the experience.
There are approximately 70 sand bunkers scattered throughout the grounds and water comes into play on 16 of the 27 holes. Nowhere is the water more plentiful or intimidating than on the 18th hole of the White Course.
Nicknamed "The Gauntlet", the White Course 18th at The Links at Carillon actually provides two forced carries for the price of one. An imposing tee shot requires a minimum distance of 180 yards off the tee from the back tees. However, there is a second pond just beyond the fairway, so your drive must stay to the left side of the fairway to avoid the second water hazard. There is some room to the right on your tee shot, but finding that landing area will make this 568-yard par five even longer.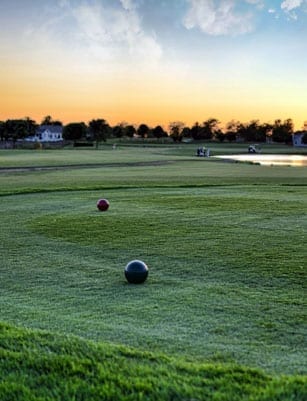 Your second on this hole requires precise distance control and a strategic placement. Most players attempt to favor the right side of the fairway to potentially minimize the danger of their third shot. Depending on the length of your drive you could be hitting a shorter iron up to a hybrid. Since this hole is pretty wide open without much protection from the elements, the wind can play a major factor on every shot of "The Gauntlet".
The approach to the green on this hole is also a forced carry directly over an inlet that protects the putting surface. Control the distance on your approach and you'll safely manage one of the more demanding holes in the Southwest suburbs.
If you're like most Chicago golfers, you may need a few shots at "The Gauntlet" before you find the right approach. In the meantime, the driving range and practice area at The Links at Carillon are a great place to simulate this challenging experience.
21200 S Carillon Dr
Plainfield, IL 60544
(815) 886-2132