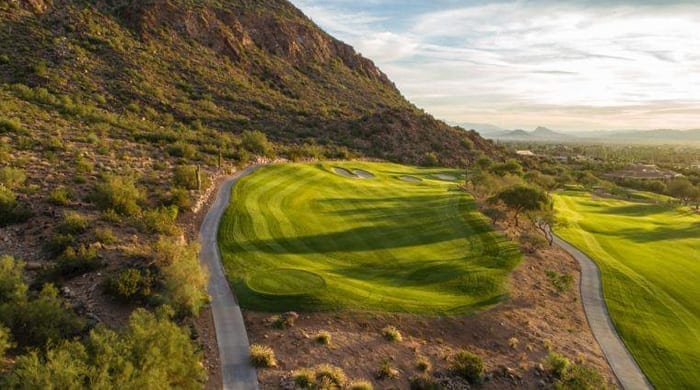 "You can never be too rich" said one elderly gent as he lent his words of wisdom to the discussion; "and, you can never be too thin" commented another golden ager seated in a rocking chair. These were statements that we overheard, way back when, on our junior high-school class trip to the senior citizen's center. Now, decades later, I would like to add a third statement apropos to those (retired) Chicagoans who love golf but hate the cold weather: "You can never make too many winter trips to Scottsdale, AZ".

Here is a review of a handful of public / resort courses that can be enjoyed out in the Scottsdale area.

The Camelback Inn Resort & Spa first opened in 1936, at the foot of Camelback Mountain, a distance of 12 miles down a dusty, rocky trail from the center of Phoenix, AZ. In 1967 the Marriott family corporation purchased Camelback Inn and it thus became Marriott's first full resort. Located 4 miles away from the Inn itself are the two golf courses operated by this Marriott resort.

Throughout the years, these two courses have been known by different names: Padre and Indian Bend; Resort and Club; and currently, Padre and Ambiente. The Padre Course opened in 1966 and was redesigned in 1999 by Arthur Hills. Indian Bend was introduced in 1970 and was redesigned by golf architect Jason Straka on behalf of Hurdzan Fry Environmental Golf Design in 2013 and is now called Ambiente. Neither course is a typical Arizona-Sonoran Desert style course; Ambiente is a modern desert links-style routing without the jagged rocks and cacti.

In contrast, Padre is a lush traditional parkland style course, with palm trees and grass — lots of grass. This 'softer look approach' is intended to appeal to resort golfers looking for a more relaxed round. Stepping onto the first tee golfers will notice the generous landing areas of Padre's wide fairways; but give heed to the approach shots.

The finishing holes for the front and back nines are scenic and challenging as both play back towards the clubhouse with hole #9 to the left of the pond and hole #18 to the right of the same water feature. Padre plays to a balanced par of 36-36=72 with four sets of tees, but includes combinations for all three of the back tees yielding these yardages: black 6868; black/white 6645; white 6421; white/yellow 6201; yellow 6014; yellow/orange 5456; orange 5023. All seven distances have course ratings and slopes for both men and ladies.

Camelback's golf amenities are worthy of the highest praise. For openers, the clubhouse staff and course starters are friendly, courteous, and helpful. The pro shop is fully stocked with golf gear, golf hats and the latest fashionable attire. The driving range / putting green / practice bunker are close to Padre's #1 tee but yet out of the way, as not to be distracting. And, Camelback's restaurant menu offers an above-average number of tasty choices at lower-than-average resort prices.

Mountain Shadows Resort is a facility previously managed by the Marriott chain, and is set in the shadow of Camelback Mountain. The Mountain Shadows Resort debuted on April 1, 2017 as the 'new boutique resort' in Paradise Valley, Arizona, which is immediately adjacent to Scottsdale. The Mountain Shadows Resort is one of the 700 hotels on the 'preferred hotels.com' list of top worldwide hotels; it is one of only 13 in the American Southwest. In addition to lodging upgrades, the resort's 18-hole golf course received a complete redesign by noted golf course architect Forrest Richardson.

The original golf course at Mountain Shadows was designed and built in 1961 by architect Arthur Jack Snyder and played as an 'executive length' course with a par of 57 / 56. Known for its seclusion and incredible desert setting, the course quickly became a favorite among Hollywood celebrities and socialites. Presently, with Richardson's redesign, the course is now an 18-hole all par-3 layout — Scottsdale's only 18-hole par-3 course. Actually, the course has 19 holes, as there is a putting 'wagering hole' placed between the 17th green and the 18th tee.

Richardson's effort at Mountain Shadows was named a "Renovation of the Year" by Golf Inc. With three sets of tees (total distance: back 2310 yards, middle 2065 yards, and forward 1735 yards), the holes play from 60 to 200 yards. Hallmarks of the course are the exceptional greens surfaces and distinct holes, each with stunning mountain views. Richardson's redesign retained the course's storied heritage but combined it with modern features including a double green for holes 13 and 14.

At Mountain Shadows golfers will be thrilled by Scottsdale's great golf climate, a thorough short-game challenge, and all the breathtaking views and stunning scenery of authentic Sonoran desert golf — all at a fraction of the cost of other courses in the area. The course is easily walkable; riding carts and pull carts are available. Since debuting in 2017, its been recognized by 'golf.com' as one of the "13 Best Par-3 Courses in America".

A brand new era of golf at the Phoenician-Scottsdale began in 2018 after the resort's thirty year-old golf routing underwent a total renovation. Drawing upon the notion that, perhaps, 'less is more' golf course architect, Phil Smith, was selected to transform the club from a 27-hole facility to an 18-hole golf course.

See TPC Scottsdale vacation packages

 

Based in Scottsdale, Ariz., Smith had previously executed numerous high-profile renovations for local courses including TPC Scottsdale's Stadium Course and Desert Mountain's Cochise, Geronimo and Renegade courses. Additionally, Smith had worked on many other Troon Golf projects over the years, including multiple re-workings at Troon North.

See Troon North vacation packages

 

Smith's Phoenician renovation project, which encompassed a full 10 months to complete, took apart the original three nine's (Desert, Canyon, & Oasis) that Ted Robinson designed in 1988, and created one new, cohesive 18-hole golf course with a natural rhythm and flow while maintaining the superb reputation and quality that The Phoenician established over the past 30 years. The new, redesigned course opened on November 1, 2018. During Smith's renovation every green was rebuilt and resurfaced with new hybrid Bermudagrass.

 

"The new Phoenician Golf Club will be a tremendous experience for golfers," Smith said. "While challenging, everything will be in front of the golfer – no surprise bunkers or blind hazards. Players will have the opportunity to make an informed decision on how to approach each shot."

The new Phoenician 18-hole course plays to a par 71 and offers five sets of player-friendly tees, ranging from 4,418 yards from the forward tees to 6,501 yards from the championship tees; the overall theme of the landscape showcases the unique beauty of Arizona's Sonoran Desert.

What else is new at The Phoenician?

In addition to the golf course redesign and renovation project, The Phoenician's golf shop, locker rooms and 19th Hole dining venue have been renovated and expanded, and a new Club Car golf fleet has been outfitted with the "Shark Experience" – an innovative new golf technology that enhances the on-course experience. The golf cars include high-definition touch screen displays and built-in speakers with Bluetooth connectivity. Golfers can now enjoy streaming music via Slacker Radio, live sports, highlights, news and entertainment, in addition to Greg Norman golf tips, dynamic yardage information and more.

During the renovation, a new irrigation system was installed. By going from 27 holes to 18 holes, turf usage was reduced by approximately 45 acres, thus the combination of turf reduction and the new irrigation system efficiencies has led to increased water conservation and lush conditions twelve months of the year — and less became more.

Talking Stick Golf Club in Scottsdale is a Native-American owned enterprise of the Salt River Pima-Maricopa Indian Community, which features two 18-hole Bill Coore and Ben Crenshaw designed courses. The Piipaash Course (formerly South Course) with its tree lined fairways and raised greens defended at the sides offers a more straightforward style of play. It presents its challenge and strategy in an open and clear-cut fashion.

See Talking Stick vacation packages

 

The O'odham Course (formerly North Course) is the longer of the two courses, and is entirely flat. Thus, Coore and Crenshaw have fashioned this course to present challenges that are subtle rather than dramatic. The O'odham Course has broad, angular holes, and its low profile, slightly crowned greens with close-cropped approaches can be attacked with run-up shots as well as aerial assaults.

The most notable hole on the O'odham Course is the moderate length, par-4, #12 hole, where golfers are tested with a grassy ditch that initially presents itself as a forced carry from the tee, then proceeds as a lateral hazard up the entire center of the fairway and finally guards the right front of the narrow, undulated green.

 

The driving range at Talking Stick Golf Club is 150 yards wide by 360 yards deep, making it the largest public practice facility in the entire Phoenix area.

On April 15, 2010, the Salt River Pima-Maricopa Indian Community opened the Talking Stick Resort adjacent to their two golf courses. Talking Stick Resort is a 15 story luxury hotel and casino with 496 deluxe rooms,15 luxury suites and 30 executive king suites. Talking Stick Resort's gaming floor covers 98,000 square feet. It includes more than 850 slot machines and 54 table games plus a separate Poker Room that features 49 poker tables — easy to see that Talking Stick O'odham holds its place on Golfweek's list of the Top 50 Casino Golf Courses in the U.S.

Following the financial gains from their first 'business enterprise', a high-stakes bingo hall some 30 years ago, the Yavapai Native American Nation opened a golf course named 'We-Ko-Pa' in 2001 on their vast expanse of land in the East Valley of Fort McDowell, AZ, . From its inception, this first golf course project, and every subsequent sports and entertainment project on this land, has been highly successful.

Five years after the first course opened (designed by Scott Miller, and now known as We-Ko-Pa Cholla Course), a second course (We-Ko-Pa Saguaro Course), designed by Ben Crenshaw and Bill Coore, doubled the award winning golf experience, and began play in 2006. Saguaro became eligible for ranking in 2007, and for nearly every year since then has been named by Golfweek as 'The Best Course You Can Play in Arizona'; considering both public and private courses, Golf Digest ranked Saguaro in the 21st spot in its 2015-2016 list of the "Best in State Rankings: Arizona."

At least five factors helped earn the No. 1 ranking for Saguaro. The world-renowned design team of Bill Coore and Ben Crenshaw designed and built the Saguaro course around the philosophy that traditional, strategic golf is the most rewarding. There are no houses or condos at We-Ko-Pa. The only thing you'll notice playing the Saguaro course is the sights and sounds of nature; the course offers breathtaking views of the McDowell Mountains, Red Mountain, Four Peaks and the Superstition Mountains.

The grounds at We-Ko-Pa are immaculately maintained; We-Ko-Pa's agronomy team is as dedicated as they are talented, and with government granted water rights, the fairways and greens are as lush as can be. The layout of Saguaro is suitable for both walking and riding. Greens and tees were designed close together, and walkways lead the player from the tee box directly to the fairway; striding is easy with minimal elevation deviation.

If you prefer not to walk, and / or the temperature is too hot, the riding carts are state of the art. Precedent i3 model golf carts feature touch-screen GPS systems to give the player hole layouts, yardage graphics, carry distances and can even communicate directly with the golf shop. And to top it all off, they even have USB ports to charge your electronic devices.

We-Ko-Pa Saguaro plays to a par of 71 with 5 sets of tees at yardages of 6966 / 6603 / 6252 / 5786 / 5061. The signature hole is the par-5 #14, with its risk-reward split fairway that necessitates two forced carries over desert scrub should golfers decide to use the fairway on the right.

 

See We-Ko-Pa Golf Club vacation packages

 

In addition to its two spectacular golf courses, the Yavapai Nation also offers lodging at its We-Ko-Pa Resort & Conference Center featuring 246 contemporary guestrooms and suites designed with Native American traditions; 'old wild west' excitement and mountain excursions are available on tribal land at the Yavapai's Fort McDowell Adventures western dude ranch.

The new multi-million dollar We-Ko-Pa Casino is 244,000 square feet and includes a 4 story parking garage, larger gaming areas with a garden court, specialty high end dining, a sports bar with entertainment stage, and other new amenities. Bernadine Burnette, Fort McDowell Yavapai Nation Tribal Council President said "We may be the smallest tribe in the Valley…" but just as the famous architect with Chicago ties, Daniel Burnham, once said "make no little plans", and so it is with the Yavapai.

The following photo gallery includes additional images of all these fine Scottsdale area golf facilities.